Very surprising news is coming from Barcelona: The club sacked Garcia Pimienta and he will not continue at Barça B. Explanations from Barça will probably come later, but in the meantime it seems to be part of a revolution in La Masia. One which includes even the person whom without him Riqui Puig would not be a Barça player today. Moreover, Araujo, Mingueza and Collado can also say a thing or two about Garcia Pimienta and his tremendous contribution. To them and to Barça in general.
Life in Blaugrana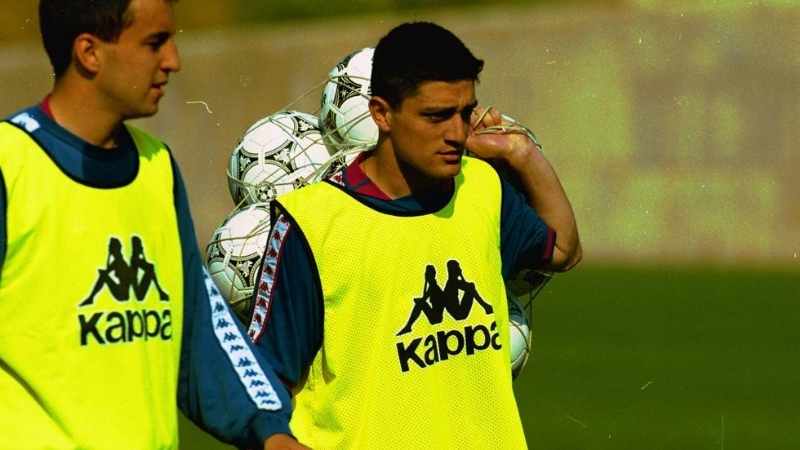 The story of Garcia Pimienta should be told from the memorable goodbye party of Bebeto. 30,000 fans came to the Riazor Stadium to watch his last game in Deportivo La Coruña. The Brazilian star did not disappoint with a brace, but it was Pep Guardiola who stole the show. The number 4 sent an amazing free kick from 40 meters to the crossbar and the net to narrow the gap on course to 2:2 in the final match of the 1995/96 La Liga season.
And there's another one who remembers this game well: Francisco Garcia Pimienta. Just after the departure of Johan Cruyff and the signing of Bobby Robson (for the following season), and with Carles Rexach on the bench, the 21-year-old midfielder got a chance to make his debut in the first team. He started the match, playing alogside Carles Busquets, Abelardo, Sergi, Bakero, Amor and Celades, among others. He played 68 minutes, in his first game at Barça, which was also his last.
At the beginning of his career, Pimienta looked like he was going in Pep's footsteps, just a few years later: A canterano who arrives to the reserve team and tries to draw inspiration from Cruyff, or in other words: 100% Cule. In fact, his playing career is similar a little bit more to Tito Vilanova's one, just with a fewer success.
Garcia Pimienta arrived at Barça at the age of 12 (two years before Cruyff returned as a coach). He was a part of the historic double of Juvenil A alongside Ivan de la Peña in 1993/94. And that same season he already started playing for Barcelona B. After his first team debut, he left to Extremadura on loan and took part in their historic La Liga debut season. But he suffered from bad luck and a serious injury ended his season as early in November. Garcia Pimienta then returned to Barça B and helped them getting promotion. However, he spent the rest of his career in little teams such as UE Figueres, CE L'Hospitalet and Sant Andreu before retiring at the age of 29.
Becoming a coach
Pimienta's coaching journey began before he even hang up his shoes. Towards the end of his playing career he served concurrently as an assistant coach in Barça's cadet team. There he crossed paths with one kid called Leo Messi. Pique and Cesc, who were also in the famous 1987 generation, were part of that group that beat every opponent easily on course to a treble.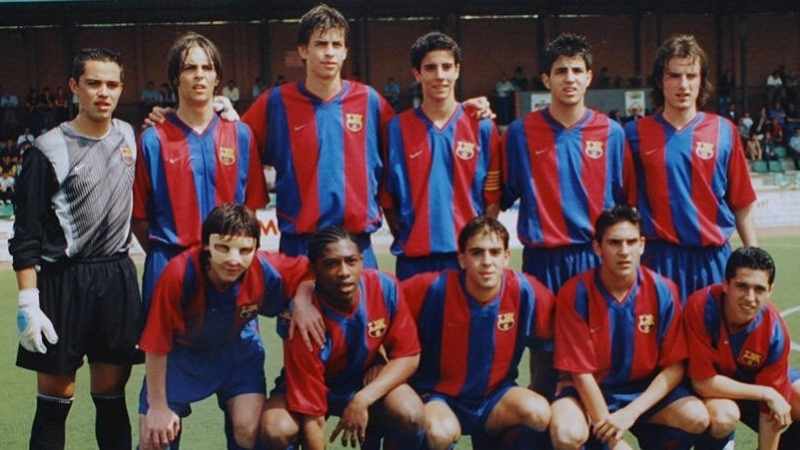 For two years Pimienta held that job before leaving Barça, only to return to La Masia in 2006, this time full-time. Since then every season he coached a team at the club – whether it is in the youth academy or at Barça B. Furthermore, over the years he became one of the most promising coaches in the club, coaching countless La Masia graduates. From Messi, Cesc and Pique, through Thiago, Sergi Roberto, Bartra, Gai Assulin, Cuenca, Tello, Munir, Bellerin, Sergi Samper, Grimaldo and Carles Aleña to Riqui Puig and Alex Collado.
And to be honest, they owe him quite a bit: one time he saw Munir as a teenager and that was enough for Pimienta to give the green light for Barça to sign him. For Wilfrid Kaptoum – former Betis midfielder which today plays in the MLS – he found the right position as a 50:50 midfielder, instead of a Defensive midfielder. And if not for Pimenta, there is a good chance that Riqui would have starred in Tottenham today.
The 'Father' of Riqui Puig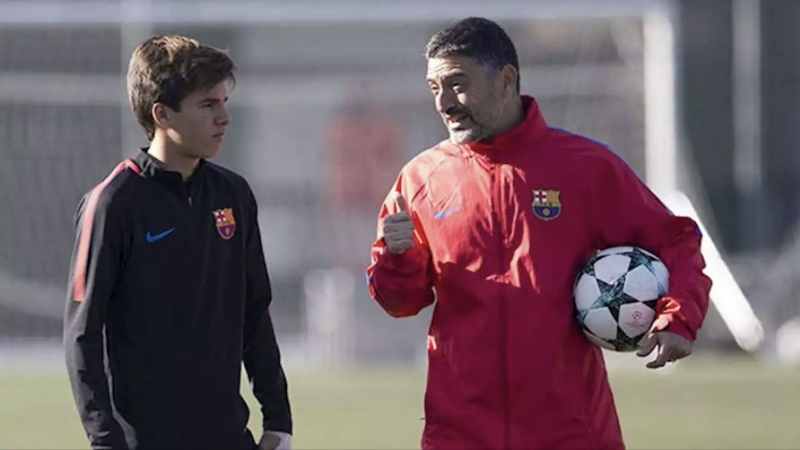 When Riqui was weeks away from ending his contract, his path to the first team seemed as complicated as it can be. But then Pimienta was promoted at the end of the season from Juvenil A – which he led to winning the UYL along with Puig – to Barça B and something changed. Although he did not manage to prevent a relegation, the focus in the reserve team shifted – From short-term results to player promotion. It happened for the first time since – wait for it – the Pep Days in 2007/08. Puig was convinced, extended his contract and he was not the only one.
In the 2018/19 season, Garcia Pimienta and Puig collaborated at Barça B. Unsurprisingly, they played the most beautiful football of all the teams at the club. Yes, even better than the first team, one that has Messi. It may sound a little strange, but anyone who has seen it – knew it. Ball possession, dominating, pressure on the opponent, creativity, intensity, attractive football, method, etc. All of these were presented by the reserve team. With players like Puig, Collado, Monchu, Akieme, Araujo and others, they were one game away from promoting to the Segunda. But that's not the point. It's just a bonus. A home grown player who is promoting to the first team is worth more than 300 points.
What's next for Pimi?
At the age of 46 and after spending about two-thirds of his life at Barça (29 years) as a player and coach, 'Pimi' is ready for the next stage. "I've been learning every day for the last 18 years," he said in an interview a while back. "I am yet to coach stars. But I was lucky enough to guide Messi, Pique and Sergi Roberto at the beginning of their journey."
Pimi was supposed to get the Barça B job as early as the middle of the previous decade. But he became an assistant to Gerard Lopez. He got the job by the one who was then the Barça president, Bartomeu. Only after Gerard failed, Pimi returned from the front door as European champion with the youth team. It's not by change people see him as "Barça's DNA protector". And he did it for so long.
Until yesterday's shocking news.
From potential first team coach a few days ago, Pimi was sacked, not being a part of Barça's future. And it's a great loss.
Especially to Barça.