Ronald Koeman was announced as Barcelona's next manager on August 19th, 2020. He succeeded to Quique Sétien, fired following the 8-2 Lisbon debacle against Bayern München. The task was not easy: Rebuild the club, and that without any time for a proper transfer window. Still, Koeman isn't an incognito: He's amongst the best defenders in Barcelona's history, and that under Cruyff. Almost eight months later, what can we conclude from his tenure?
Koeman came in, perhaps in the worst condition the club has ever found itself in. Messi's Burofax, Suarez' departure, all set for the catastrophe recipe. And in a way, that's pretty much what happened at the beginning: A catastrophe. Since the beginning of his tenure, several rumors surrounded the club: The arrival of Gini Wijnaldum, Memphis Depay, and the comeback of Philippe Coutinho. To this day, the first two haven't arrived and are still said to be wanted by Koeman. Coutinho, however, did come back. Whether it's solely because of Koeman or simply the ending of his contract at Bayern Münich, he ended up coming back. And once again, it didn't work out for him, through play, but also injuries. For tactical reasons, Messi, Griezmann and Coutinho cannot co-exist on the same pitch: They are bound to fail.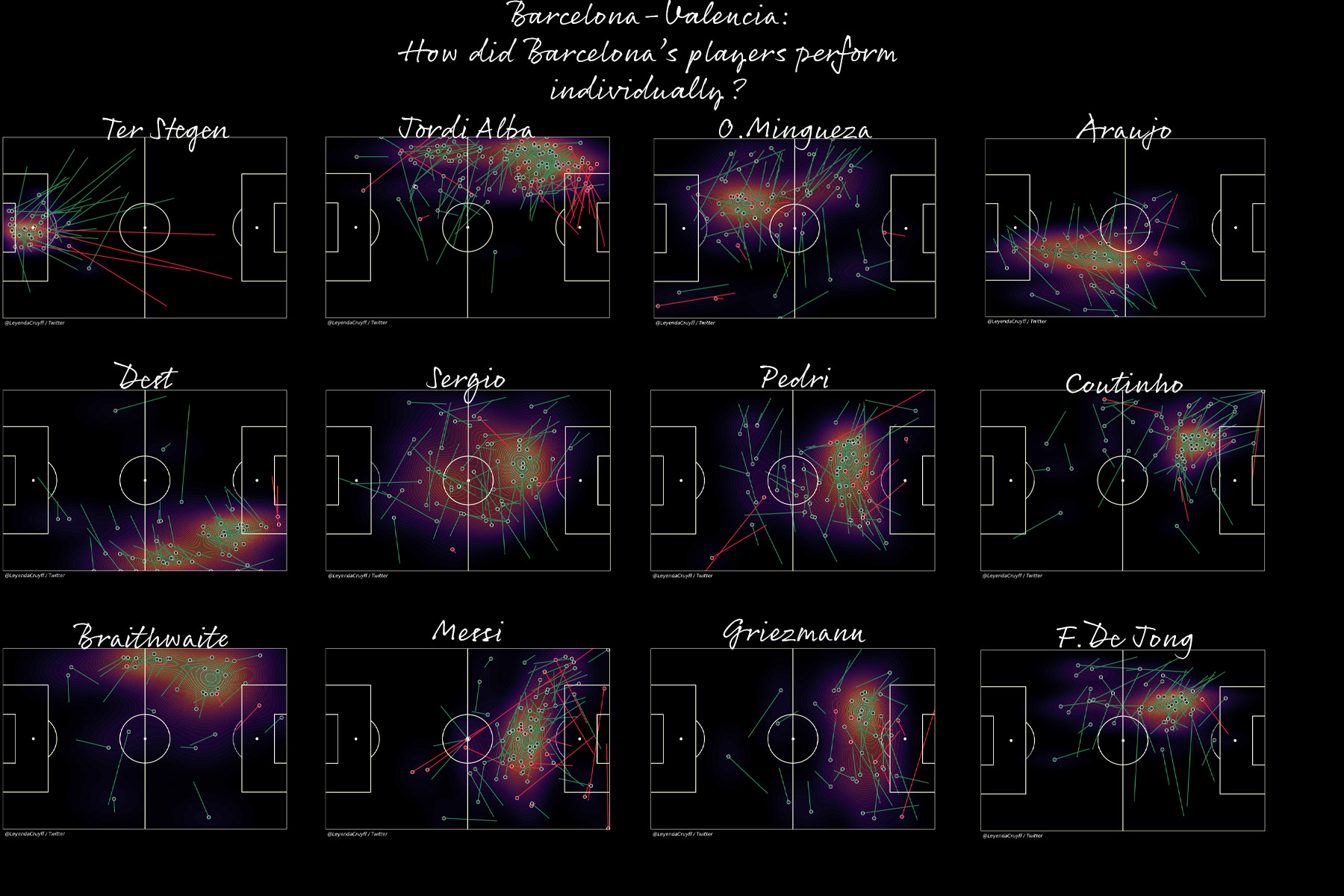 Rough Start
It hasn't worked, it doesn't work, and it will never work. Trying to force something to work that doesn't will only result in a loss of time. As a matter of fact, Barcelona drew 2-2 this game. Coutinho, however, was injured. To this day, he still cannot train. Luckily enough for Koeman, a certain Pedri arrived from Las Palmas last season. A transfer that many doubted of – seriously, before this season, who the hell was Pedri? The 18 year old quickly convinced Koeman, and he has become a starter in Koeman's plans, especially since Coutinho's injury. But why Pedri, one might ask.
Pedri Shines
The answer lies in Pedri himself. Verticality is what Koeman demands from his team. And Pedri, the perfect executor. His defensive metrics are more than decent: With 23.24 pressures per game, he ranks in the top 5% of pressers in La Liga. To add to that, he ranks amongst the best in blockers as well, with 2.57 blocks / 90, making him part of the top 2% blockers in La Liga.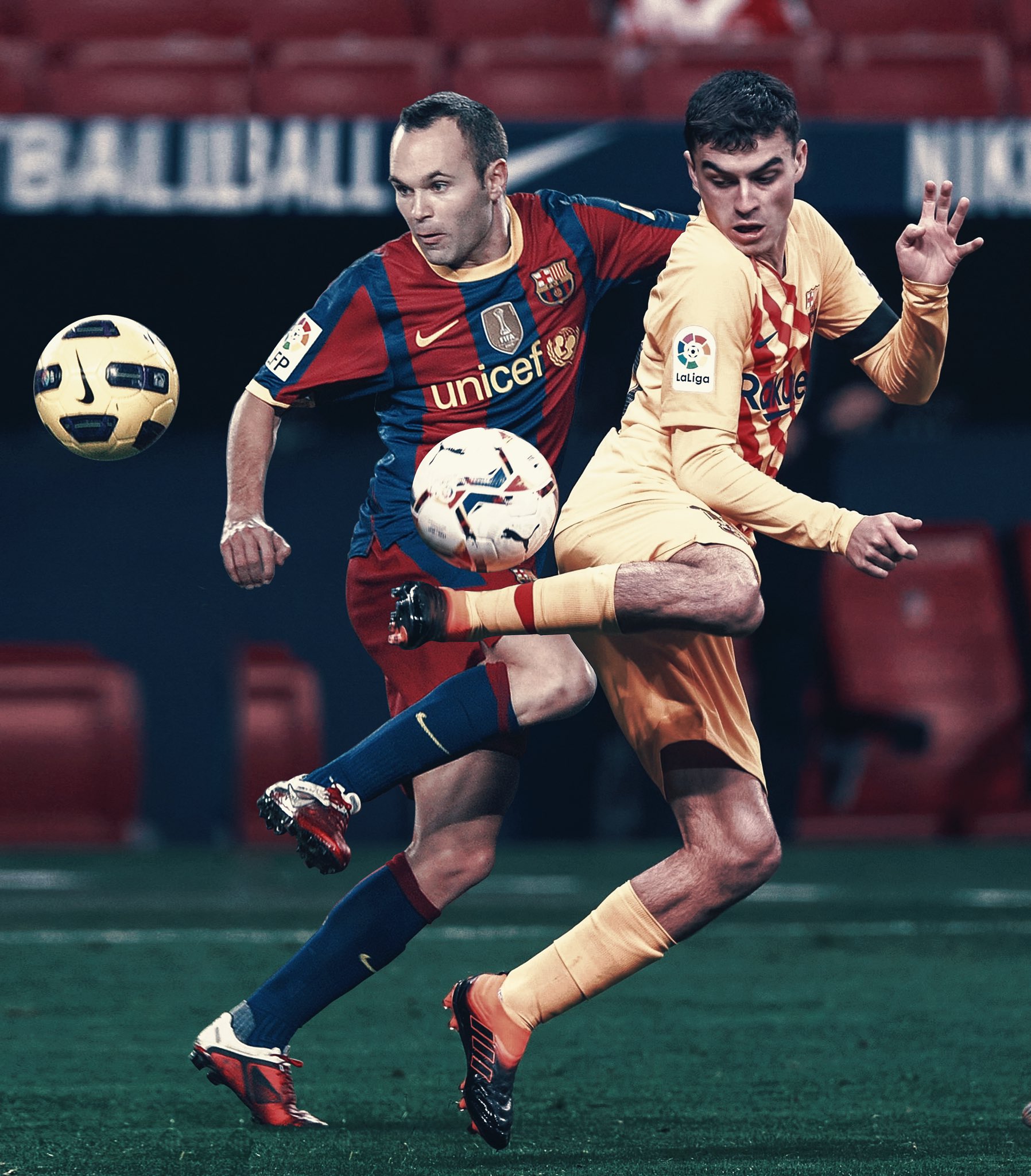 But it's Pedri's offensive abilities that make him who he is. If it's hard to define Pedri in a nutshell, many fans have already compared him to Andrés Iniesta. A big burden to carry, big expectations. But as of now, Pedri has mostly impressed the culé fanbase. The problem, for many, remains the snubbing of Riqui Puig. Most of us remember Riqui Puig. Nobody could really forget him, absolutely nobody. Sétien gave Riqui time, and he gave glimpses of his exceptional talent. Ball-carrying, progressivity, charm: Riqui had it all to gain the hearts of culés. While he impressed the fanbase, it's the only person he needed to impress that hasn't been impressed. His name? Ronald Koeman. Contrary to what many culés pretend, Riqui's metrics & performances are from bad, average or anything of that sort. In fact, when we look at his metrics, there's little to critique.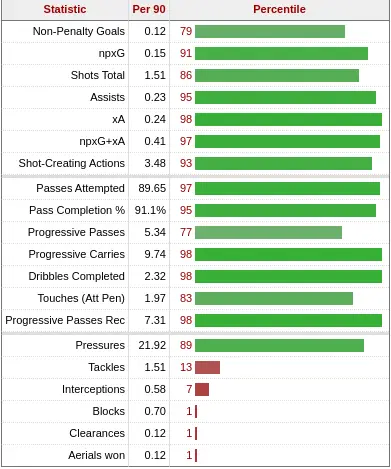 Riqui Left Out
However, unfortunately for Riqui, defensive contributions remain important to Koeman. Koeman wants his pressing to be coordinated, and it took him a while to do so. In any ways, it was clear since the beginning of the season that Koeman wasn't exactly fond of the La Masia graduate. And he made it clear. "I'd advise Riqui Puig to go on loan" were Koeman's words in the beginning of the season. Still, Riqui always tried his best. However, as good as he may be on the ball, what matters to Koeman – and to most managers – is what a player provides off the ball.
We have to remind that Riqui, as good as he may have been in 10 minutes cameos, hasn't been *as good* as he seemed last season. What lacks to Riqui, besides defensive contributions, is certainly his movement off the ball. He's too often found too close to Busquets, lacks precision in his movements, and generally, we all know he can do better.
On the other hand, the little time he has been given doesn't help him either. But instead of praising the one and love the other, what about both? Many argue for the Riqui or for the Pedri, but as a matter of fact, it's worth asking whether the two shouldn't play together. Deeper, Riqui can help the ball circulation, eventually allowing Pedri to stay higher up between the opponent lines. Nobody really knows, including myself, given that they've barely played together a single minute. The next pre-season could be a testing ground.
Busquets and De Jong having a fine season
But if we're going to talk about Pedri and Riqui, there's two more players that absolutely need to talk about: Busquets and Frenkie. Simply because Busquets' role was revived just after being buried in the 4-2-3-1, a formation that benefitted none of the two. And now, Busquets is pretty much set at his place. Frenkie, on the other hand, has experienced a multitude of roles. His versatility plays a big opart in it, but it's the team"s that mostly likely have forced such a variation of roles. The Dutchman looked set in his box to box role, eventually also scoring goals thanks to late arrivals in the box, while covering a majority of the midfield, to not say the whole pitch.
Unfortunately, injuries of Piqué & Araujo meant that Frenkie had to be moved *once* again. It meant that the Dutchman had to play as CB, and in the latest stages, as a sort of libero. This is a convenient role from him, given that it allows him to drive the ball forward, breaking the first opposition lines efficiently. As of now, his defensive issues haven't been much tested – only the future will tell whether he'll continue being at the heart defense, or whether he'll go back to his former midfielder position.
Pressing has evolved a lot since Koeman came, let's start with the following graph: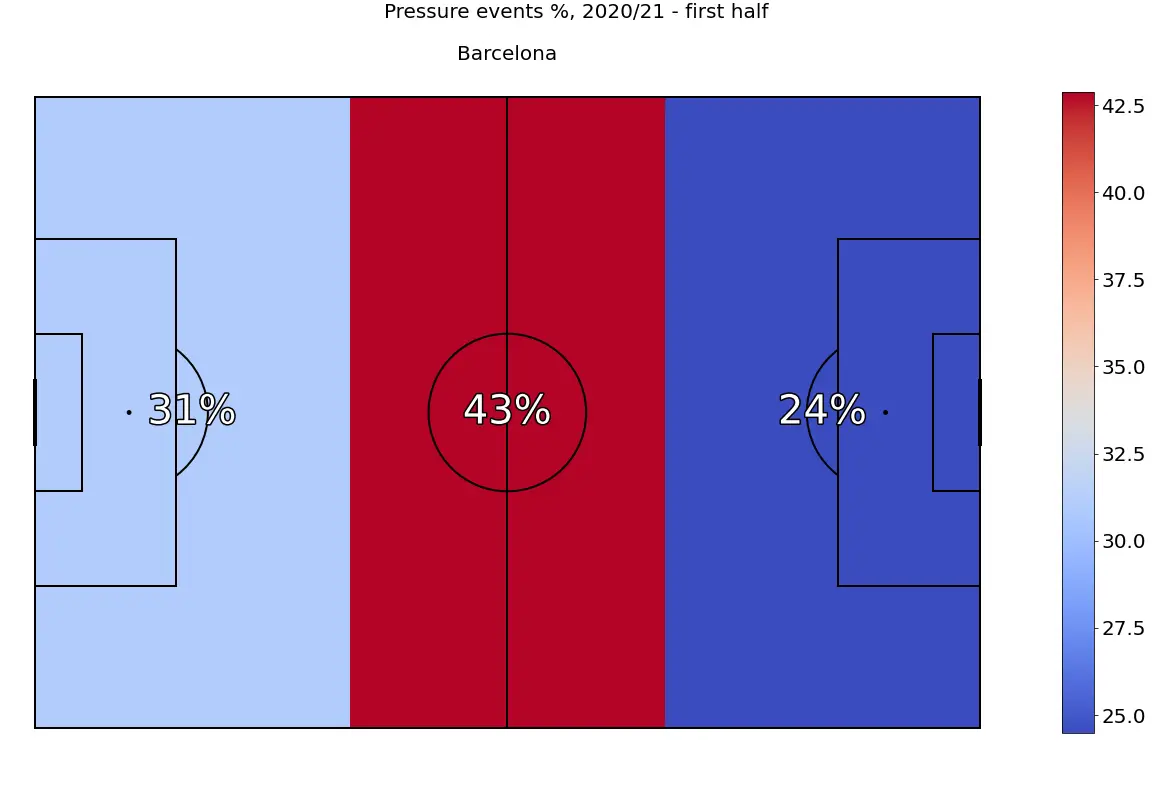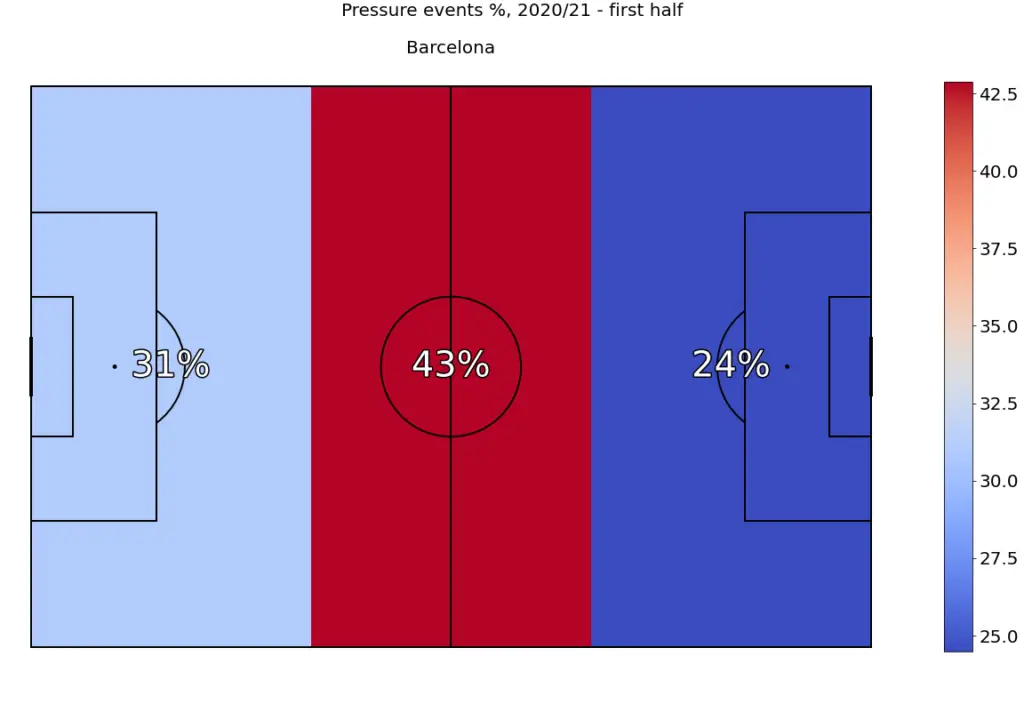 Changing the Formation
The first half is one that is interesting to study. There's no clear tendency, the numbers are irregular. It's not rare that until End of November, number vary from match to match over ~15%. A clear indicator of a lacking stability. It's not only in the pressing, but in the end, an efficient pressing leads to less goals, even more so when defenders like Lenglet aren't the fastest and vulnerable to fast counter-attacks. There was a clear indicator that the double-pivot consisting of Frenkie De Jong & Sergio Busquets didn't work: Stopping incoming counter-attacks.
In the nature of the 4-2-3-1, there are chunks of space between the two pivots. And this doesn't help when Frenkie lacks defensive concepts & Busquets can barely run – a lot of backtracking was required in such a system. it was obvious that a disconnected team could not press effectively, and that was one of the valid arguments to switch to first a 4-3-3 and then a three-back formation.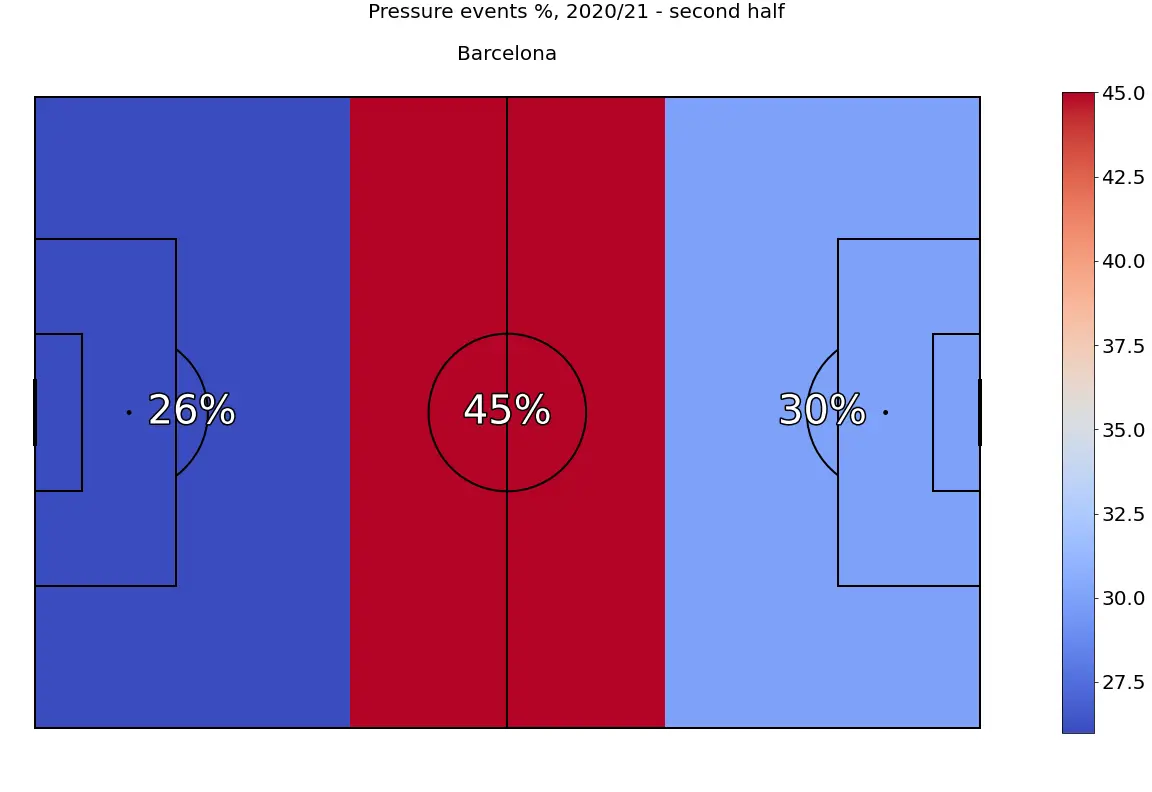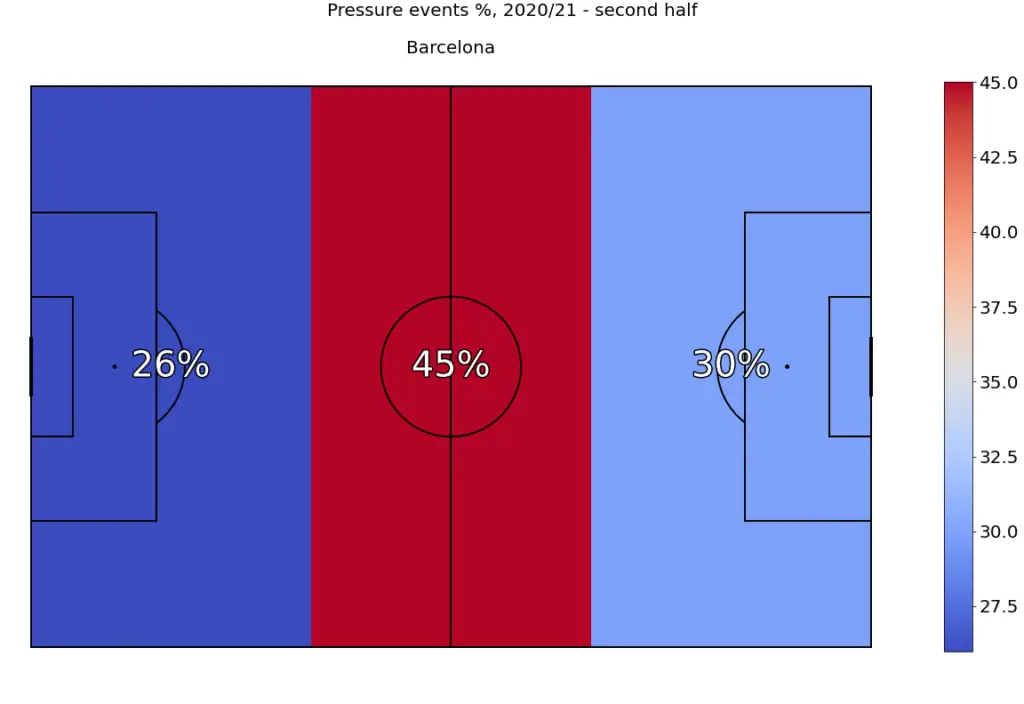 There's an obvious different between the two periods. That is that less pressures occur in the defensive third, and more in the offensive third. Though this doesn't show the efficiency of those, it shows a pattern of a more attacking mindset. Whether it's the 4-3-3 on paper or the 3-5-2, or whatever you call it, it's clear that a build-up with three at the back has helped in the offensive as well. We mentioned this improved Frenkie De Jong's play, but he's far from the only one to have benefitted from this change: Jordi Alba and Sergino Dest both have now more attacking roles that allows them to use their offensive flare much more efficiently.
Messi Always Provides
We cannot mention Alba without Messi either. If Alba has thrived throughout this season, it it also thanks to Leo. Their on the pitch relationship was never a secret. And this season, Jordi seems to have picked himself up again. It's also Messi that continues feeding him with these throughballs. Through balls that end up on to Alba's feet, thanks to his well-timed accelerations. There's little left for Alba to do better: He defends less, attacks more, and everyone wins. It also helps that Koeman wants his full-backs to use the full width, and Alba's independence suits Koeman's plans perfectly. On the other hand, Dest has found himself on the other wing an excellent role as the other offensive full-back. For his first season, there's no doubt he has impressed Koeman & culés.
A lot of work to do
However, not all is sunshine in Barcelona's attack. Though Griezmann has a good G/A ratio in 2021, his play on the pitch remains largely unimpressive. There's no revelation in him not being the "traditional" winger Barcelona usually uses, and there are doubts over his role in this 3-5-2, given that a certain Dembélé has benefitted from a new role. One that cannot exactly be defined, one that is hard to determine. Though he tends to roam in the zones of a #9, it cannot be said Dembélé is a striker. However, his running abilities have proven to be useful to pin defenders, resulting in more space and time for Messi, Jordi Alba and the rest of the frontline. Still, it remains to be determined whether this is really Dembélé's best decision, and how long that will last.
There's a need to mention Koeman himself, the pragmatism embed into his personality. Not that pragmatism is a bad thing, as all managers are to a certain extent. Koeman may not be the biggest tactical revelation, he's not the Guardiola-like genius. However, he has a certain idea of what he wants to have from his team, and constantly re-adjusts his players. This could be seen with Frenkie's role, Dest's more offensive responsabilities or the readjusment of Dembeĺé's importance in this team. In short words, he only does minor adjustments, optimises each player's role to their strength, and creates from that a unified team.
We can and should be optimistic
And there's no harm in that, under no circumstance. Given the circumstances, Koeman is certainly doing fairly well, even if he might not bring the biggest tactical revolution: He gives playtime to many youngsters – especially because/thanks to injuries – only Riqui remains 'the black spot', Still, overall, considering the first rough months, there's a respect and credit that has to be given to Koeman.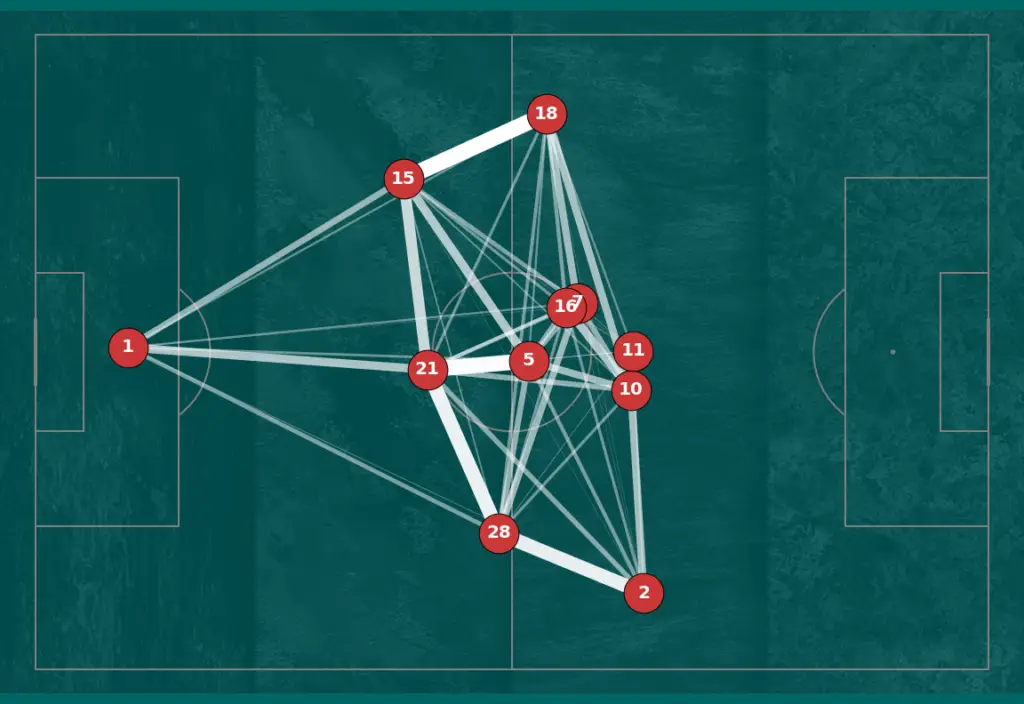 This is more or less the common structure since Koeman implemented the change of the three-back formation – though it already was there with the 4-3-3, only not on paper. In any case, if we've mentioned Frenkie's libero-like role, we ought to mention Mingueza's role. He was never a favourite before getting the call-up. However, he has impressed, and his hybrid role as RCB allows him to play up to his strengths. His defensive solidity helps cover lots of ground, and there's virtually no one who could really complain about his performances.

It's this exact three-back formation that allows both Jordi Alba & Sergino to thrive in attacking roles. It also allows to quickly achieve 2v1, 3v2 or 4v3 superiorities against the first frontline of the opponents, especially if Busquets decides to drop back. And as such, not only has this improved our defense, but so has our offense. The two, are inevitably linked, and it definitely suits to the collective that is available now, with Piqué and Araujo injured. Whether that will continue next season, is another question.
Planning next season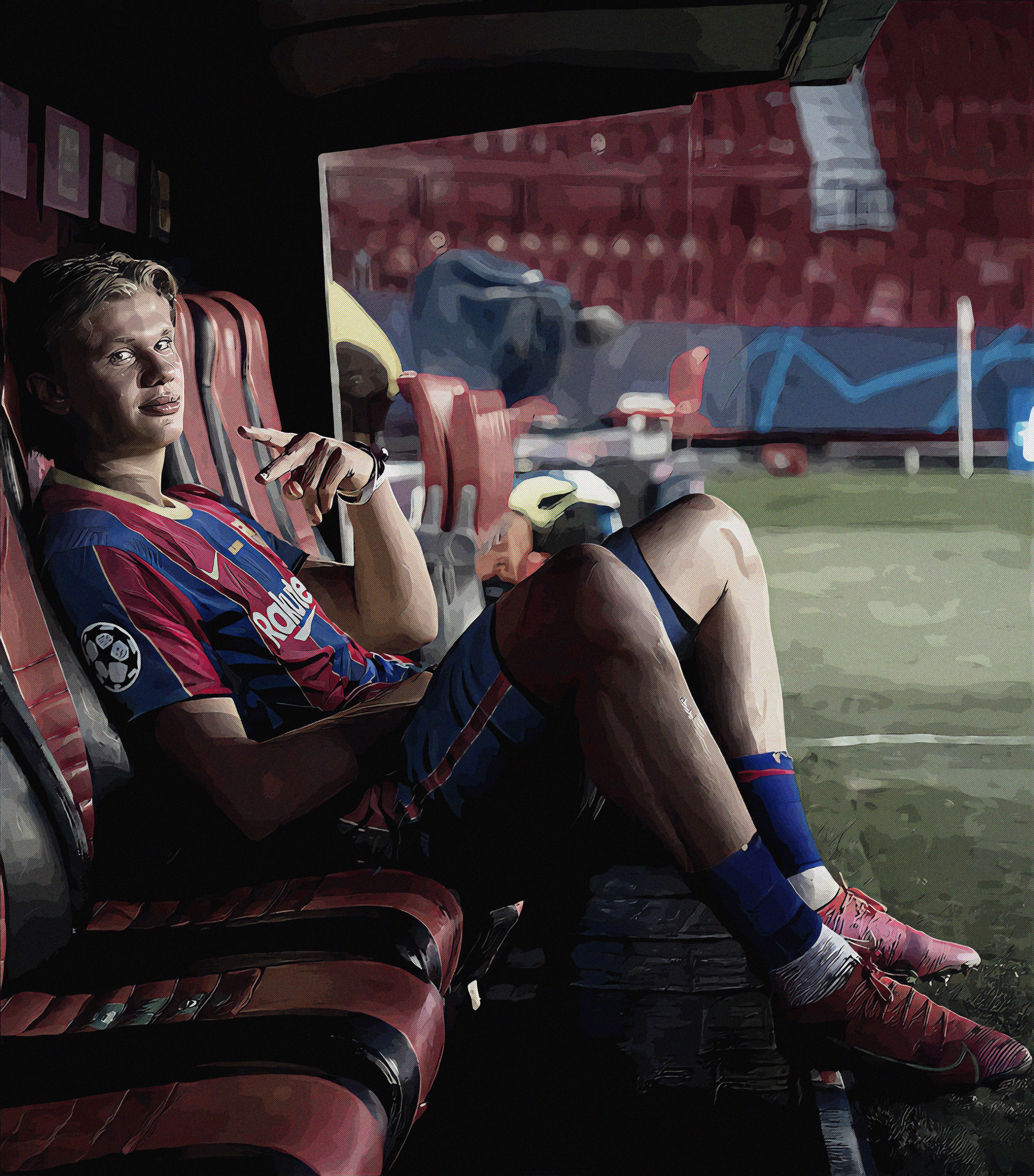 But Barcelona, still has two problems: A lack of goals – during the 4-3-3 period just like the 4-2-3-1 period – and Koeman's wants. There's been talks about Haaland coming to Barcelona. Surely the most craved players by all clubs as of now, Haaland would fit when it comes to goals. There's no doubt he'd need adaptation, but a partnership of Leo Messi & Erling would definitely do no harm – it remains to determine whether Haaland will continue endlessly bang goals or whether that streak will end any day. In any ways, Koeman has always said to be fond of Depay. A signing, that to many, does not make a lot of sense. It remains to be questioned what would this mean for Fati once he comes back, what would happen with Griezmann: There's a lot of questions surrounding Koeman and little answers for the next season.
There are a lot of questions, actually. The Pjanic transfer wasn't exactly succesful, and Koeman has shown that he'd prefer to play Ilaix Moriba rather than Pjanic. Though he didn't exactly get a lot of chances, the Bosnian has mostly failed to impress, and the future look blurry for the former Juventus star. There are questions surrounding the replacement of Busquets – despite having redeemed himself since January – with the possibility of promoting Jandro Orellana – who still hasn't received the call up of Koeman. In any case, the next season will determine how long Koeman will stay. Most didn't expect him to stay beyond this season, but Koeman will have to continue improving if he wants to continue another year at the club.