Nothing better than a match like this to once again bring us back to reality of this team. Without Sergio Ramos and Varane, Barcelona theoretically has the obligation to win this, but football is never that simple. Dembélé, Griezmann and the others made Militao and Nacho look like Maldini and Nesta tonight. An embarrassment. Moreover, Lahoz was injured for this match, but his substitute Gil Manzano made a mess just the same. Spanish football refereeing is a disgrace.
Ter Stegen had to do better on both goals. Barrier positioning was awful too and Jordi Alba covering the post was pathetic. Speaking of Alba, he should have left years ago and I will keep saying it. He's a massive liability at the back, simply incapable of defending. Look at Mendy's performance tonight and you'll understand what being a great full back is.
Dembélé still hasn't show up in a single big match against top opposition since he joined the club, he has to do better. I only agree on renewing his contract if it's to sell him to the highest bidder, time to take the loss and move on.
Tactical KO by Zidane in the 1st half
Koeman with one of his fantasy football substitutions, Griezmann for Dest… He made Zidane look like Guardiola! We all noticed after thirty minutes that Araújo doesn't work in a back three without cover with the opposition wingers running at him, why didn't he?!
Sergi Roberto being subbed on for Busquets after not playing for months, it's hard to take these decisions seriously.
Mingueza's happiness after scoring the goal made me smile. We need more players like him at the club. He was the best on pitch for Barcelona.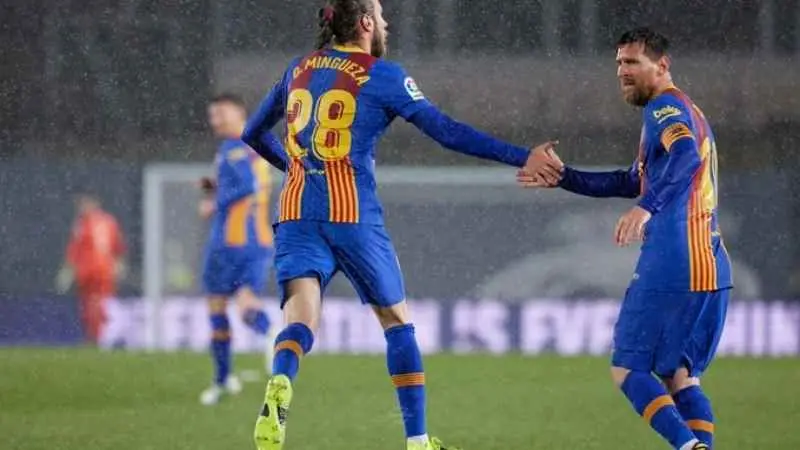 Messi had a poor match, most of the team did. This match was a lot worse than the 2:1 scoreline suggest, here's hoping it doesn't condemn us another year of Koeman.
Zidane managed to win this Clásico in thirty minutes then sub on Odriozola, Isco, Mariano and Marcelo to rest his players before the Liverpool match.
Humiliating for us…