Barcelona B faced group leaders Nastic on Sunday, however, were not able to overcome a strong opponent. Nastic was up 3 goals in the first 23 minutes of the game and later a goal from Mika Marmol before half time gave the team some hope of coming back into the game. After this loss Barcelona B
lost, they winning streak, despite it the full of youngsters Barça B still is third in the group.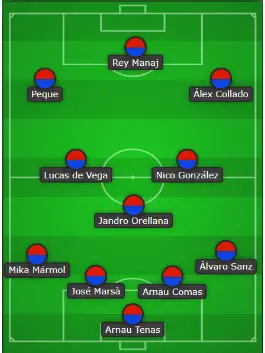 The first half of the match started in the best way possible for Gimnàstic Tarragona, who opened the scoring with a goal from Fran Carbià in the first minute of the game with an exquisite volley. Later, the Tarragona team scored in 11th minute through another goal by Fran Carbià, who was not covered in time by Alvaro Sanz. The Home team scored again in the 23rd minute, with a beautiful goal from Brugui.
Later the Barcelona team looked to come back into the game with a cross from Jose Marsa, which reached Rey Manaj, but a great save from the goalkeeper kept their three-goal advantage. In the 27th minute a cross from Collado, eventually reached Mika Marmol who scored Barcelona B first goal of the game. Youngsters didn't give and showed great attitude, as they looked to win this game with great chances throughout the game, with a
tremendous free-kick attempt from Jandro Orellana, who hit the crossbar with his effort.
Eventually, frustration came out from Barcelona B with Alvaro Sanz sent off with a red card with a push on Nastic player Pol Ballesteros. Neither team was lucky to score in the second half ending the game with a 3-1 score.
Conclusion
An awful display from Barcelona B in the first minutes gave away all the opportunity to win, due to a simple lack of concentration and defensive awareness from the defenders. Barcelona B with one of the worst defensive displays this season as they conceded more than 2 goals for the first
time in 11 games so far. A great display from Orellana, with outstanding passing, vision defensive contribution during the game also a free-kick that almost went it, wins my player of the match pick.
Barcelona will now face UE Olot at Estadi Johan Cruyff on Sunday.
My Barcelona B player of the match: Jandro Orellana
Juvenil A vs Europa: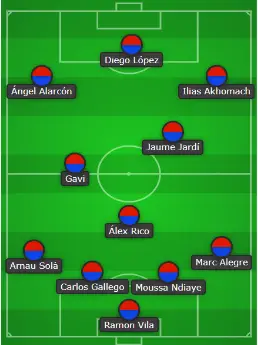 Juvenil A faced Europa again after drawing 1-1 last time they played. However, this time Barcelona youngsters dominated opponents scoring 5 goals and kept a clean sheet. Juvenil A took the lead in the 27th minute, with Gavi winning the ball back in the midfield and with the move ending with an astonishing header by Diego Lopez, assisted by Jaume Jardi. 6 minutes later Jaume Jardi repeated what Collado did during his game against Badalona. An Olimpic goal from the corner put Juvenil A 2 goals
ahead in the 33rd minute.
Barcelona was keeping Europa in their half most of the game, without any opportunities for goalscoring chances. However, in the 36 minutes, a foul from Juvenil A led to a penalty for the Europa team. Fortunately, enough Ramon Vila managed to save it. Juvenil A goalkeeper already managed to save a penalty last game. Making his tally 2 penalty saves in 2 games an extraordinary number for the Barça youngster.
Into the second half, Juvenil A looked to increase their lead even more. In the 50th minute, a goal from summer signing Moussa Ndiaye scored his first goal for Juvenil A, assisted by Gavi with a great vision pass from the right side. A few moments later a clear foul on Diego in the box, was called for a penalty in favour for Juvenil A, with Alex Rico stepping up to finish into the goal. The 5th goal came in the 61st minute of the game with a great ball from Jaume Jardi finding Diego who doesn't miss and puts the ball past the goalkeeper.
Conclusions:
Juvenil A won the game 5-0, with great work from Vila saving a crucial penalty to earn himself a clean sheet. Youngsters played almost a perfect game finishing all possible opportunities, leaving no chance for Europa team. Player of the match for me was between Jaume Jardi who scored 2
goals and had 1 assist and Diego Lopez with 2 goals and a penalty won.
Eventually deciding to pick Diego Lopez who already this season has 3 goals and 1 assist just in 222 minutes of football. He has been involved in a goal every 56 minutes. Juvenil A will now face Girona away who are 4th in the group, withthe team not managing to beat them at home.
My Juvenil A player of the match: Diego López