After a good performance from Gavi against Mallorca, he became one of the talking points within the Barcelona community. Pablo Páez "Gavi" is considered as one of the most talented midfielders in La Masia at this current moment.
Pablo Páez Gavira also known as Gavi was born on 5th of August 2004 in Los Palacios. He started playing football in his hometown club La Liara Balompié and later at the age of 8 he joined Real Betis academy, where he played until 2015.
Time at La Masia
In his season at Betis Benjamín A, he scored 96 goals. This achievement caught the eye of all big teams in Spain including teams like Barcelona, Real Madrid, Atletico Madrid and Villarreal. In 2015 he decided to join Barcelona, however, due to suspension by FIFA Gavi was able to be registered in La Masia only in January 2016. Hoever, in his first season at La Masia with Alevín A, they managed to win the league title, winning all of their 28 games.
In December 2016 playing in La Liga promises Gavi faced Real Madrid in the semi-finals as he was awarded a player of the match for scoring 2 goals in the 2-0 victory over the rivals.
Thanks to his 2 goals against Real Madrid, the team was able to progress to the final, where they won the tournament by beating Atletico Madrid. In 2019 he was promoted to Cadet A while being part of 2004 generation in La Masia, which included talented players like Diego Almeida, Marc Jurado, Aleix Garrido, Ilias Akhomach, Angel Alarcon. After spending 1 year with Cadet A, it looked like the promising player might be leaving Barcelona with Europeans giants after him, with his former team Real Betis offering him a massive contract.
Despite the interest in Gavi from teams, he decided to stay in Barcelona His dream is playing for the first team. And in 2020 summer he signed a contract, which will keep him at La Masia until 2023. With a new contract, Gavi was promoted straight to Juvenil A, skipping Juvenil B. However, Gavi was not able to start the season with Juvenil A as he was out injured. He only managed to come back a few weeks back. In his first start for Juvenil A against Mallorca, he managed to get 2 goals and 1 assist in a 4-1 victory over rivals.
Playing Style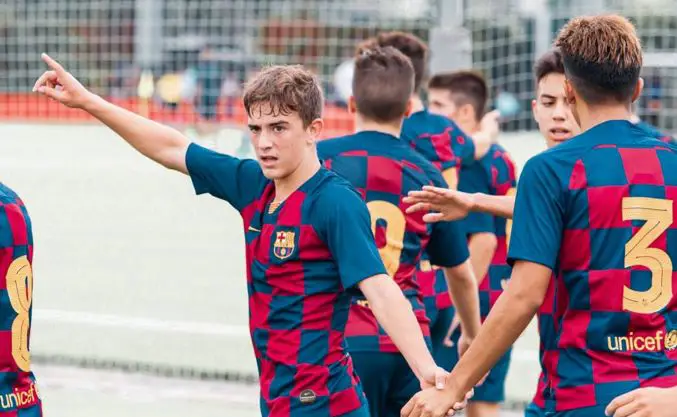 Gavi is a right-footed central midfielder with an incredible vision, creativity and understanding of the game. His incredible touch and press resistance helps him to avoid any pressure, from any team. Another great aspect of Gavi's playing style is his beautiful passing ability, ball control and technique. He uses these skills to break opposition defensive lines and helps the team to create chances.
Pablo is a maestro playmaker with extraordinary thinking when on the ball. He often passes the ball or makes the decision, which is unexpected for the opposition. This makes him very difficult to deal with. Despite being a midfielder, he finds himself in the best-attacking positions in games. That makes him score more goals than your usual midfielders.
Gavi loves to have the ball. Therefore he has no problem to drop deep to receive it and start the play from there. His hard-working helps the team to avoid any danger anywhere on the pitch making him a perfect number "8". His leadership on the field is also underrated. Gavi knows how to dictate tempo, he is creative and can perform at all midfield position. Furthermore, he can link up the team's midfield and attack with ease and effectiveness. From short passes, long balls to through balls his passing ability is above anyone in La Masia. Whenever he enters the pitch you will see some magnificent moments and magic from him. Gavi is a little magician on the ball.
What does the future holds for Gavi?
I'm expecting Gavi to finish the full season with Juvenil A playing a key role in their title race. And maybe in a few years, he will able to make his debut with Barcelona B. And maybe even the first team. This season he will also participate in UEFA Youth League. This is where he will able to showcase his abilities and gain experience. Pablo has enough talent to become a world-class player. However, it will all depend on how he will manage the pressure. With all the high expectations he will receive in the next few years. If he handles it well, Gavi will become one of the players who will help a new generation of Barcelona. These players might mark a new era for the team.