KaiAnalysta with a new analysis on the ways that coach Xavi Hernandez uses so far in his career as a coach. Is he what we need right now? Feel free to read the two older analyzes of him here and here.
---
As always, I don't claim this to be the most accurate analysis, but my own. I've watched games week in week out, and this is what I believe to be the takeaways from what I've seen. This thread aims to give a general idea to the reader what Xavi's team looks like.
1. Deep Squad
First and foremost, let's start with the squad. Here's a graph of Al-Sadd's squad coming into the 20/21 season. What strikes me the most is the depth. Practically every position has an insane amount of depth, more than a lot of the European teams. I hadn't realise it before.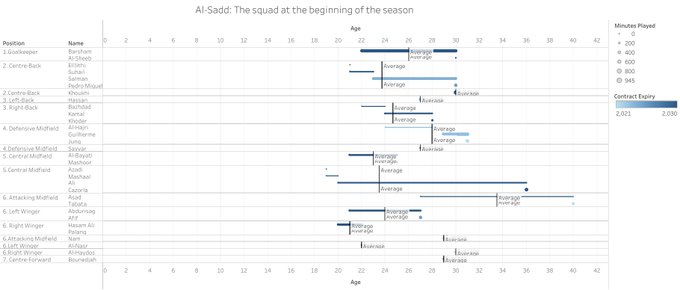 Having a rich squad is great, but it can also be very challenging. Giving minutes to everyone can be tough. However, out of the 32 players, only two haven't played at all. What also strikes me is the length of the contract. What you see as the year 4K basically means no expiry.
Not only is there depth, but the ages are very varied, ranging from 19 years old to forty for the oldest. Props to Al-Sadd for getting in Guilherme & Cazorla to brilliant European players.
The Gameplay
Xavi's team doesn't have one exact formation; In possession, it can range from the 4-3-3, to the 3-4-3 and sometimes even a 3-3-3-1. There's a general consensus of unfixed positions, where players often fill in gaps left by other teammates.
It is the very principle of Cruyff that can be seen in Xavi's Al-Sadd, the one that there are no fixed positions. As Pep said: "Formations are only telephone numbers". A recurrent pattern is that Xavi's team will arrange in a 4-3-3 when facing a double striker formation.
Sounds familiar? Cruyff did the same back then. While defending, Xavi's team looks more like a 4-2-3-1, but a very flexible one – unlike Koeman's system. Xavi's idea is that the pivots can add an aditional man to press – forcing opponents in numerical priority.
Another common theme to be seen in Xavi's Al-Sadd is one that Sétien himself implemented in the beginnings at Barcelona. The two centre-backs split wide in possession, effectively stretching the pitch – another of Cruyff's key principles.
Full-backs, without a surprise, tend to push as high up as possible, usually beyond the midfield. They may invert to take advantage of available half-spaces, but may remain wide. When building-up, Xavi wnats them to occupy opposing midfielders.
This can especially be noticed from the GK. Fullbacks don't necessarily receive the ball the most as Xavi likes his midfielders to have opened passing lanes to receive from the goalkeeper. In other words, building-up from the middle is usually preferred – without any surprise.
Switches of play aren't rare either. This is where left-winger Afif comes into play. More than switches, his vision allows him to play on a frequent basis through-balls to the wide fullback in order to create a numerical superiority.
A high-pressing defensive line is no surprise; It's not rare to see centre-backs in the midfield. That is why Al-Sadd may conceded goals, but it's an approach similar to Bayern's: Attack rather than defend.