It was a week full of news in La Masia. Some exciting like the debut of 16 years old Ilias Akhomach for Barça B. However, Barça B lost that match. Furthermore, Juvenil A and B played. How did they do? Here's the full report by Arsen:
FC Barcelona B vs Andorra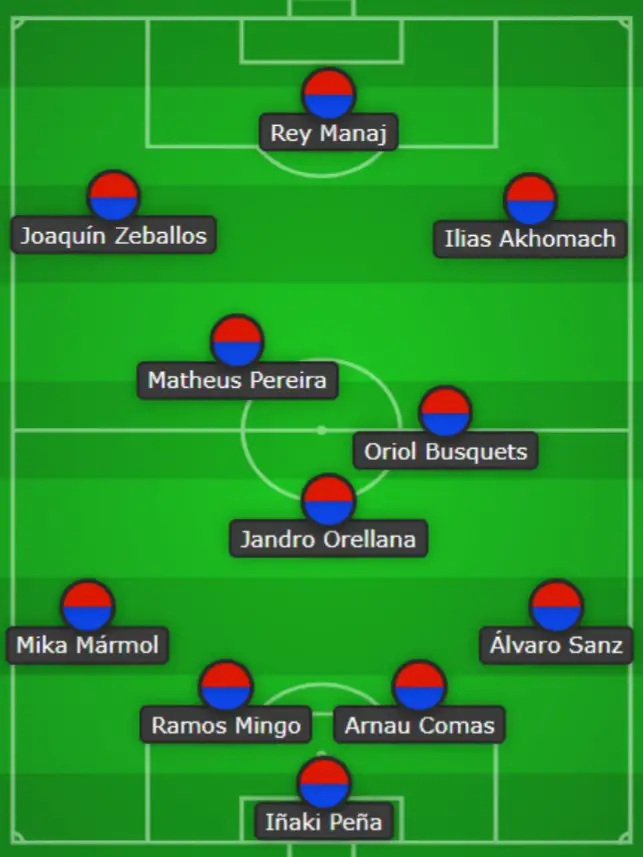 Barcelona B sees their first defeat of the season. It in a rainy Andorra match that could have gone the other way. The first dangerous opportunity came Andorra's way in 10th minutes of the game. An amazing cross from the right-side reached Adrià Vilanova, whose shot was masterfully stopped by Iñaki Peña. Shortly after, Carlos Martínez put Androrra ahead in the 24th minute of the game. It was an accurate cross from Borja, who received an amazing through ball from the defender.
Alvaro Sanz played out his preferred position played at RB, due to all of the injuries at Barcelona B. He was outrun by Borja to leave enough space for him to deliver a cross into the box. Despite conceding Barcelona B tried to come back into a game. A good pass from O.Busquets opened a possibility to score. owever the shot by Zeballos was easily saved by the goalkeeper.
At the start of the second half, the first opportunity came to Barcelona B. Jandro Orellana had a go from far to see his effort tipped over the bar. Right after Iñaki Peña made another crucial save in a one-on-one position against Andorra's Enri. After the rain stopped Barcelona B looked more dangerous than ever with a great opportunity in 54th minute.
Arnau Comas was able to reach Mika Marmol with a long ball. He was able to put a cross that reached Rey Manaj. But the shot was obstructed by Zeballos and went out wide. Afterwards, Ramos Mingo looked to scoring his first Barcelona goal. But his header hit the post and the rebound saved by the goalkeeper. At the end of the match, Peña was able to make another crucial save to keep the score unchanged.
Conclusions
Barcelona B needs to be more efficient in front of goal if they want to battle for promotion this season. So far, they scored only 1 goal in 3 games. Moreover, that goal came from a corner and was scored by Arnau Comas. The problem with injuries doesn't help Pimienta in building a winning team. It was nice to see Ilias debut in Segunda B, and hopefully he will able to develop, further as he is an enormous talent in La Masia.
Barcelona B Player of The Match: Iñaki Peña
Juvenil B vs Bellvitge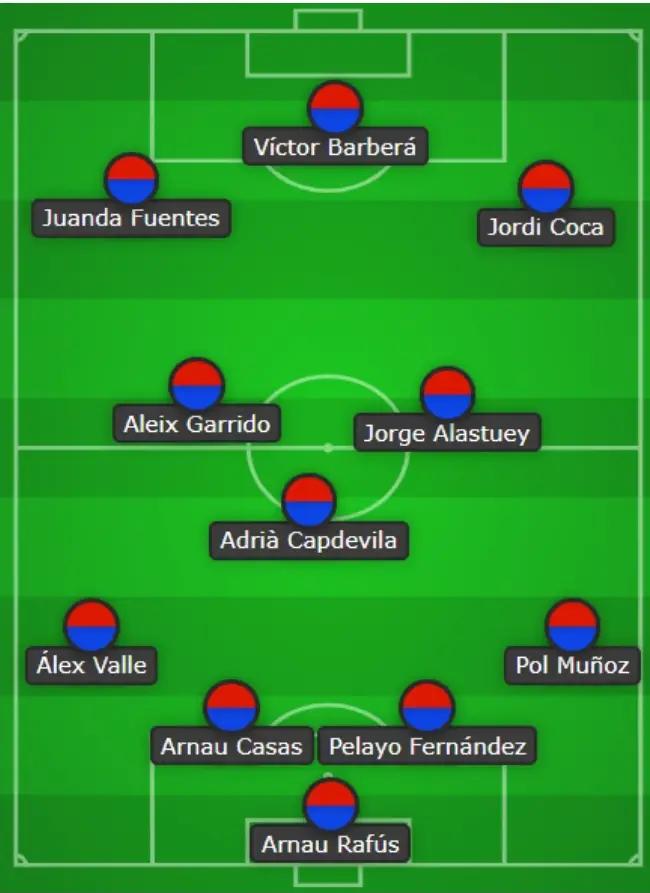 Eight months later the FC Barcelona Juvenil B & A returned to competitions. Juvenil B started their first match dominating the possession and creating chances. The first chance for Juvenil B came with a great pass from Aleix Garrido to Juanda Fuentes who saw his effort saved by the goalkeeper. Before the first-half finished Valle put a great cross to Barbera, who was able to reach the ball and head it into the back of the goal.
The second half started with a great effort from the visitors to equalize the game with a cross into the box, however, the shot went out wide. A few minutes later Bellvitge got their equalizer from another high cross provided from the right side, with Arnau Rafus able to get a hand into it, but was not able to save a precise header from the visitors.
After making subs Juvenil B was able to create chances right one after another, after all, they weren't able to score the winning goal. In the 87th minute a great cross from Victor Barbera to Cadet A player Iker Bravo who headed the ball to Josep Cerdà, who scored an outstanding bicycle kick to win the game for the youngsters.
Conclusions
The team led by Òscar López started the National Youth League with a victory against Bellvitge. Winning their first game and earning themselves 3 very deserved points. Was left very impressed by Iker Bravo, who made his debut with Juvenil B and was able to help the team on his debut with an assist.
Mamadou Saidou looked dangerous after he came on, he is a very fast and skilful right-winger, who will look to get a starting position this season. Òscar López's team will play two matches this week. Wednesday, at 6 pm, against Cornellà for the first postponed League match, and on Saturday at the Sant Andreu field (5.30 pm).
Juvenil B Player of The Match: Victor Barbera
Juvenil A vs Europa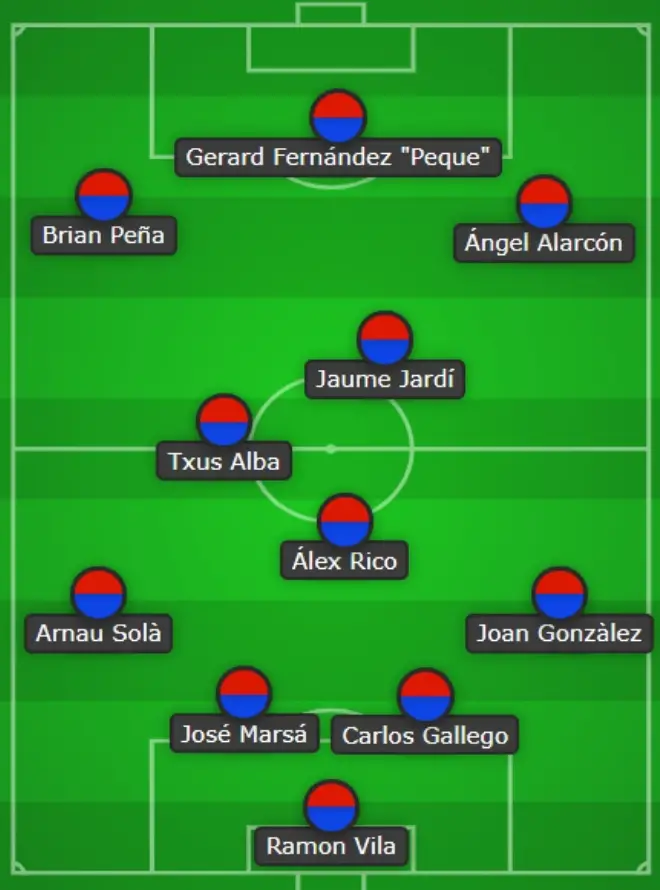 A heartbreaking draw for Juvenil A saw them leave only with 1 point rather than 3, which they truly deserved. Juvenil A dominated throughout the game with goal-scoring opportunities and possession of the ball. Txus Alba and Jaume Jardi combined nicely near the box, however, Txus shot was blocked by the defender and was saved by the goalkeeper.
After a few minutes Txus Alba delivered a great cross that eventually reached Peque, who controlled it nicely to put it on his left and took a shot at the goal, however a valiant effort from the goalkeeper it hit the post and the rebound was shot wide of the goal. Before half-time Peque had the ball inside the goal from a free-kick. Sadly, it was disallowed, because of offside. A well put shot into the corner from Txus Alba was saved on the line by Aleix.
A few minutes later Europa had an amazing shot saved by Ramon Vila. In 93rd minute of the game, Juvenil A finally scored, with Joan cross, which reached Jaume Jardi, who have scored, which looked to be the winning goal. Unfortunately, a few minutes later Europa managed to equalize with the final attack of the game, with a long shot outside the box.
Conclusions
Juvenil A led by Franc Artiga opened the league championship with a cruel draw against Europe. Barça dominated the game from start to finish and had enough chances to take the three points from Nou Sardenya. Juvenil A looked rusty, with a lot of passes not reaching players.
With so many chances they should have won this game by a few goals and do much better in front of goal, despite an amazing game by Europa goalkeeper Aleix. In the second half, we saw Ilias Aknomach make his debut for Juvenil the day after making his official debut in Segunda B for Barcelona B. Jaume Jardi, who usually plays as a winger played more centrally in a number "10" position and did very well.
Juvenil A Player of The Match: Jaume Jardí