The last shine of glooming light can be seen in Barcelona. As the sunset projects towards the beautiful Barcelona, a handful group of young fans walk in the streets, heads down. They've spent all their energy against the 'Espai Barça', a project they despise with all their hearts, young or old. But what has exactly happened with the Espai Barça? And what exactly is it?
In April 2014, 72 percent of socis voted in favour of the 'Espai Barça' project. Six years later, the project aiming to remodel Barça''s facilities including the Palau has still not started. Yet, the club still presents the project as feasible and claims "Barça believes in dreams". A project or an infeasible distant dream?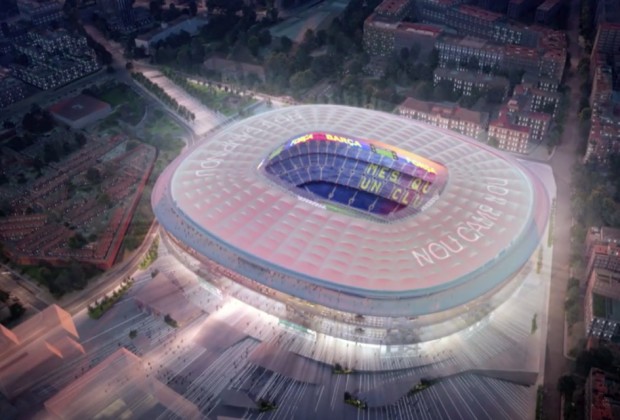 Lacking the money, Barcelona saw itself forced to search for sponsors who would finance the project. Not only did the disapproval come from sponsors, but the project also lacked the support of the 'socis', or members. With an already 400M debt, a few of the members were seemingly worried about the cost of the god-forbidden project. 
Worryingly enough, socis are right to be worried. Each year, the stadium sems to become more expensive. An inflation that boasts an increase of 200M in the cost of the project, from the original 600M to now 800M in order to build the new facilities. To not mention that the COVID-19 pandemic has its weight, too. As of now, the club's profound debt increased to about 200M in the aftermath of the crisis. The project has seemingly rotten down to hell following the motion of procedure. Victor Font, had already expressed his disregard to the project, claiming this board shouldn't take a long term decisions.
The vote of no Confidence might block the board
However, Bartomeu's board lacked one step to finalize the project: The referendum. A deal was proposed between Barcelona and bank investor Goldman Sachs. The famous company would finance the 725M cost of the project while requesting 90M in compensation in form of interest. Unfortunately, additional costs have angered the socios, recently: The deal has an additional requirement. And that would tie the club with the company for 30 years. For 25 years, Barcelona will be obliged to pay 50M yearly to Goldman Sachs, thus increasing the payment to 400M(!). Cardoner, the vice-president argued: "They also need to make money." A proposal that didn't have too much support as the mocio has shown. The referendum cannot take place due to the vote of no-confidence, as the Assembly planned for October has been cancelled.