Earlier this week I analysed new signings and Juvenile A players who recently joined Barcelona B this summer. Now let's talk about overall squad depth for this season. Who will be competing against each other to earn a spot in the starting eleven for Barca B to play against top Segunda B teams:
Barcelona B squad depth and expected line-ups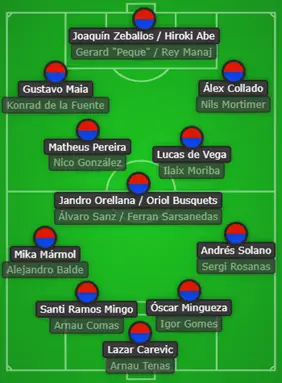 Defence:
With Iñaki Peña and Arnau Tenas staying with the first team due to the injury of Barcelona's goalkeeper Ter-Stegen they will be called up to La Liga matches until he recovers from an injury.
Therefore Lazar will keep his spot as the first goalkeeper for the B team for the first-half of the season. With his experience in Segunda B he will play more often. Although Tenas ability to take his spot at the age of 19. However, later Arnau Tenas will join B team to receive some game time to develop his outstanding amount of talent he has. Meanwhile Pena has all possibilities to leave on loan in January as per reports earlier this month.
Fullback position will be occupied by Mika and Andrés at least until Rosanas and Balde recover from their injuries at the end of November. With Marmol's ability to play CB, Balde will have playing time this season in the team after he received an official number, while Rosanas stayed without official B team number. He will be able to play later this season, due to lack of RBs in the team. Vital partnership at CB will be Santi Ramos Mingo and Óscar Mingueza, with Mingo being one of the outstanding performances against Cornella.
However due to Koeman's distrust in Umtiti, usually one of them will be called up to the first team, with Mingueza travelling to Coliseum Alfonso Pérez today and Mingo training with the main squad. Arnau Comas came back from the loan after a good season for UE Olot will be fighting for some minutes, especially until Igor recovers from his injury. Comas has all possibilities to start their first league match today.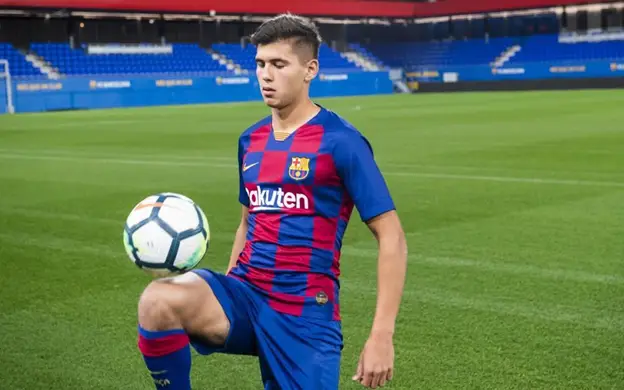 Midfield:
After the departures of Riqui and Monchu who were regulars in B team's midfield. In 2020/2021 season we will see a rejuvenated midfield, led by Jandro Orellana. He is looking to prove a point and very soon earn his. debut for the 1st team. Jandro will be looking to get involved in goals. He is the chosen one by Pimienta to take free-kicks and penalties. After spending a season on loan at Twente Oriol comes back to help B team. He will fight for greatness in Segunda B. Moreover, he will be fighting for a spot in CDM role, which now is occupied by Orellana in the 4-3-3 formation. Oriol could be an option for defence as he spent half of the season in Holland playing as CB. And let's not forget about a regular in Spain's youth teams Alvaro Sanz who is also an option for the same role.
Matheus Pereira and Lucas De Vega will be besides Orellana in the midfield. After De Vega's good campaign for Cartagena and helping them to the promotion to the second division. He is looking to help B team with his accurate long shots and goal-scoring opportunities. After paying Juventus €8m for a loan to a compulsory buy option deal involving Alejandro Marquez, only for Bartomeu to balance the books. Barcelona tried to sell him permanently this summer and was unsuccessful, however, due to his excellent performance against Cornella he will starting games this season as he did last year.
Despite me believing this will be starting midfield, we shouldn't forget that competition in that midfield will be extremely interesting as both Nico Gonzalez and another Barcelona gem Ilaix Moriba are ready to fight for a starting spot, and will be replacing De Vega and Pereira if they won't be in their best form this season.
Forwards:
After Alex Collado came back from an injury and decided to stay in the B team to convince Koeman to give him opportunities in the first team. Unfortunately, he suffered another setback and will be back only at the start of December. Alex was supposed to become the main goal provider for the second team after he was involved in 10 goals in 24 matches and eventually will become a starter after Collado comes back from his injury in a few months.
The new signing Gustavo Maia is another player who will be starting in Pimienta's team. He was one of the players who played the most minutes (360min) in the pre-season. After Zeballos and received praises from the coach, he is looking for his official debut in 3rd division very soon. Moreover, injury-free Hiroki Abe was one of the best players after he got subbed on against Cornella. Abe can play as a left-winger and as a centre-forward, while most of the last season he managed to score 4 goals in 9 matches, which he played as Centre-forward.
We can't forget talented players like Nils and Peque who will be fighting for their positions. We can expect both to start this season in some games. Konrad will be out and in the Barcelona B team as he will be getting called up to the first team very often. Especially if some of the forwards will be suffering injuries. However, I believe he will play quite often for the B team to help them. Fuente is capable of playing on both wings, therefore we can expect him to start ahead of some other players when he is available.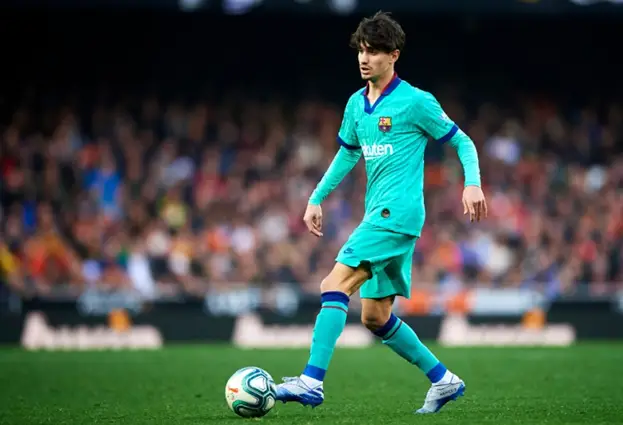 Changes in Segunda B structure:
After Segunda B were suspended, due to pandemic there has been some changes this season. 2 teams from Tercera-division were promoted after the 4th-division plays offs could not be replayed. Therefore, there are now three groups of 20 teams and two groups of 21, subdivided into eight subgroups of 10 and two subgroups of 11 teams.
Barcelona B vs Gimnàstic:
Stadium: Estadio Johan Cruyff
Time: 6PM CET
Date: Sunday (18-10)
Available on: BarcaTV

Barcelona B kick-off their first league match on Sunday evening from Estadio Johan Cruyff stadium against Gimnastic. Last season Barcelona faced them on two occasions, while not winning a single game. Drawing 2-2 at home and losing 1-0 away at Nou Estadi de Tarragona stadium.
Gimnàstic player to watch: Javi Bonilla (LB). He is a player who likes to go forwards and score goals despite being a fullback. Last season he managed to score 5 goals and 1 assist in 25 games.
Barcelona predicted line-up: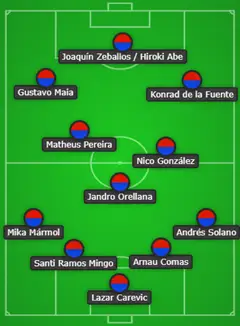 Lazar is looking to start the game after coming from his international duty. Furthermore, Arnau Tenas is away with the first-team in Madrid. However, there are still possibilities for Arnau Tenas to appear in the squad list if they manage to come back to Barcelona on time. Fullbacks are easy to choose as both Rosanas and Balde are out with injuries. That makes Andres Solano and Mika Marmol start today's game at their positions. At the CB position Santi Ramos will play as LCB after not being called up to the first and besides him will be Arnau Comas who started the last pre-season game against Cornella.
Oriol Busquets is also a possibility for him to start as a CB. However, if he would be starting it would be at CDM position with Jandro Orellana moving to a central midfielder. Midfield trio would be Jandro at CDM, Nico Gonzalez at CM and Matheus Pereira. The latter would be another midfielder with attacking aspects in the game.
Wingers would be Gustavo Maia appearing in his first league match and making his official debut for Barcelona B. Meanwhile Konrad who did not travel with the first team to face Getafe will start this game on RW position. Zeballos or Hiroki Abe in the striker position after both of them impressed in pre-season. However we could see Peque start at the start of the game. Pimienta would not be willing to give Zeballos his official start so soon. Moreover, Abe might still not be at his best after tearing his tendon.

Match prediction: 2-1
Goal Scorers: Konrad de la Fuente, Jandro Orellana