Yesterday FC Barcelona hosted Elche for the annual Gamper trophy. As always, it's the last game before the start of the season. However, with no fans at the stadium, and with the Riqui story, it felt less festive. Furthermore, the match itself was far from our best perfomance, but let's talk about what happened there.
First Half
The starting Lineup:
Neto
Lenglet, Piqué, Jordi Alba, Sergi Roberto;
De Jong, Coutinho, Busquets;
Ansu Fati, Griezmann, Messi;
The game started with a Bang, as Griezmann scored our first goal after less than two minutes. A trademark Messi pass found Jordi Alba in the left wing, and he found Antoine, who scored the goal. It looked like the perfert start for the game.
Afterwards, Barcelona continued to dominate the game, and showed a lot more intensity, comparing to last season. However, Elche's goalkeeper Edgar Badía did amazing job in not conceding more goals.
Elche, on the other hand, did manage to get the ball more than our former opponents. But they couldn't get a shot to the goal.
Second Half
Barcelona started the second half of the Gamper trophy with the same XI. But after a pretty quite first half, Ansu Fati took a lot on himself in the start of the second half. It was the first match of the wonderkid this preseason, as he returned from a slight injury.
After 60 minutes, Koeman introduced Miralem Pjanić, as the Bosnian made is first appearance with a FCB shirt.
Barcelona had a lot of chances, but in the end they failed to score more goals. The game ends in a 1-0 win, and next week we start our season vs Villarreal.
Key points from the match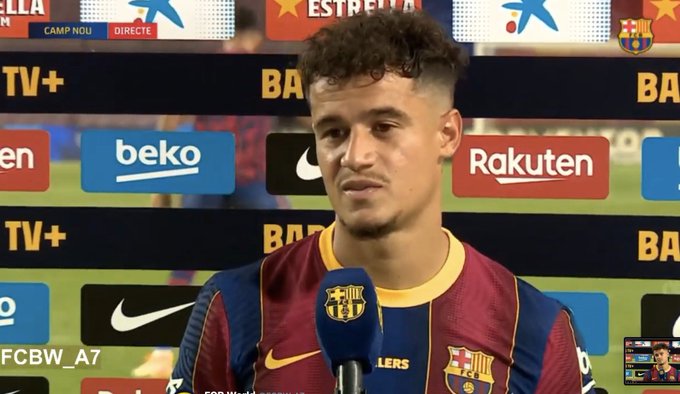 Coutinho with a good game. It seems like Koeman really sees him as a vital part of his system. He had a good preseason, and we hope that he will be able to help us. Yesterday he was the MVP, and in his interview he said: "It's a good feeling(to play at the Camp nou), I miss playing here, and I'm happy to be back."
The main change that the team shows right now is in the intensity. Except Messi and Neto, all 9 players pressured the ball a lot. That helped getting the ball back before it got close to our goal.
The attackers did well, and many chances were close to a goal. Hopefully, we'll see less missed chances when it will matter.
Koeman did an interview after the match, where he talked about Riqui Puig, Pedri and Alena. Here it is: