We already said that it will possibly be a historic day. But no on actually thought that this will happen – Messi sends an official requetst to leave Barcelona. However, the news keeps coming, so we decided to recap everything in one place. Special thanks to our team mambers Rishav and Harsh for collecting the news.
---
19:00-20:00 CET – Messi is angry at Bartomeu
Lionel #Messi has informed #Barcelona that he wants to leave the club. He would avail himself to the clause in his contract that allows him to terminate unilaterally at the end of each season.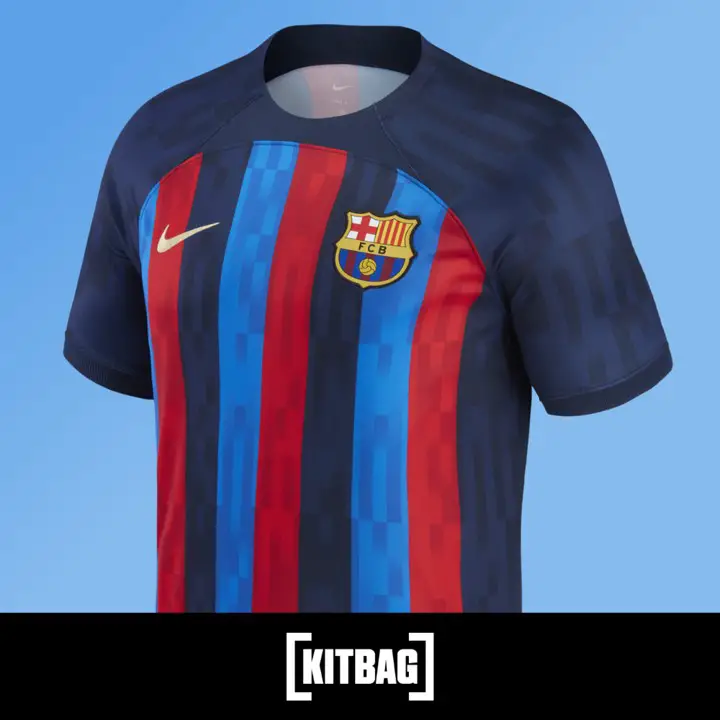 Lionel #Messi is very angry with #Bartomeu. He thinks with Bartomeu it's difficult to have a good sporting project. #Barca has a President who is hiding. These are the most delicate moments since Messi is at the club.
However, it's very difficult for Pep #Guardiola to ask #ManCity for Lionel #Messi and the only team that can sign Messi is #PSG. Via: @gerardromero on @superfutbol@TyCSports.
Leo #Messi has just communicated to #Barcelona via burofax that he wants to leave the club. The Argentine player would avail himself of the clause that allows him to terminate the contract unilaterally. #FCB#Transfers Via: @Alfremartinezz.
20:00 – 21:00 CET – The first reactions
Lionel #Messi will no longer attend testing this weekend or training. The decision is FINAL. Via: @Alfremartinezz. Meanwhile, #Messi has already communicated to #Barça that he wants to leave. He did it via burofax. He want to take advantage of the clause that allows you to leave for free at the end of the season. @SiqueRodriguez@La_SER Confirmed it.
Meanwhile, urgent meeting on behalf of the Barcelona Board of Directors with a very complicated environment at the moment. Via: @Alfremartinezz.
Barça have confirmed #Messi's statement. But they say his clause to leave for free expired on June 10th. Via: @La_SER.
According to @FabrizioRomano, the Leo Messi saga has just started. #Barcelona board is having a meeting to understand next steps. More to follow.
However, @albert_roge still believes that we have hope: "I refuse to accept that Messi wants to leave the club of his life. I prefer to think that it is a strategy for Bartomeu to resign at once. One pulse. Either you or me. Hopefully that's the case."
"Messi has got to the stage where he knows he can still help Barca – but they can no longer help him. He always thought him and Barca were one thing but now he is thinking, can he win with someone else?" One of the great quotes by @marcelobechle.
Meanwhile, Puyol(And…Suarez) confirms everything on their Twitter: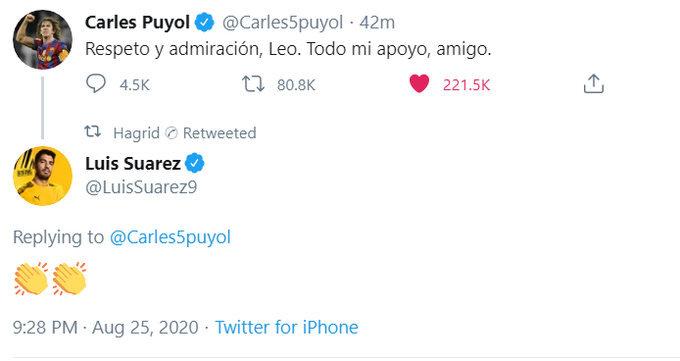 Futhermore, the next in line to say warm words to Messi was the President of Catalunya, Quim Torra i Pla: "Catalonia will always be your home. Thank you for all this time of happiness and extraordinary football. We have been lucky enough to share a few years of our lives with the best player in the world. And a noble athlete We'll never forget you. Leo Messi, St. George's Cross."
21:00-22:00 – Barcelona will respond
When #Messi spoke with #Koeman and that he felt more outside than inside, he was already clear that he wanted to leave Barça, but he was prudent, aware that a decision of this caliber deserved to think about it and rethink . Via: @tjuanmarti.
In 2017 @agustibenedito launched a vote of no confidence against Bartomeu but he failed as the socios didn't support him. Barça have been suffering for that in every succeeding season.
2017: Neymar Left.
2018: Roma.
2019: Liverpool.
2020: 8-2 and Messi.
---
It is not confirmed yet, but Bartomeu could resign so that Messi did not leave. Via: @_AdrianSnchz. Meanwhile, @FabrizioRomano says that Manchester City are NOT working to sign Messi at the moment.
Meanwhile, Barcelona responds to Messi with another bureau-fax, where they tell him that they want him to continue and end his career at Barcelona. Via: @SiqueRodriguez.
However, @samuelmarsden says that Barça board have not met (yet) despite reports elsewhere. They have replied to Messi's burofax, saying they want him to stay, end his career at Camp Nou etc.
FYI: If #Bartomeu does end up resigning, elections will be held no sooner than November. Thus, there will be a transition board until the elections. It what happened with #Gaspart in 2003. Enric #Reyna was the president until the elections took place and #Laporta won.
22:00-23:00 CET : Waiting for club response

Barça are aware they can't keep #Messi against his will. They would be accepting of an offer below his 700 million release clause. They will not let him go for free. #FCB Via: @EsportsRAC1@rac1
For more updates, visit our Twitter