It's almost here. The match which could decide who if Barcelona will keep being in the pole position to win the league. Or if Real Madrid would take the advantage. Yes, it's time for our first 'competitive' match after the restart of football, We face Sevilla away from home. If we go back to the start of the season when FC Barcelona Faced Sevilla in the early stages of the season, we would see a 4-0 Victory for the champions. A win inspired by brilliant goals from Luis Suarez, Arturo Vidal, Ousmane Dembele and of course, Lionel Messi.
In that match, we saw possession, but most importantly, EFFECTIVE possession. We saw the midfield trio of Arthur, De Jong and Vidal which dominated the match, making forward passes and finding spaces. We saw a what a fit Ousmane Dembele can do to the opponent and most importantly, we saw goals that were not scored because we got lucky but because we MADE them happen.
If we want to win this match against Sevilla, we MUST see a similar performance from Barcelona. But of course, under a different coach, a better coach, Quique Setien. We will not see the likes of De Jong and Roberto, who played an important role in our last victory. They are both unfit for the match. But we still do have many options, we do have the likes of Riqui Puig, Alex Collado. And of course we have our own experienced midfield.
It's going to be tough, Sevilla are gonna test us, but if we keep our heads up, WE WILL COME OUT ON TOP.
Força Barça!
S Q U A D L I S T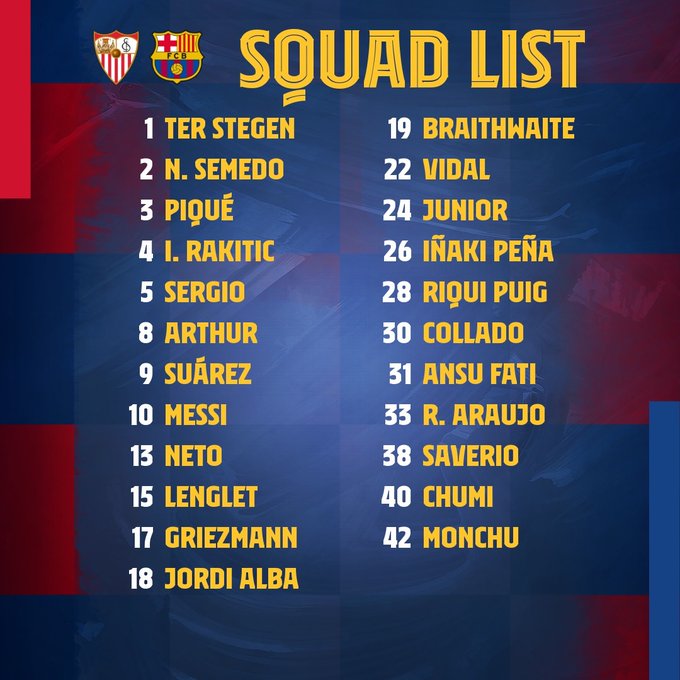 Good news and bad news. The bad ones are that Sergi Roberto is ruled out while Frenkie hasn't been included as he is reported to have muscular discomfort, thus not being risked. I'm hoping it doesn't mean a Busquets-Rakitic-Vidal midfield, though. This would be the most Valverde-esque thing to do.
Monchu and Puig are the two Masians in the midfield.
In the defense, Alba returns while Umtiti is suspended, thus giving Chumi the call up-I doubt he'll get minutes after Araujo's display, but it's good to see him anyways. Semedo will of course play the 90′ being the only RB. Let's hope for no injuries.
In the attack, a new face: Kike Saverio! He's been already training for a while already and congrats to him for getting called up! I'm doubting he'll get minutes with si many attacking options.
I feel pretty happy for the Sevilla vs FC Barcelona match.
Get well soon, @sergiroberto@frenkiedejong !