Right now Barca are preparing for tonight's cup tie against Cultural Leonesa. Now it's a good time to remind ourselves that before Messi, Barca's best goal scorer came from Leon. until today Cesar is an idol for both Cultural Leonesa and Barca, playing for both teams at the first division in the 40's and 50's.
In Leon it's difficult to talk about Barca and not refer to the historic striker Cesar Rodriguez. Cesar was born in 1920, and grew up in Leon. At the age of 19, Cesar transferred to Barca. In 1939 Cesar made his debut for Barca, but had to wait until season 1941/2 to get a place in the team due to loan spells and military service.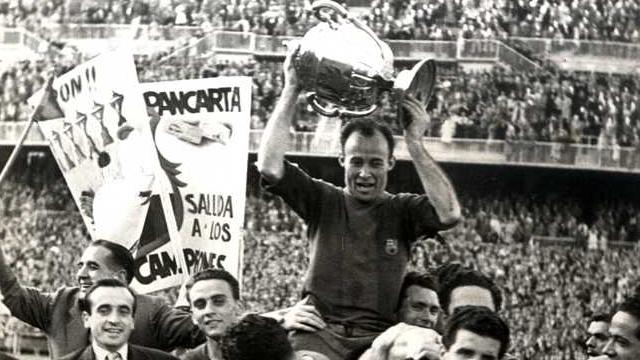 Great scoring ability for a long time
In the decade and a half, Cesar played 433 games, and scored 294 goals. Only Lionel Messi scored more than him. Cesar was an exceptional striker. He had great shots with both feet, nice dribble, and a fighting spirit. Above all, Cesar was recognized for his great heading ability.
Cesar was the 'Pichichi' in season 1948/9 with 28 goals in 24 games. 3 times he was second best goal scorer in the league, and for 7 years straight he was Barca top scorer (1944-1951). in other words, Cesar was on of the main players of Barca in the 1940's and 1950's.
Back to Leon
In season 1955/6 Cesar returned 'home' and signed for Cultural Leonesa. For the team that just went up from the segunda, it was a cause for euphoria. In October 1955 Cultural Leonesa moved to a bigger stadium, and their number of socios increased to 7000. Therefore, With such a big impact in both teams, it's safe to say that Cesar is an idol for both Cultural Leonesa and Barca.
Cesar Rodriguez returned as a manager in seasons 1963-64, and again as an assistant for Ladislao Kubala in 1980. In the year 1995 Cesar Rodriguez passed away. He will always be considered as a mythic member for our club. The game tonight against Cultural Leonesa is an opportunity to remind us of one of the biggest strikers in Barca's history.