Luisito Suarez– a legend for both Barca and Inter
Many of Barca fans admire our current striker Luis suarez. Most recently it seems that the guy is in great form. While Messi is out injured, it's safe to say that the Uruguayan striker has stepped up and filled the gap. But the current La liga's best goal scorer is not the first 'Luisito Suarez' to star for Barca.
Luis Suarez Miramontes, AKA Luisito, was born at May 2nd 1935. In 1964, Luisito helped Spain win the European Championship. Luisito had a great career, and he we still consider him to be one of the Spain's best players.
From a young prodigy to Barca star
Luis Suarez made his debut for Deportivo La Curuna in 1953, and made 17 appearances before his transfer to FC Barcelona. In Barcelona, Luisito formed a big part in the golden era of the club in the 50's. Legendary Helenio Herrera coached the team that included players like Kubala, Kocsis, Ramallets and Evaristo.
In 1961, Luis Suarez won the Ballon d'Or. He was the first Barca player to achive this great award. Until now, the Spanish Luis Suarez is the only Spanish-born player to win the Ballon d'Or.
1961: Luisito Suarez is breaking the transfer record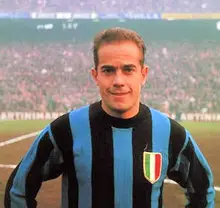 In 1961 Luisito followed his mentor Helenio Herrera and moved to Inter Milan. His transfer was the first time a club paid more than 100,000 Pounds for a player. This made him the world's most expensive footballer.
Suarez was a key player for 'Grande Inter', playing 328 matches between 1961 and 1970 and scoring 55 goals. In those years Inter won three Seria A titles, Won two consecutive European Cups and two Intercontinental Cups.
Luis Suarez, AKA "the Golden Galician", had a great success in Barca, Inter, and the Spanish NT. Luisito spent his last few seasons in Sampdoria, but his best years, for us, were in Barca. Years later Luisito said that one of the main reasons for him to leave a great club like Barca, was trying to make it abroad. In those days the Italian team were not considered as big European teams. However, 'Grande Inter', led by Helenio Hererra and Luis Suarez changed that. Ater the sixties the Italian league was much more luxurious, and the Italian big teams had bigger factor in European football.