Sergio Busquets has announced his retirement from National team. Furthermore, all signs point towards this being the last season of his legendary career with Blaugrana colors. So it's no wonder that the club are looking at several options to replace Busquets. Names for his possible replacements and understudies has been floating for a couple seasons by now. But we are yet to find a definite answers. So am going to do a brief data driven analysis on the names associated with us. According to the news, we won't be making much moves in the January transfer but we can still expect these names to be relevant by the summer window at the end of the season.
For the analysis I have decided to look at stats that are important specifically for the Defensive midfield role. To make the comparison between players easier, I choose player radars as the visualization charts and settled on 12 indices. I choose 7 defensive stats and 5 attacking ones, which were Tackles, Interceptions, Blocks, Clearances, Aerial Duels won, Recovery of loose balls, Number of times dispossessed, Dribbles completed, Prog passing, Key passes, Through Balls and finally shot creating actions.
The players we are looking at are, Sergio Busquets, Frenkie de Jong, Zubimendi and Neves. I have also included Enzo Fernandez and Varela as these two names keep popping up among fans. But its purely for amusement and not considered as real options. And finally there is two more players, Lepenant and Palacios, which could be good options to consider. The data was taken from fbref, and the stats are from last 365 days from both leagues and champions/Europa league.
**note the stat marked as press resistance is calculated based on all the dispossessions.
Sergio Busquets
First of all lets look at Busquets chart to set the foundation for this analysis. Busquets starting for us at 34 years has been a controversial topics among the fans. Majority finds it absurd and he is one of the players that gets most heat after our losses, while another group have stood by him even through worse. And tbh this contrast in fan opinion makes sense, its true he gets exposed in much dynamic games but the underlying numbers proves he has been very solid for rest of the time.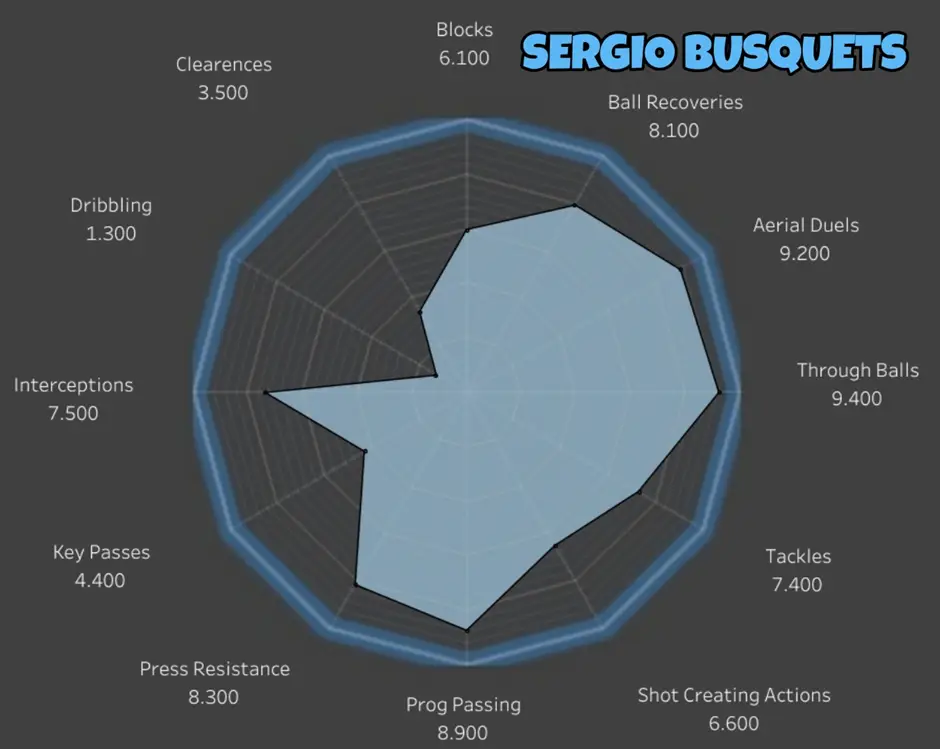 Almost all of his defensive stats are great or at least above avg. The through balls, Progressive passing and Press resistance tells you how elite he's on the ball.
Frenkie de Jong – A good fit?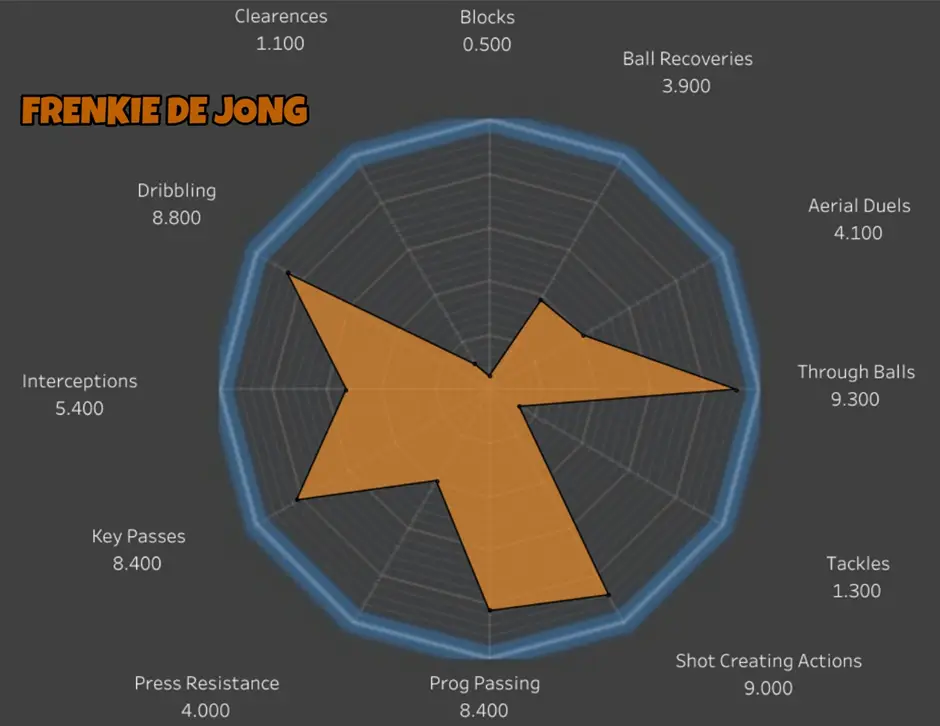 Next is Frenkie de Jong, and lot of the fans including me thinks he has what it takes to step up as our next pivot and the he did look promising the last few games he filled in for Busquets as the lone DM. The stats say a very different story, but I think its affected by the role he played in our system for good part of the year. So I took a look at his numbers in the WC where he was employed in a defensive role, and the numbers thou from a small sample size proves this point.
Before going there, the offensive number in this chart is without doubt the best among all the players. On ball he easily reciprocate what Busquets brings to the system. His key passes and SCA are absolutely worth a shout. Now for comparison I am adding his performance in WC too.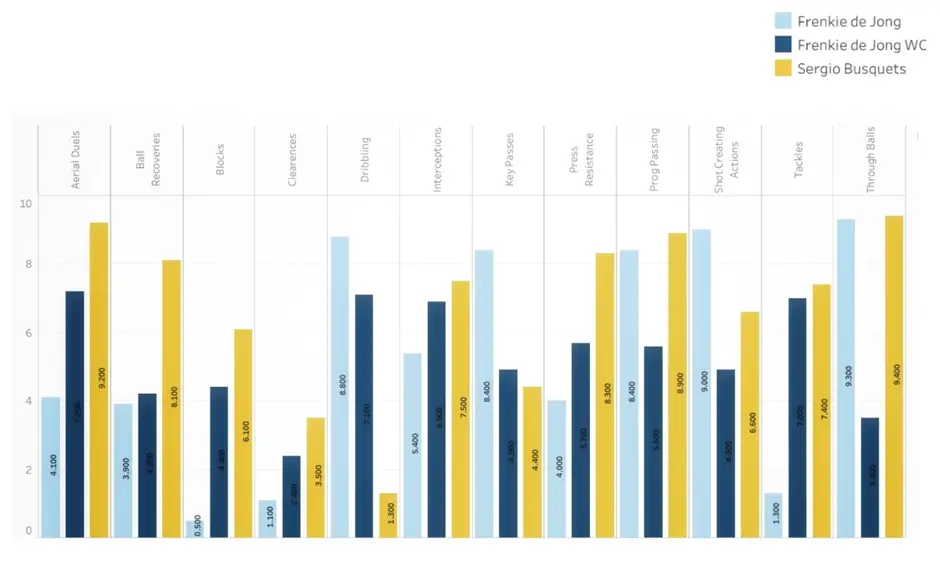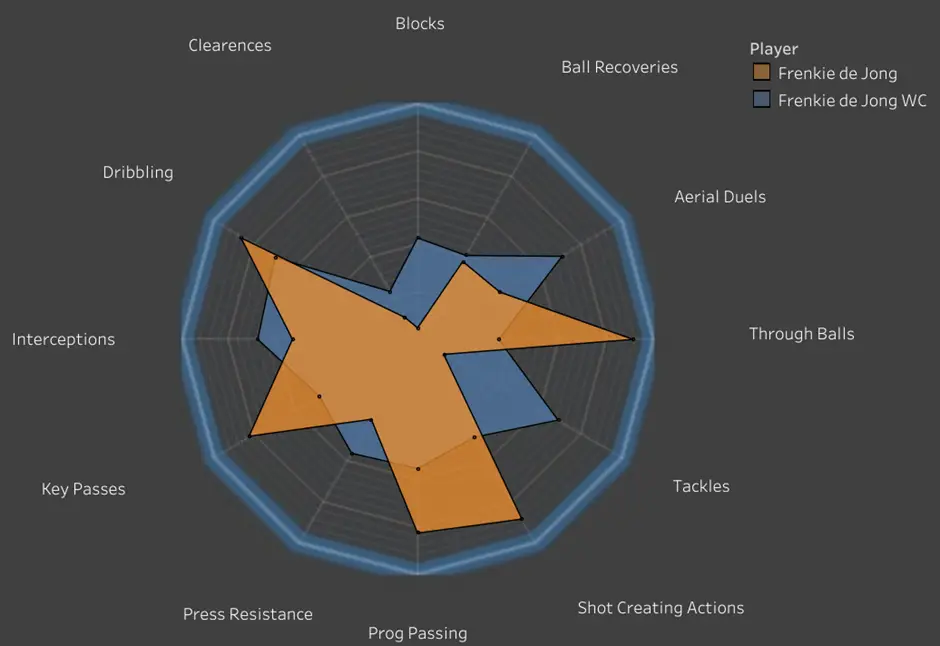 Martin Zubimendi
Now moving onto the players we are scouting and are associated with us. Zubimendi plays in a similar system to us in Real Sociedad and his defensive numbers and press resistance could explain why his the most popular choice for our coaching department.His offensive numbers are very exciting but still has a very decent progessive passing. By looking at the stats, you can call him the polar opposite of Dejong's chart, and it does look complementary with Pedri, Gavi and DeJong. Highlights of his chart are the Aerial duels, Interceptions and press resistance.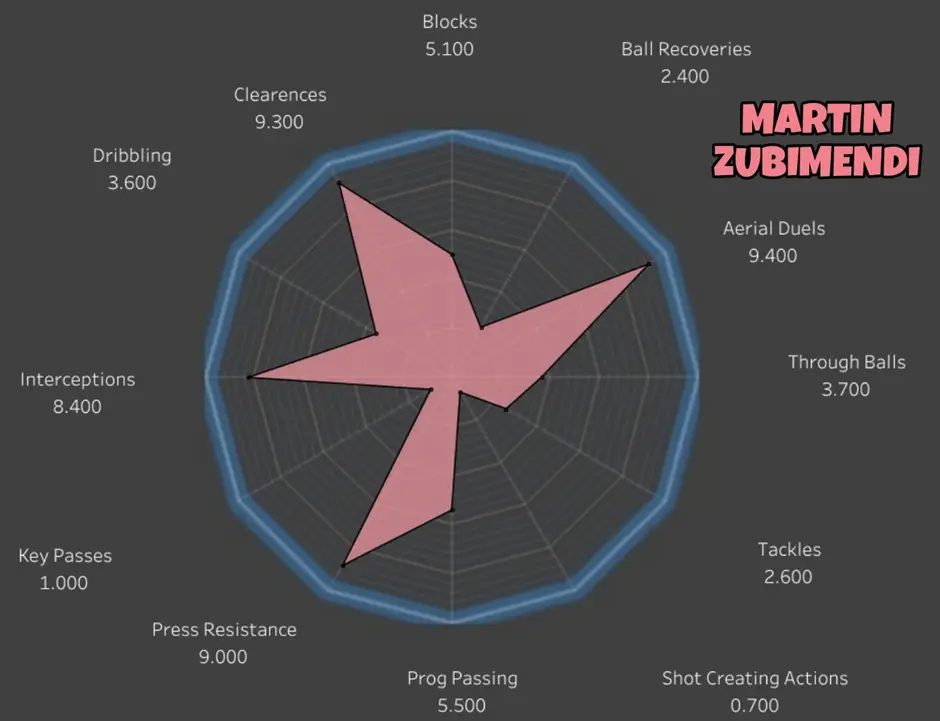 Ruben Neves
Ruben Neves is another player associated with us in the last couple of months, and he his chart is the most balanced one of the lot. Wolves avg possession being less than 50% could def help his defensive stats, but its still looking good. You can say hes a very reliable option to do a decent job as a defensive midfielder and he also has a very solid passing stats to be trusted with the ball.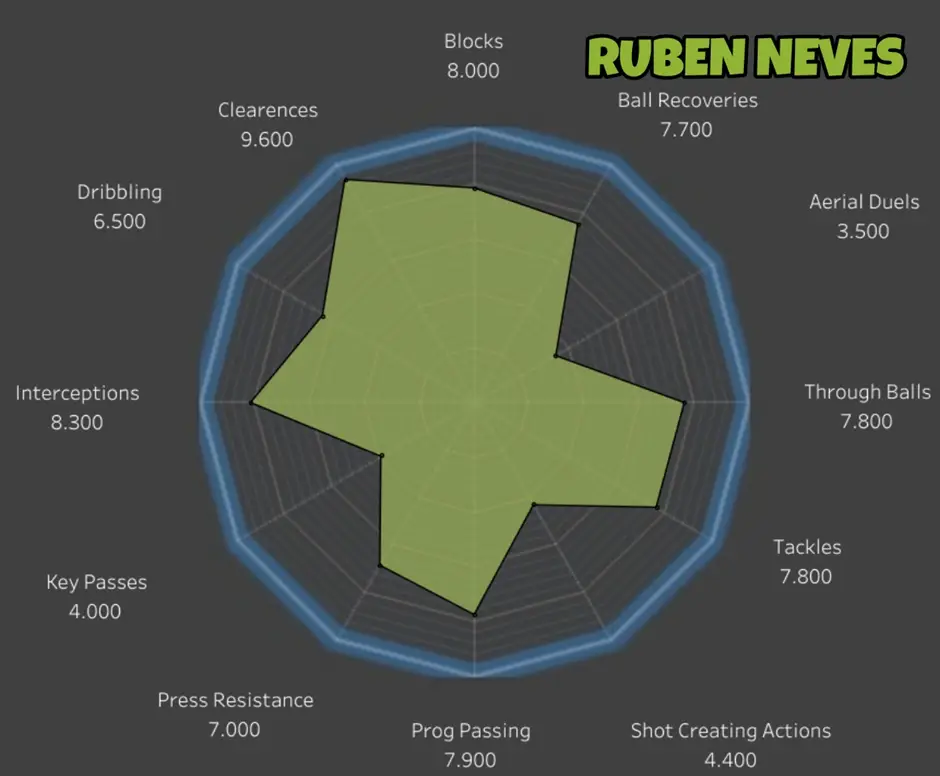 Enzo Fernandez and Alan Varela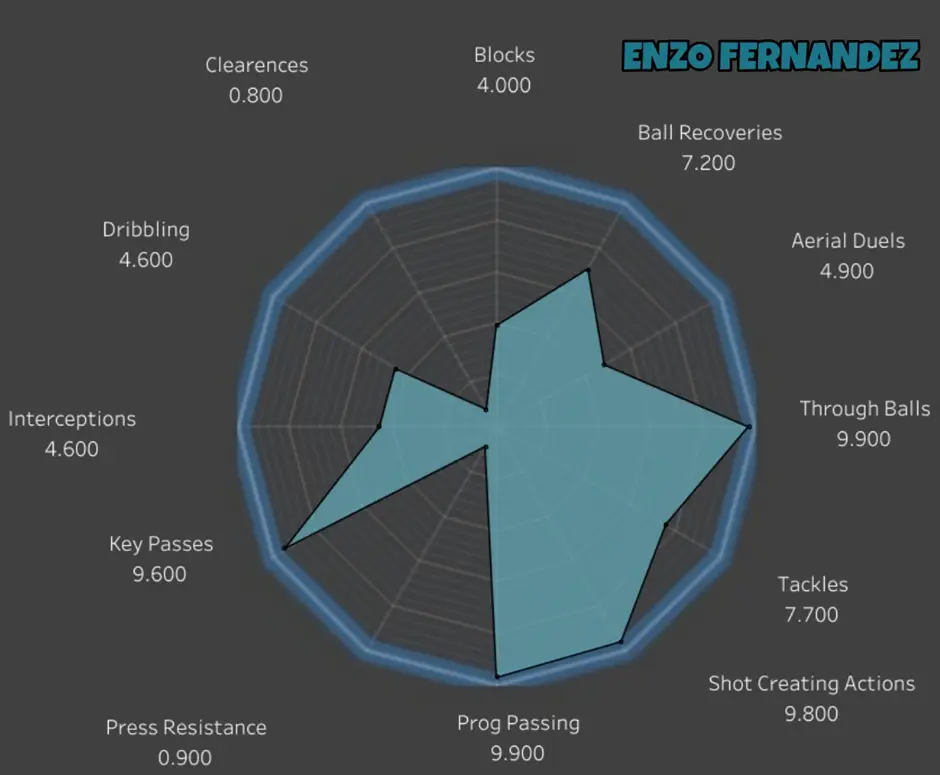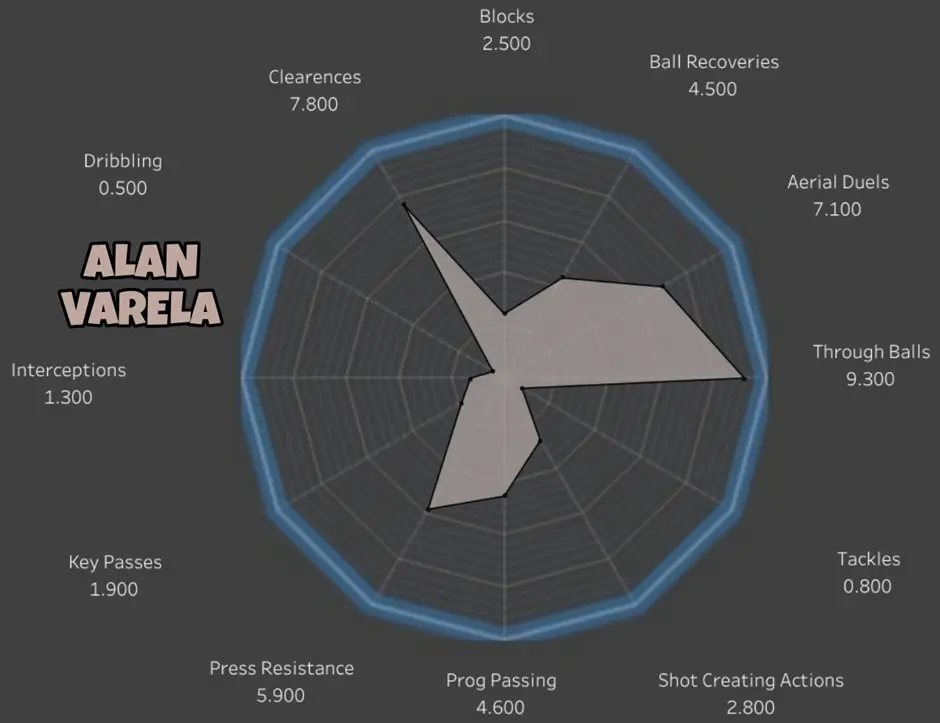 Its not a surprise that Enzo's onball stats are just mouthwatering. But his defensive stats aren't exactly great apart from ball recovery and tackles. Also its worth noting that hes employed higher up the pitch to run the Benfica midfield, which can explain the high number of dispossessions. Varela name came up as the possible Enzo's replacement option for Benfica.
Finally the two less talked about players in Lepenant and Palacios.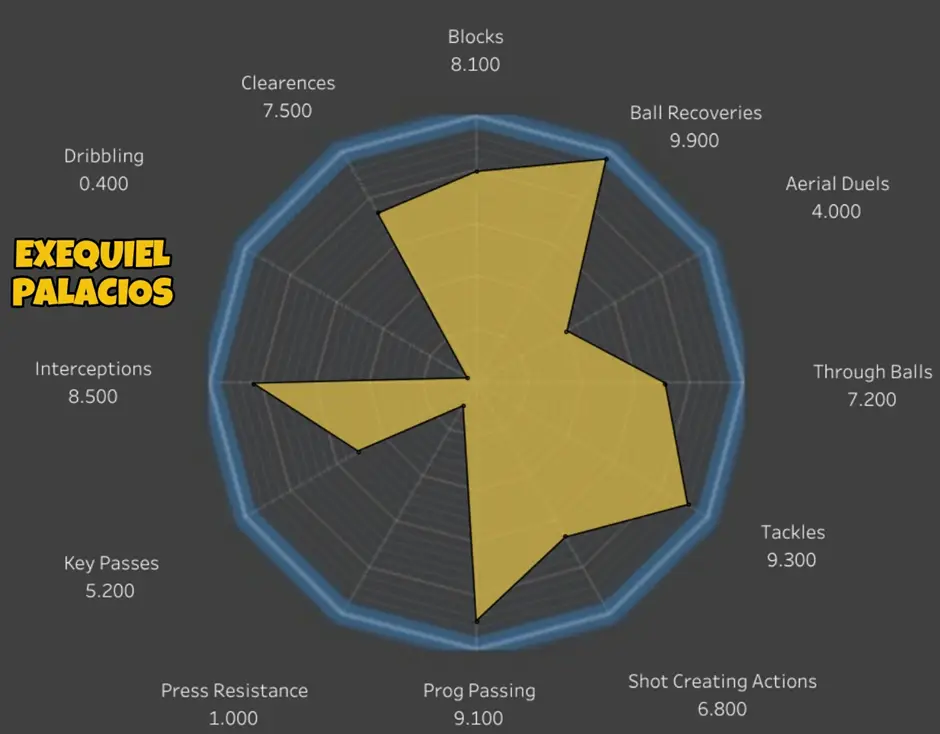 Palacios turned some heads while playing for River plate and hes been able to reciprocate that performances after moving to Bundesliga side Bayer Leverkusen three years ago. He is a proper DM and as you can see most of the stats are pretty great and the only red flag is the high number of dispossessions.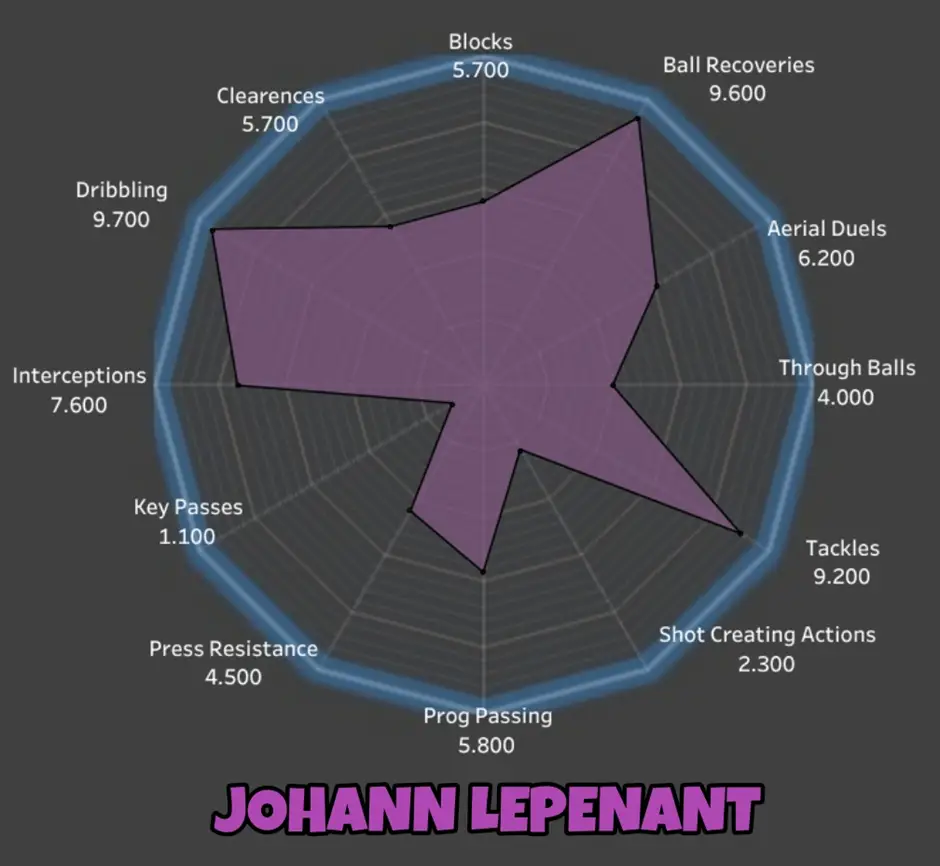 Lepenant is a 20 year old who plays for Lyon. Hes prolly the least known player of the list and I decided to check him out after coming across his name in the OT. His defensive number looks great, specially the interceptions and ball recoveries should mean great positioning. The Dribbling stats also stands out and he also got great underlying passing stats even thou its less progressive.
Anyway, that concludes the post and I know all the comments I made were purely from a stats POV. It was because I haven't watched these players much apart from Busquets, FDJ and Enzo, so it will be nice if the people who has watched others can add more. Also, I had to stick with a maximum of 12 stats to avoid clustering in the charts, so I went with the ones that made most sense for a DM. If you have any suggestions about choosing other stats, do feel free to add. And finally, am adding a graph of Busquets stats this season against last season, as a fun bonus.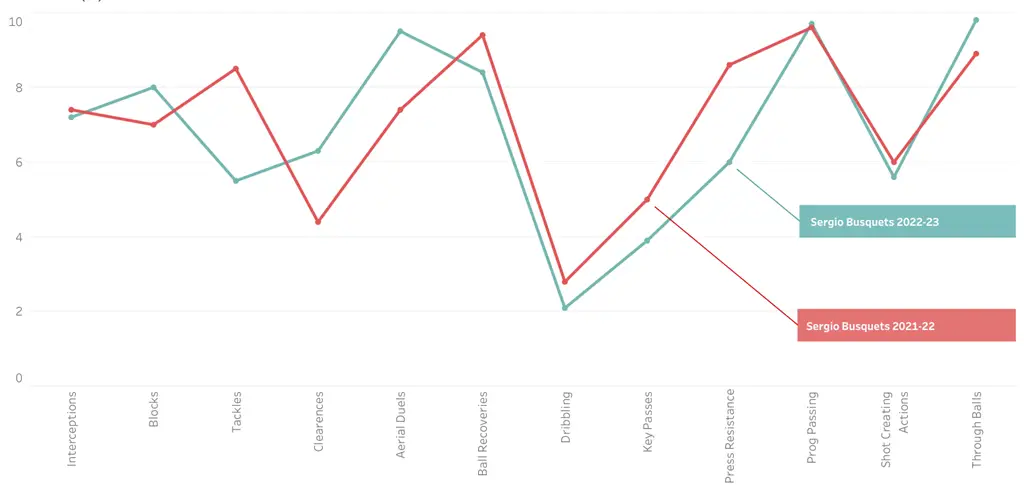 [ad_2]