With a Champions League spot on the line, Barca traveled to Seville to take on Real Betis. Barca's foes came into the match battling for a European spot their selves, so this match wasn't going to be easy in the slightest.
That's why Xavi's side needed as much positivity as possible. Whether it was commitment or technical excellence, Barca needed a good bit of it if they were going to walk out of today's match with a win.
So how did they do? Let's recap the action.
First half
Barca's initial first half display against Betis wasn't appealing.
Much like their previous matches, the tactical plan in the attack was dull. Too many crosses from Ousmane Dembele, too many isolated dribbling situations from the wingers, and too little link up actions through the middle of the field.
It left the attack somewhat lifeless and without any substance.
Because of that, the first half came and went without much in the way of positivity for Barca. However, there were some chances that popped up in the midst of Barca's struggles.
Memphis Depay — who has played some great football during the past two weeks — lifted a corner towards Betis keeper Rui Silva in the 20th minute — who had to come on to replace Claudio Bravo due to injury. The corner found its way to Ronald Araujo's head, and it appeared to be going in the back of the net.
But Silva showcased lightning quick reflexes, and got a touch on the shot before it rang off the crossbar.
Betis had a shot of their own ring off the post in 29th minute. Guido Rodriguez's bounced off the post and left Betis also wanting more.
Aside from those chances though, there just wasn't a lot in terms of quantity of chances in the first half. There was a lot of passing, a lot of caution, but there simply wasn't enough decisive moments that had the potential to change the game.
However, once the second half began, the fireworks began to pop for both teams. As a result, we received a more explosive brand of football.
Second half
The opening minutes of the second half weren't that exciting either.
An explosive second half begins
But Betis flipped that notion on its head in the 64th minute. Alex Moreno received a gorgeous ball on the left flank, which he controlled well. Moreno then lifted a nice ball for Juanmi, who suddenly found himself one on one with Neto.
Juanmi then tried to slide his shot past Neto, but his shot was sent straight towards Neto, who then deflected it out of play.
Barca begin to make advancements
Barca came back with their own threat in the 71st minute. Frankie De Jong slid a pass through for Pierre-Emerick Aubameyang — who came on as a substitute in the 66th minute. The Gabonse international then fired a powerful effort, but it was sent straight at Silva who tipped it over the crossbar.
Barca rebounded once again in the 72th minute, as Ferran Torres took advantage of an error by the Betis defense. The loose ball fell to Torres' feet in a favorable spot, but he couldn't take advantage of it as his tough first time shot rebounded off Silva.
Ansu Fati arrives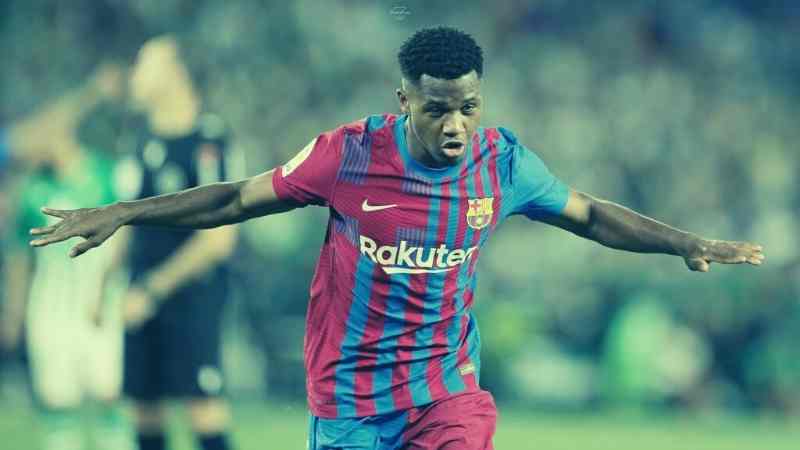 But just minutes later in the 76th minute, Barca found their breakthrough. Ansu Fati — who replaced Torres just a few minutes prior — gave Barca their first goal of the game. Fati was at the top of the center half circle outside Betis' penalty area, when he sent a scuffed effort towards the Betis net.
The shot was deflected prior to it reaching the goal, but it had just enough power to slide into the far left corner of the net.
The goal not only temporarily gave Barca the lead, but it reinforced Fate's ability to quickly change the game due to his clinical finishing. With the goal in hand, Barca went right back to defending to their slim lead.
Betis equalize
However, their efforts would go unrewarded in the 79th minute, as Betis equalized through a set piece. Marc Bartra rose up high over Dani Alves to connect with the free kick, and sent the heavy header past Neto.
After the equalizer, Barca had to immediately turn their attention towards finding the winner. Another draw wouldn't be received well by fans, especially after the club's turbulent past few weeks worth of results.
Barca wins at the death
It took some time, but Barca found the winner, and they waited until the very last possible moment to do so. Alves lifted a cross towards far post, which had two Barca players waiting to take it. The cross found its way towards Jordi Alba, who shot a screamer past Silva at the death to give Barca a narrow 2-1 win.
It was a bit of an up and down match, with plenty moments seemingly suggesting a disadvantageous result for Barca. But Xavi's side dug deep and found the result they were looking for.
Final word
This was another match that reflected Barca's lack of recent consistent positivity. The attack was predictable, there were some odd moments defensively, and a select number of players on the field underperformed once again.
That's on the back burner for now however, as Barca has secured a Champions League spot for next season. Which is a feat every fan should be proud of, considering just how down int he dumps the club was before Xavi's arrival.
Barca's next match
Barca's next match is on Tuesday against Celta Vigo.
See you all then!