Barca had nothing to play for in their final league match of the season vs Villarreal.
2nd place has been secured, and they had no silverware to strive hard for. But Barca did have pride and dignity on the line, as Villarreal made the trip to the Camp Nou.
Let's discuss what went down.
First half
The first half was mostly controlled by Barca. They were linking up in possession with few errors. There was more creativity in the build up of the attack. There was even sensible crossing situations, most of which Barca had struggled to consistently run into previously.
A lot of that early positivity came as a result of Adama Traore being on the pitch. His blazing pace and bruising style isn't a perfect end all for issues in the attack. But both of those traits come in handy whenever you need instant attacking prowess on the flank.
Barca's attack shows some life
As evidenced by his shot in the second minute of the game. In which he opened himself up and unloaded a cannon of a shot wide of the post.
However, Traore wasn't the only one that continued to find decent scoring opportunities throughout the night. Ferran Torres — who has been the target of some heavy criticism over the last month — had a decent first half showing himself.
His first sign of action — a powerful shot on the half volley in the early portion of the first half — was saved by Villarreal keeper Geronimo Rulli.
It wasn't a goal, but it was still a good sign from Torres, whose play has appeared rather flat recently. Torres added another notable highlight in the first half, but this one didn't involve him using his boots to fire a shot at the net.
Instead, the former Manchester City player found himself attempting to get others involved. In the 11th minute, Torres fired a cross into the box where Frenkie De Jong was residing. The cross ended up being a little too high for the Dutchman though, as it sailed over his head and away from danger.
Nonetheless, it was a good looking opening 15 minutes from Torres. It wasn't anything complicated, just good old fashioned progress that Xavi and his staff have been expecting from Torres.
After Barca's opening blitz, chances didn't come in bunches. But they did retain possession and at least try to create decent scoring chances.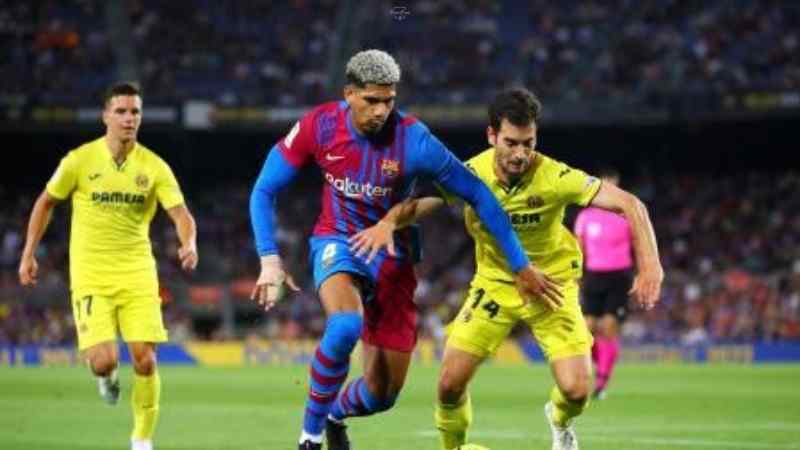 Villarreal strike against the run of play
However, as we know in football, this beautiful game doesn't care if you're dominating the game or not. Because the team that's been defending deep in their own half can break out, and score goals in a flash.
Unfortunately for Barca, that's exactly what happened in the 41st minute. After a decent stretch of initial possession by Villarreal, they they got their goal, and they did so in pretty fashion.
Barca got sucked into the possession game of Villarreal, and as a result, Alfonso Pedraza became the beneficiary.
Pedraza found himself in free, open space after Dani Alves failed to cover his run into Barca's penalty area. Pedraza then put a left foot on the incoming pass, and fired it past Marc-Andre Ter Stegen to stun the Camp Nou and give Villarreal a 1-0 lead.
After dominating much of the game till then, Barca had to have felt comfortable about their chances as the game went along. But with Villarreal scoring the opener, Barca quickly had to rebound and turn their attention towards finding an equalizer.
They almost got one too, just before halftime in fact. Torres once again sent a volley shot towards Rulli, a powerful one at that. But Rulli,, like Torres' last volley attempt, punched it out of harms way.
Halftime hit soon thereafter, with Barca down a goal and still searching for goal scoring answers.
The second half presented Barca with a chance to find an equalizer, and perhaps a winner if things went their way.
But as we saw in the second half, events simply didn't unfold in Barca's favor.
Second half
In the 55th minute, Barca ran into more trouble. After a terrible clearance by Traore, Villarreal once again found themselves staring at a golden opportunity to score a goal.
Traore's clearance fell to the feet of Moi Gomez. Gomez didn't waste any time either, as he collected himself and fired a shot past Ter Stegen to give Villarreal a 2-0 lead.
By then, it became panic time for Barca.
A flurry of substitutes followed, as Xavi desperately searched for any goal scoring answers. In the 73rd minute, it appeared Barca had found their solution.
Dani Alves sent a long range shot towards Rulli, which he then punched away. The ensuing rebound fell to Ansu Fati, who danced around Rulli and fired a shot before that one was punched away as well. Frenkie De Jong then finally headed the second rebound into the net, before the assistant referee lifted his flag up to indicate offsides.
The entire sequence was wiped out, and Barca had to start from scratch.
Unfortunately though, Barca ran out of time, as they ended up losing 2-0 in their final match of the season.
Final word
In a sense, Barca's final match summed up their form after the most recent international break.
Before then, Barca had found their identity back. They were linking up by using the principles that were so prevalent in Barca teams of the past. Not only that, they were scoring goals at a very efficient rate, and even putting in very good shifts defensively.
But after the break, Barca's form seemed to drop off a cliff in comparison. As a result, they stumbled to the finish instead of finishing strong and with pride.
Barca stumbles into a summer where transfer business will be important. There are many spots to fill, and plenty of targets to watch out for.
Reports will be aplenty, and there will be some disappointments in the end. But like any other summer transfer window, the chaos should make up for the ups and downs that'll most definitely come to pass.
Barca's next match
Barca's next match will be on Wednesday against a team composed of all-stars from Australia's premier football division.
The match will be played in Australia, marking the club's first trip to the country in it's prestigious history.
See you all then!