Finally, after what feels like an eternity. At 10pm local time, Barça will be playing our final game of the season, vs Villarreal at home. It's been a very difficult season, emotionally and mentally. With a lot of ups and downs. However, overall I feel that we can move into the new campaign with a lot of excitement and optimism. An important summer and pre season awaits this team and our coach Xavi. But the most important thing today is to end the season on the best note possible.
With a good decent result and an even better performance. I guess what's nice about tonight's game is the fact that we haven't got anything to play for. We've not only secured champions league football for next year. But we've also cemented our position in 2nd place. This may give us an opportunity to see some players who either haven't been played as much this season. Or b team players like Jandro and Balde, who can come in next season to replace a lot of people who will hopefully be leaving. We need to start seeing players who will be apart of our long term future. To really give us a glimpse into what we could be seeing more of next season.
One thing we have to be aware of is Villareal. We may not have anything to play for, but the yellow submarine do. They are one point away from being knocked out of any European competition next season. So they'll be competing well in order to secure their place in the conference league. We can't go into the game like we did against Getafe. Relaxed. We need to go into tonight with a lot more intensity. And grab a positive result in-front of the home fans for the final time this season!
A game of goodbyes: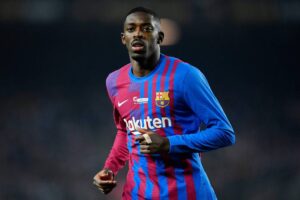 Tonight vs Villarreal we will see Barça play their final game of the campaign. But there's a possibility that we'll be saying our final farewell to a lot of players. Martin Braithwaite, Umtiti, Mingueza and Riqui puig all seem to be out of Xavi's plans for next season. So they'll most likely be playing their final game for Barça tomight. Luuk de Jong and Adama will most likely return to their parent clubs, after their loan spell here ends. Adama seems the most likely, however there may still be a small chance for Luuk to stay.
However, if it's not possible then all we can do is be thankful for Adama and Luuk for helping us out when we needed them the most. Luuk has single handedly won us 6 points with his last minute winners. He started the season heavily criticised, but he turned things around in January. To a point where the crowd sing his name whenever he plays. If it his last game, then he deserves a nice Thankyou for his services. Exactly the same goes for Adama!
Dembele also will most likely be playing his last game at the Camp Nou. Unless his agent drastically changes his approach and demands, then he won't be here next season. It will be a huge loss if Ousmane does indeed leave. But, he does hold all the power for his future. So all he has to do is take control of his agent. But that unfortunately doesn't seem likely. It may be quite an emotional night, seeing all these players leave. But for a few of them, it's vital they depart to allow us to strengthen even more.
Predicted Lineup: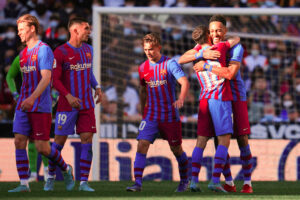 Again, just like last week, I'll be doing this lineup based on what I'd love to see. Instead of what I think Xavi will decide. In goal, it will be Ter stegen. Although it'd be nice to see arnau tenas get a game. In defence, we're pretty limited on names. The big news is that Araujo has been declared fit, after suffering a concussion in our last home game. Alba returns from suspension, but Dest is still out injured. VS Villarreal, Samuel Umtiti may get his chance to play his last game for Barça, which would be nice to see. In midfield, Gsvi, Frenkie and Busi will all start.
Althiugh Xavi may rest Gsvi and could put in Riqui or even Jandro to replace him. In attack, ferran Torres will most likely start. And it'd be amazing to see him score a goal or two to boost his confidence going into pre season. Dembele will start too, to possibly play his final game in Barcelona. And it would be great to see Luuk De Jong start too. Whatever the lineup, whoever starts the game. The most important thing is to grab a good result and put on an entertaining performance. Ending what has been a turbulent season, on a positive note. 
Visca BARÇA!
My prediction:
Ter Stegen
Alves- Araujo- Umtiti- Balde
Gavi- Busi- Frenkie
Dembele- Luuk- Ferran