In the penultimate game of the Matchday, Barça will be facing up against Osasuna. Live from the Camp Nou at 9pm local time. After a frustrating result against Galatasaray in midweek, Barça will be looking to get back on track with a positive result and performance against Osasuna tonight. Good vibes are vital ahead of a very important week. Where not only will we be facing Galatasaray away from home in the second leg or our Europa league battle. But we'll  also be travelling away to the Santiago Bernabeu for none other than 'El Clasico'. The second of the season. Nevertheless, our focus right now is only on one thing, Osasuna.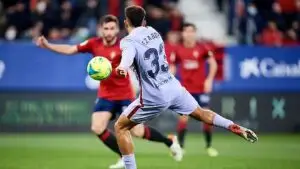 A quick look at our opponent
Barça already faced Osasuna once so far this season. It was one of the first games under our Leader and genius of a coach Xavi. We went into the lead twice in the game. Nico got on the end of a wonderful pass from Gavi in the first half to put us 1-0 up. And in the second, Abde scored his first goal for Barça putting us 2-1. Unfortunately, the result finished in a 2-2 draw away at Osasuna. That game however was a long time ago. And since then, we have really been evolving as a team under Xavi. A big change from that  game also, is the number of players we have available. Including our new signings like Ferran Torres, Aubameyang and Adama Traore who weren't here for the first fixture. All of these aspects, should give us a lot of optimism and excitement for tonight's game.
Of course we can't take Osasuna lightly, as they are a team that can and have caused us problems. They currently find themselves in a fairly respectable 11th place in La Liga. They come into this game off the back of a 1-0 win at home over Villarreal. Although  that is a pretty impressive result, they've only won 2 of their last 5 games. Losing 2 and drawing 1. Compared to our recent 5 games, where we have won 4 and drew only 1. We want to keep this unbeaten run going as long as possible. And continue to climb up the table, whilst also playing some exciting football too. We need to ensure that we start the game with a lot of intensity, and keep that up throughout the game.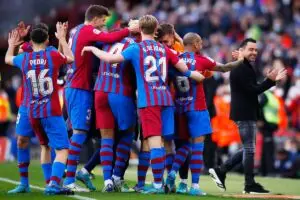 Predicted Lineup
In terms of the lineup, we are going to have a few tough decisions to make. With one eye on El Clasico, there  are a couple players who are at risk of suspension. We also want to keep things fresh for  our midweek battle in Turkey, so the lineup later today will be very interesting.  Ronald Araujo is one yellow card away from suspension, so the likelihood is that Xavi will protect him for next weeks game against Real Madrid. Ter stegen will be back in goal, still looking to improve on recent performances. Dest will most likely start at RB with Pique and Eric Garcia alongside him. Jordi Alba will be back at LB.
In midfield, Gavi will be back from being suspended against Galatasaray. So he could  feature along side Pedri and Busquets. Frenkie may be rested for the Europa league game on Thursday, seeing as he played the full 90 minutes a couple of days ago. It's also important to keep him fresh for El Clasico. What's great is that we are blessed with an abundance of midfield talent. So we can afford to rest and rotate players like Frenkie.
In attack, the one player I can see being dropped is Memphis. He unfortunately didn't do too much on Thursday so he will probably be dropped to the bench, with Aubameyang coming in to replace him. Adama was a constant threat in midweek and his unpredictability could do a lot of damage against Osasuna. Which is why he deserves to stay in the starting lineup. Ferran Torres struggled a little the other day, but his intelligence on and of the ball is something special. He's desperate to score on a consistent basis and that time will definitely come. He'll most likely keep his place in the starting lineup and hope to build up his confidence even more.
My prediction:
Ter stegen
Dest    Pique    Garcia   Alba
Gavi    Busquets   Pedri
Adama  Aubameyang  Ferran