Following up from our midweek performance against Napoli, we now face a  very tricky away trip to Mestalla. As Barça come up against Valencia. Despite  drawing against Napoli in the Europa League, we will be coming into this  game with a lot of positivity and confidence simply down to how we played  on Thursday. The first half was a slow start, but in the second half we really  turned it up a gear. Against a very good Italian side, we made them look  lethargic and shaky on the ball.
We pressed well, won the ball back high up  the pitch, created a plethora of chances and defended fairly well too. What  was also encouraging was that we also looked the fitter side out of the two  teams, which is something we've had to drastically improve on. So coming  into todays match, there are many reasons why we should be optimistic.  This afternoon's game is crucial for our top 4 fight this season. Atleti won  their game yesterday which means they are currently 2 points ahead of us in  4th place, but we do have a game in hand over them. No less than 3 points  would be acceptable, and against a very frustrating Bordelas team, we're  going to have to work hard for it. 
A quick look at our opponents
Now, when you talk about a Bordelas team, not a lot of good things come to  mind. The style he implements on his teams could be described as anti football. There's no real philosophy to his teams, they are just quite simply  always a pain to play against. The matches aren't usually that entertaining  either.
You only have to look back at some of our previous games against his  former side Getafe, to know that the 90 minutes can be very frustrating.  Statistically, they are the team who wastes the most amount of time out of  any other team in the top 5 leagues. In fact, the ball is in play only during  49.49% of their games. That's shocking. They are also, unsurprisingly, the  team that leads the way for the number of fouls committed and bookings  received. 
 So, evidently, Valencia under Bordelas are not a footballing team. Their only  purpose is to make life the most difficult for all their opponents, which 9  times out of 10 is what usually happens. Against us, much like a lot of teams,  they always seem to grab a result or perform slightly better than usual.  Which of course just adds to the difficulty of this game. The most Important  thing for us this afternoon is to score first. If Barça will allow Valencia to get the  lead, then you can guarantee they'll waste time throughout the whole game,  and the referee will buy it. Whereas if we are able to get in-front first, then it  may force Valencia to come out and play more. Scoring the first goal is  crucial!  
When we're comparing recent form of the two teams, Valencia are definitely the team that are struggling the most. They haven't actually won a game  since way back in December, with their most recent win coming in the Copa  Del Rey. Their last result was a 2-1 defeat away to Alaves.
Our side of the story
However, on the  side of Barça, things have been looking a lot more positive.
We're still on a  run of more than 6 games unbeaten in La Liga, having drawn our last game  2-2 against Espanyol. Results have been steady, but each and every day we  are improving under Xavi. Every game you watch, you can see aspects of  what Xavi is bringing to this team. There are still many things that need to be  Improved and worked on, but this process can be trusted! And we're going  to hope that Barça can carry on the good vibes with a decent performance against a low on confidence Valencia side.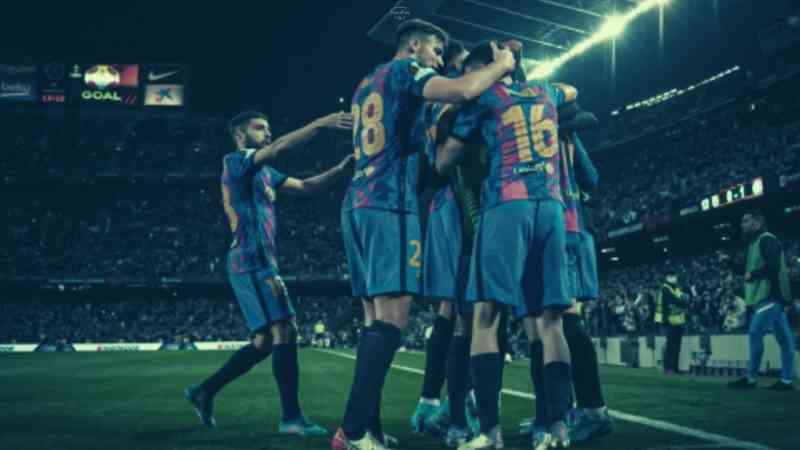 Possible Lineup
Of course in midweek, we did see a number of rotations from Xavi. Players  such as Gavi, Busquets and Dest were all rested on the bench. With Nico  Gonzalez starting in the midfield with Pedri and De Jong. Aswell as a front  three of Ferran Torres, Aubameyang and Adama. The most surprising change  from the Napoli game was the reintroduction of Oscar Mingueza to the RB  position. Where I don't feel he had a bad game at all, considering how long  he's been on the bench for. 
Coming into this game however, I feel that there will be a number of changes  from the team that faced Napoli. Both forced and tactical changes. We'll be  without Dani Alves and Pique as both are still suspended. With Dani facing  his second game ban from his red card against Atleti. And Pique will be  facing his one and only game suspension for his unnecessary sending off in  the Catalan derby. Dest and Araujo are most likely to come in and replace  them, after Araujo was declared fit for todays game following an injury last  weekend. In midfield, I can see Busi coming back in, with Nico dropping to  the bench. And in the forward areas, Gavi will most likely return to the left  hand side with Aubameyang going back to the bench. 
I feel that overall, we're going to see a team similar to the one that beat  Atletico Madrid. Of course, we can't forget that the players who will be on  the bench will also play a huge part in the game for us. Most notably, Luuk  De Jong, who's been a super sub for us recently. And against a team like  Valencia, someone with his aerial threat could be a huge bonus for Barça.  However we lineup though, a win is the only thing on our mind!  
My prediction:  
Ter Stegen 
Dest – Araujo – Eric – Alba  
Frenkie – Busquets – Pedri 
Adama – Ferran – Gavi