Following up from our incredible performance against Atletico Madrid last  weekend, we now move our attention to El Derbi de Barcelona. As FC Barcelona travel  away from home to face local Catalan rivals, Espanyol for the second time in  the league. Kick off is at 9:00pm local time and will be the last game of the  weekend. Which means that teams like Atleti, Real Madrid, Betis and Sevilla  would've all played before us, making this game even more important.  Thanks to our fantastic and enjoyable performance against Atletico last  weekend, we find ourselves currently 1 point behind them after they  unfortunately came back in the last minutes against Getafe yesterday  evening. Well be looking to keep the good vibes going into the next week.  Where of course we face Napoli in the Europa League. A positive result tonight  will be vital! 
A quick look at our opponents
The last time FC BArcelona faced Espanyol was a memorable one for many reasons. It was the first league game under the control of our new coach, Xavi. The  performance on the day wasn't the best, or even the most exciting. It was so  early on in the new project, so it was likely that we weren't going to see  much improvement. Memphis' penalty was the winning goal on the day, as we laboured to a narrow 1-0 victory.
We definitely rode our luck back then  though, because Espanyol gave us a very tough game. And to be honest, the  probably should've left with more from the game. Flash forward a few  months though and things are very different. Out of the possible 26 points  we could've got since Xavi took over, we have won 21 points. Meaning that  we have been able to go from 9th place to a more respectable 5th place.  We're also currently on our best run of the season so far, remaining unbeaten  in our last 6 games. Including that brilliant performance last week against  Atleti, which definitely seemed like a turning point for us as a team.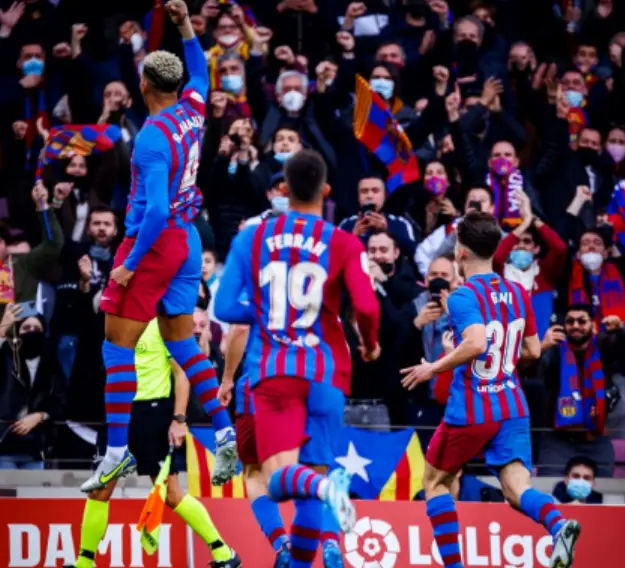 Espanyol on the other hand are in a much different position. You may  remember that the last time we played them, they were just a single position  behind us and on a pretty impressive run of form too. Flash forward to now  and things are a lot less encouraging for our Catalan rivals. They're currently  on a run of 2 successive losses, aswell as dropping points in their last 5  games.
In fact, the last time they won was 5 games ago. Their home record  isn't the best either, and our away record has improved a lot under Xavi. But,  like many games, when we come up against Espanyol, especially away from  home, we do struggle. And we're going to need to be wary, as they have  already beaten Real Madrid at home this season. The atmosphere will be  very tense and difficult in the stadium, and Espanyol will put a lot of pressure  on us. The most important thing is the team who scores first. We need to  ensure that we get the lead early on, and not let the opponent grow into the  game. 
Predicted lineup
Generally speaking, I don't think much will change in regards of the lineup for  tonight's game. The setup last weekend was brilliant and the team obviously  performed very well. So, if it isn't broke why fix it? Due to suspension, we will be without Dani Alves, so Dest will most likely be the one to fill the gap. This  would be a massive opportunity for Dest, and hopefully he can grab it with  both hands. Adama was absent from training a couple days ago due to a stomach problem, so he might not be fit to start.
If that's the case, then we  could see the return of Ousmanne Dembele. Apart from those two changes, I  can't see many other positions getting altered. The midfield of Frenkie, Busi  and Pedri was dominant against Atleti. And with Gavi cutting in from the  wide position and staying high and wide too, really caused our opponents  problems. So I can see him starting from the wing again, and maybe it's a  position he might grow into more and more, especially considering how  stacked our midfield is. Whatever the lineup is, the most important thing  tonight is to grab those 3 points. It's going to be tough, and probably not a  very calm watch, but let's get it done!  
My prediction:  
Ter stegen  
Dest – Pique – Araujo – Alba  
Frenkie – Busquets – Pedri  
Adama – Ferran – Gavi