When the news broke on Monday: Aguero retire from football, I think it shocked us all. For not only myself, but also the entire footballing world, today marks a very sad day in the sport. The  end of an era. The end of the incredible story written by one of the greatest players to ever grace  the game. Sergio Aguero. He will go down as one of the best strikers to have ever played,  especially in the premier league. A league in which he dominated for the majority of his career.  At the end of the day, despite how sad the situation is, Sergio's health is the most important thing.  He is at the stage of his career where he would be starting to wind down, but it wasn't meant to  end like this. 
We were all so excited to see him sign for Barcelona, a club which Sergio always dreamed of playing for. He made an incredible effort to come to the Camp Nou in the summer.  Unfortunately, his debut for the club came long after he was presented due to a long term injury.  But as soon as that magical day came along, everyone was excited for it. I can still remember  now the repetitive chants of "Kun,Kun,Kun" ringing around the camp nou.
Whenever he was on or  near the ball, the chants were getting louder and louder. From day one, he received immense amount of affection from us fans, and all of that was genuine. Not only is he one of the  worlds best, he's also one of the greatest characters in the game. A great guy with a brilliant  personality, which just made you instantly fall in love with him as a player. For sure, he is going to  be missed in the beautiful game.
A Memory to Cherish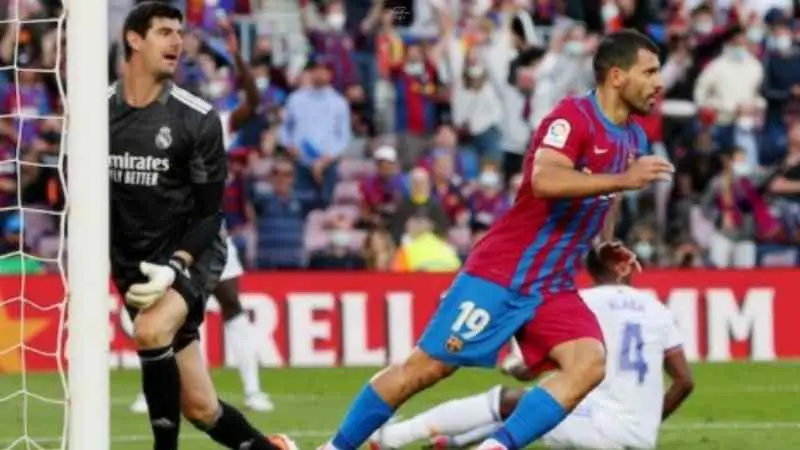 As shown in his press conference today, the message is clear, Kun was once a culer and he'll  always be one. And for me, one of the best memories I'll have of him at the club is where and  when he scored his one and only goal for Barça. Scoring against our eternal rivals, Real Madrid. In  his first El Clasico at the camp Nou .He couldn't of done it in a less Culer style! For me, the only  sad thing about that is the fact that we couldn't celebrate it better as we were losing the game  anyway. I wish we were able to see him hit the back of the net more for Barcelona, but  unfortunately it wasn't meant to be.  
Kun's last words as a Barça player:
This decison to retire must have been one of the toughest ones Kun Aguero ever had to make. To hang up his  boots after a glittering career, after spending his whole life dedicating it to one sport. Saying  enough is enough is always difficult. Especially like Aguero case where he has been forced to  retire due to heart problems. His press conference today was very emotional for all involved, and  Kun elaborated more on how he has been feeling about the decision. "I feel good right now", he  said.
"Obviously the first two weeks were hard, when I did the first physical test in the clinic. And  when they told me it was definitive, it took me a few more days to process it." You could feel a  sense of pride when he spoke about his career, "You always want to keep winning more things,  but I feel very happy for the titles I have won." Like another Argentine superstar we know very  well, he's clearly very humble and always thought more about the team, than for himself. Clear  from when he said, "I always say that in the end the player forms part of a team and everything I  did was to help the team and the club."
Bottom Line
Lastly, I just want to dedicate this short article to the legend that is Sergio Aguero. Thankyou so much for everything you have brought to the beautiful game, you'll go down as one of the greatest  to ever play the game. It was a pleasure to have you at Barça, Kun. And to say that you are apart our history. Even if it was just for a short period. It's been an absolute privilege!