The Blaugrana left San Mames with one point. That put Barca first on the La Liga table, for the first time under Ronald Koeman's management at the club. The game started of quite shaky as Bilbao looked threatening, with their high and intense pressing. The game looked as if Bilbao were destined to win against the Blaugrana and Bilbao had their chances boosted when Pique was taken off in the 31st minute due to a calf injury and was replaced by Ronald Araujo. In the 50th minute, Barca conceded a goal, a headed effort scored by Inigo Martinez.
However, Barca got back into the game, with a missile shot by Memphis in the 75th minute assisted by substitute Sergi Roberto. Barca were given the chance to take the lead in the 85th minute but Memphis put the ball out wide, making Barca's chances of winning the game cut down. The full-time whistle blew and Barca salvaged a point out of a difficult and hard-fought game. Overall, Athletic Bilbao dominated Barca. But Barca had more clear cut opportunities to lead the game. This is something that the players and the team has to work on. It will come back to haunt us if we don't capitalize and learn.
Defense
Neto (GK): 5/10: Neto seemed very shaky and uncomfortable, letting a goal slip through in the 50th minute. Athletic's high pressing seemed to work on him as he was unnerving on the ball. However he did show glimpses of his best making 5 saves but he was still very fragile
Jordi Alba (LB): 6/10: Although he made some impressive runs as usual, his passes weren't successful as he couldn't find a man to finish his creation. Defensively, he left a lot of spaces which gave Bilbao an advantage to attack, but luckily, they couldn't exploit it.
Pique (CB): 6/10: Our hero, Gerard Pique, limped off with an injury in his calf. He played a decent outing but Oihan Sancet did find a way to get through him. 
Eric Garcia (CB): 5/10: Condolences are sent out to Eric Garcia's family, as his grandfather sadly passed away, but he still showed the courage to play. Despite this determination, he was troubled by Inaki Williams and his younger brother Nico. Picking up an early yellow card, he racked up a suspension with a straight red for his tackle in the 90th minute on Nico Williams.
Dest (RB): 6/10: Dest showed his flair, looked threatening in the box but his end product was not present. Like Alba, his defensive issues need to be sorted, as he was leaving spaces for Bilbao to exploit.
Midfield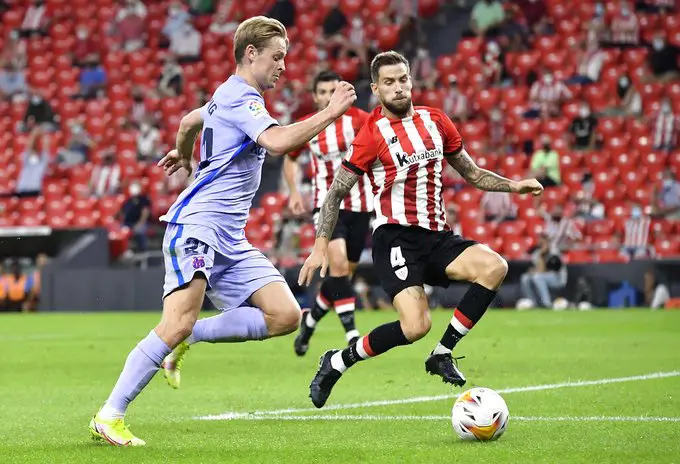 Frenkie De Jong (CM): 8/10: De Jong, the Man of the Match, displayed a wonderful performance, but it wasn't quite enough for a win. He displayed a great defensive performance as he blocked a potential goal. He set up Memphis for a goal, but he was unlucky as he couldn't finish it. Overall, a great performance.
Sergio Busquets (CDM): 6/10: Busquets couldn't get the performance we were expecting, as he was caught lacking in some moments, but he did play a role in the equaliser.
Pedri (CM): 6.5/10: Bilbao really seemed to know how to limit Pedri's influence. He did have some good moments but he was cut off by Bilbao's physicality.
Attack
Depay (LW): 7/10: Memphis continued to deliver in an impactful performance, like De Jong it wasn't enough to win, as the team as a whole need to perform to get results. Memphis seemed dangerous, from very early on, and finally scored a powerful strike, to score his first goal for Barcelona.
Braithwaite (ST): 5/10: After his MOTM performance against Sociedad, the Dane struggled to replicate his former performance, missing a big chance from early on.
Griezmann (RW): 5/10: Dropping a lacklustre performance and not doing anything for the team, Griezmann displayed an unimpactful game, not being effective enough. He dropped a bit too far deep as well.
Substitutes:
Araujo (CB): 8/10: Close with De Jong, Araujo played out of his heart. From scoring a bicycle kick that was disallowed to completing a goal line clearance. Araujo continues to steal the hearts of many.
Roberto: 6.5/10: Subbed on for Pedri, Roberto assisted Memphis for the equaliser, but he played decently.
Demir: 6/10: Came on for Braithwaite, he showed glimpses of hope but wasn't effective.
Emerson: N/A