Junior Firpo's Barça career never panned out as planned. Unlike many other signings in the Bartomeu era, this one made plenty of sense. Firpo had just come off the back of a terrific campaign with Quique Sétien's Real Betis. Very adept at stretching out the opposition, Junior possessed great dribbling and speed. Brave with the ball at his feet, he was never afraid to take a risk. And that is a valuable trait for a young player.
But at Barça, he had to adapt. At Betis, he was part of a 5-man defence. But at his new home, he had to get used to the fullback spot. Truth be told, he never got the chance to do so, as Jordi Alba was the undisputed starter throughout his time at the club. Uninspiring and even dull, Firpo barely had any notable performances in two years at the club, making him among the main candidates to be shown the exit door in the summer.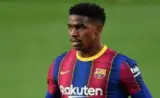 For his career, a move to Leeds United seems like a brilliant choice. Junior Firpo is still 24 and will certainly improve, especially under Marcelo Bielsa's wing. The 65-year-old coach is well-known for his ability to develop fullbacks, so perhaps there is finally some light at the end of the tunnel for Firpo. 15 million is the transfer fee, handing us some vital cash.