The Catalans had to play against Athletic Bilbao in the Copa Del Rey Final. It was really important to make a good impression, especially after the Classico. Barcelona's road to the final was a very eventful and difficult journey for the team. After the defeat in the Spanish Super Cup, Ronald Koeman's team was keen to take revenge on Athletic. By now, it's not a secret that Barcelona won the trophy by absolutely dominating the field in the whole match. There were many outstanding individual performances vs Athletic Bilbao, but I would like to focus on the best performance, in my opinion, which is Frenkie De Jong. 
First half
He started the game by playing a very attacking role, high on the pitch. He was very active and involved in almost every attack. From the very beginning of the game, we could see this will be his match. He was everywhere. De Jong didn't make mistakes under the pressure and easily dominated the midfield. He was responsible for building the attack many times and he even almost scored. From Busquets amazing pass to Leo in the box, The Argentine could get to the ball to Frenkie who hit the crossbar. 
Second half
The domination was so big that it was just a matter of time when will the team take the lead. In the 60th minute, thanks to Frenkie De Jong's perfect cross to Griezmann the Catalans finally scored. Frenkie didn't stop with an assist and scored a header from Jordi Alba's cross three minutes later. He didn't show any signs of fatigue, despite he didn't get basically any rest from Koeman. Bilbao didn't attack too many times but when they did the Dutch was there to block the shots or help in the corners. In the 68th minute, Messi and Frenkie De Jong had a beautiful play and the two of them completely ended the hope of Athletic with a Messi goal in the end. They understood each other very well, knew when to pass and where. 
This was De Jong's one of the best, if not the best match as a Barca player. He was directly involved in three goals out of the four and he controlled the team.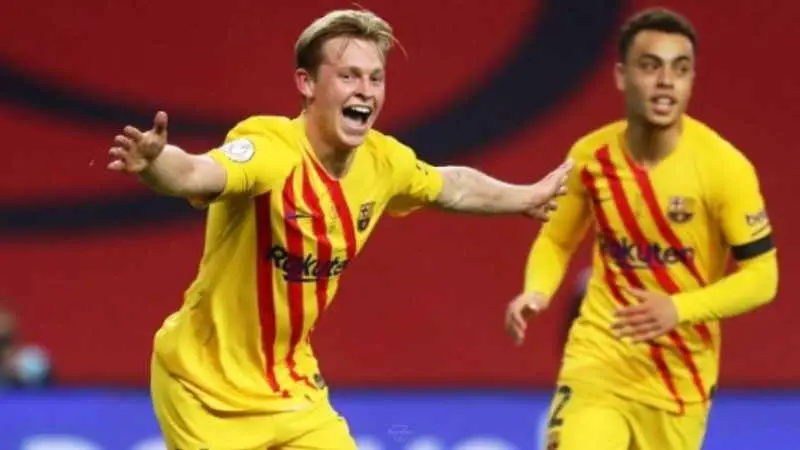 Statistics (Sofascore)
1 goal
2 assists
accurate passes – 95%
3 key passes
2 long balls
1 big chance created
4 successful dribble 
1 hit woodwork
8 duels won
One clearance
1 blocked shot
1 tackle
Rating: 10/10