After the thrilling 3-2 win over Athletic Bilbao, Barcelona's next task was to defeat Granada and maintain the 3rd place spot. The team had to return to the grounds of Los Cármenes, where they had lost 2-0 last season. But this time, the Catalans conquered and got their revenge with an impressive 4-0 win. Much of this victory's praise has to go towards Koeman's tactical changes, but today, we will be focusing on the Barça players and assessing how every one of them did vs Granada.  
Starting XI:
ter Stegen; 
Dest, Mingueza, Araújo, and Alba; 
Busquets,
de Jong, and Pedri;
Dembélé, Messi, and Griezmann. 
Substitutions: 
00' |Araújo ↔ Umtiti 
65' |Messi ↔ Braithwaite
65' |de Jong ↔ Pjanić
73' |Pedri ↔ Trincão
73' |Dembélé ↔ Riqui Puig81' |Dest ↔ Firpo
Defense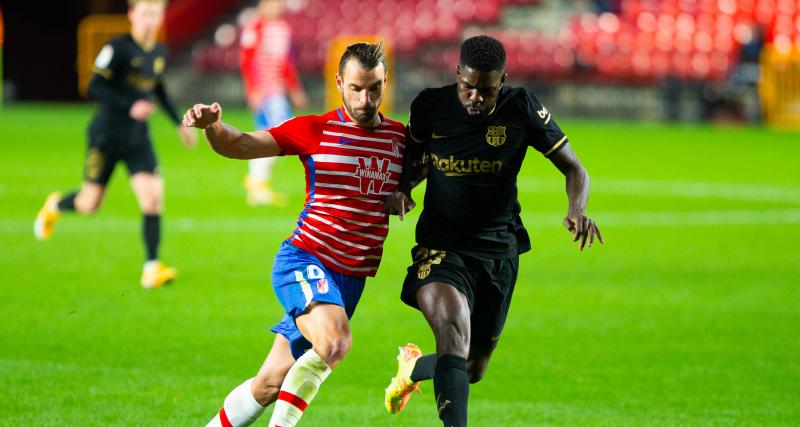 ter Stegen (8): Once again, the "German Wall" came up with terrific saves to keep Barcelona in the game – from the get-go to the last minute. Grande Marc!
Mingueza (7.5): Great performance! Mingueza was oozing with confidence and composure and helped the team keep a clean sheet. 
Araújo (N/A): The Uruguayan was initially listed in the starting line-up. However, while warming up, he felt some discomfort in his thigh and was replaced by Samuel Umtiti.  
Umtiti (7.5): Although Umtiti substituting for Araújo invoked panic and stress for Barça fans, the French international's performance was rock solid! It was surprising to see how he played with professionalism and calm – considering that it was his first start since June of 2020. I hope that we continue to see this fit and dependable version of Umtiti more often.  
Dest & Jordi Alba (7): Both of the full-backs were pretty decent – nothing great, nothing bad. They seemed to be relatively exhausted due to this season's packed schedule. 
Midfield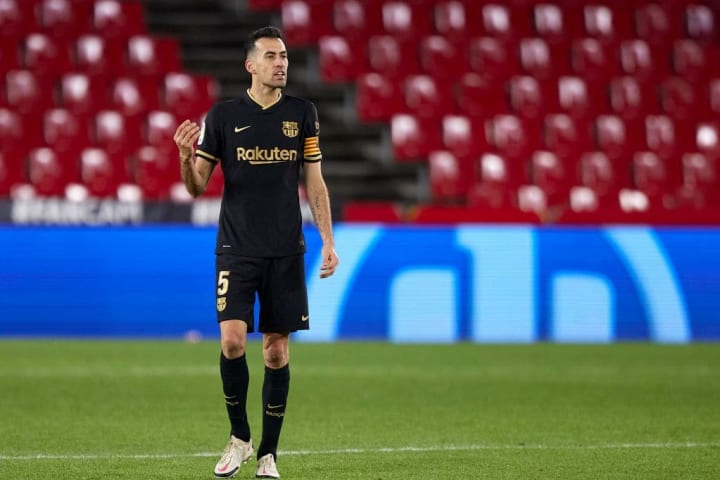 Busquets (8): Pivotal to the team in every aspect. Ever since Koeman altered the system and opted to play with one holding midfielder, Busquets, in this case, has flourished, and we have seen his effect on the team's play. 
de Jong (8): Another masterclass of a performance by Frenkie! He is beginning to show why Barcelona signed him from Ajax for such a hefty fee. The Dutchman dominated the midfield, from recovering balls all across the pitch to carrying it forward and distributing to the attack. Frenkie was exceptional, as we all would love to see this consistency from him regularly. 
Pedri (7): The 18-year-old Spaniard, much like others, looked fatigued due to the run of games he has been involved in lately. Despite that, Culers witnessed his neat, intricate passing and quick link-up play. 
Attack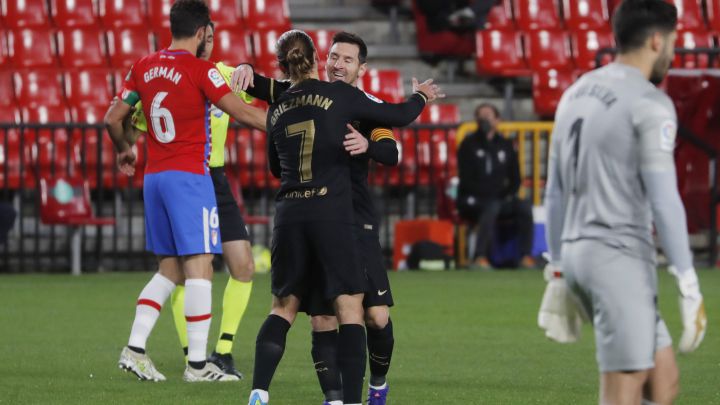 Dembélé (7.5): It was exciting to see Dembélé and Dest's connection develop and watch him get a brilliant assist! But, as mentioned earlier, he needs to work on his decision making as he tends to be erratic and careless. 
Messi (9): He is back! But was he ever gone? After scoring two goals, a magnificent curler, and a magical freekick, Lionel Messi is now the leading scorer of La Liga. Throughout this game, it was evident that Mesi enjoyed his football and had fun, and I hope that this continues. 
Griezmann (8.5): The past couple of games have been quite decent for Griezmann, but tonight, he took it up a notch. He got his long-awaited brace and an assist for Messi, as he also ran across the pitch, making tackles and recoveries. Griezmann looked sharp and confident, as all Barça fans want this to remain.
Substitutes
Braithwaite, Pjanić, Trincão, & Firpo (6.5): Pleasing to see that they got some game time to benefit from; however, none of them changed the course of the match itself. 
Riqui Puig (7.5): After Koeman pretty much exiled Riqui from the pitch, it was shocking to see him entering. His presence immediately brought energy and dynamism to the pitch, making it harder for me to understand Koeman's reasons for repeatedly ignoring him. Even in just 15 or so minutes of game time, we could see how Riqui personified Barça's way of football, full of silky passes, quick plays, and immense enthusiasm.