Impressive win last night, as Barça wins the first 2 away games of the year for the first time since 2010. FC Barcelona went to Bilbao by bus, to meet Athletic Club, a club that tends to make our life hard. Especially at their home ground. Furthermore, it started bad for Koeman's players, as Inaki Williams scored a goal in the second minute of the game. But then came Messi with two goals (and a key pass in the first goal), and made the difference. Here are the main points from the win yesterday:
Good Points: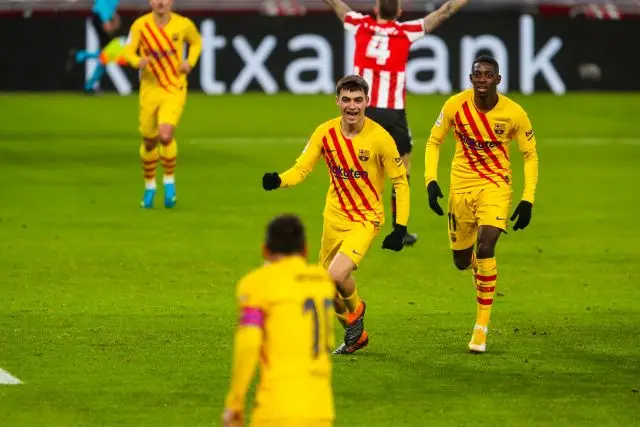 Leo Messi scored a brace vs Athletic Bilbao, and now counts 17 consecutive years scoring for FC Barcelona. Moreover, the guy was all over the pitch last night. 7 shots, 2 goals, 2 key passes, 4 dribbles completed and 61 accurate passes. It was just prime Leo there. With his brace last night, Leo has 9 league-goals, and he's the joint leader in the race for the 'pichichi'.
Pedri continues to shine this season. He was there to score the first goal of Barça, and gave a marvelous assist to Leo in the second goal. I think that Luis Enrique will soon call him for the Spanish NT. It's time.
De Jong was all over. Step by Step we're seeing the Dutch becoming more and more domintant for Barça.
Griezmann did well yesterday. He ran all over the pitch and you can see how much he wants to turn things around. Yeah he might never be the Griezmann of Atletico when he plays for us. But he's still a world-class player, so we should see more of him.
Dembele proved again that when he's fit, he should start every game for Barça. He sometimes makes mistakes that can make you hold your head. But as for his talent, there are not many players like him in the world. Him staying fit and playing is something that we can benefit from a lot. Just think of Dembele and Ansu on both wings when the youngster returns.
Bad Points
Koeman started with a good starting 11 last night, and that's a good thing. But once again, his substitutions came late, and made us look worse. It's fair to say that those defensive changes are not what we need. Barça CAN'T play defensively. The humiliations vs Roma and Liverpool came when we tried to make defensive adjustments. This team just doesn't used to play defensive football. And it won't change. This is not Southampton Ronald, you should know that. And with this tough schedule, I have no idea why he makes only 2 changes, and so late in the game.
Like every game this season, Barça manages to get to many chances, but can't "Kill" the game. The 3-1 lead was supposed to be bigger than that. And yet somehow Athletic Bilbao scored a goal, and pumped up the tension in the last minutes for FC Barcelona.
Bottom line
A great win that moves Barça up to the 3rd place in the La liga table. We're 5 points behind the second place, and 7 behind Atletico at the top of the table.