Ilaix Moriba has been a recent addition to first-team training by Koeman. After Aleñá departure to Getafe, Barcelona B midfielder may take his place on the Barcelona bench. He might even get his debut for the first team this season. Koeman likes Moriba's profile as he is effectively a different player compared to other Barcelona midfielders. As per reports, Koeman could include Moriba in his plans.
Time at La Masia
Ilaix Moriba Kourouma was born on 19 January 2003 in Conakry, Guinea. His parents moved to Spain when he was very young. Moriba started playing football at Espanyol's academy before moving to La Masia in 2010, where he joined Benjamin C squad. After showcasing his talent, he shortly got the promotion straight to Benjamin A.
Ilaix progressed through La Masia by playing with most of the youth teams. He won league competitions with Benjamin to Juvenil A squads. Also, in 2015 he won LaLiga Promises International tournament in 2015, which took place in Miami. Ghanian midfielder always competed for the starting position in the midfield with players older than him and soon enough he became one of the jewels of La Masia.
Ilaix grabbed the world attention in 2018 when Barcelona Juvenil B faced Real Madrid and defeated them 5-0. Moriba scored a hattrick the same day just at the age of 15. Ilaix Moriba started the season in Juvenil B. But mid-season he got the promotion to Juvenil A.
Almost left the club
At the end of 2018/2019 season, it looked like Barcelona would lose yet another talented midfielder to another club. Manchester City, Chelsea, Juventus and Borussia Dortmund had interest in acquiring his services. Fortunately, enough Moriba signed contract extension. That contract will keep him at the club until 2022 with the release clause set at €100m.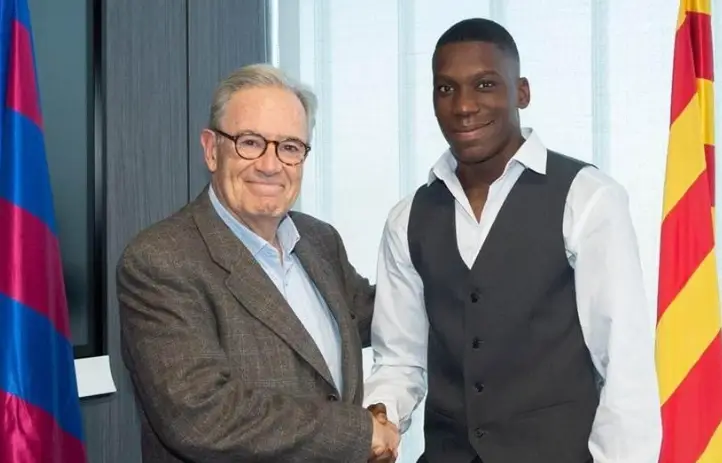 In 2019/2020 season Ilaix played 12 games at Juvenil A scoring 4 goals and assisting twice. He was averaging a goal contribution every 151 minutes. Later that same season he debuted at Barcelona B just at the age of 16. Riqui Puig started playing with the first team under Setien. Therefore, Garcia Pimienta gave a young midfielder a chance to prove himself. Ilaix Moriba ended that season with 11 games for Barcelona B. He finished the season scoring 1 and assisting a goal in the promotion play-offs. This season Barcelona B coach gave Ilaix to play a key role in the team. He appeared in every match he was available.
However, his performance is not the best season. With a lot of mistakes and bad passes, that lead to some frustration for his coach. Ilaix Moriba debuted in UEFA Youth League at the age of 15 years 9 months and 5 days. That made him a youngest Barcelona debutant in the competition, just ahead of Ansu Fati. The midfielder became one of youngest goal scorers for Barcelona in Youth League just behind Ansu Fati. Ilaix Moriba became a regular at Spain U17, participating in recent U17 World Cup in Brazil. There he scored once and assisted 2 goals. However, the team eventually lost in the quarter-finals by the French U17 team.
Playing Style
Ilaix Moriba is a right-footed central midfielder who people often compare to Paul Pogba, due to similar playing styles. His idols being Iniesta and Sergio Busquets, these players made him fall in love playing in midfield. However, he is a thoroughly different profile from other players in La Masia. Moriba is a skilful box-to-box midfielder, who likes to burst forwards with a ball.
Extraordinary body balance, physical strength, stamina makes him a perfect box-to-box midfielder. Ilaix is a versatile player and could play as an attacking midfielder. Also, as a defensive midfielder thanks to being good in the air and aggressive style in the defence. His physicality is not his only excellent attribute. He has a great technical ability, excellent shielding the ball. Moreover, he's also dangerous around the box and outside of it. As he likes to shoot from far, thanks to his powerful long shot. He can bully opponents on and off the ball. Meanwhile, it could be challenging to knock him off the ball thanks to his strength and close ball control. Moriba can make effective late runs into opposite penalty box lurking for a chance to exploit his exceptional shooting skills.
He can play line-breaking passes thanks to his technique, vision, and timing. However, one of his biggest weaknesses is a loss of composure and concentration during games. His technique and passing also need work, as this season for Barcelona B. Pimienta wasn't happy with his technical ability, which causes the team to lose an opportunity for an attack. He has shown that he has incredible talent, yet, he is far from the perfect player.
What does the future hold for Ilaix?
It looks like Ilaix Moriba could enter first dynamics very soon, thanks to the recent departure of Alena to Getafe. With Alena on loan and lack of needed quality from Barcelona summer signing Matheus Fernandes, eventually, we could see Moriba debut for Barcelona first-team either in La Liga or Copa Del Rey. However, his recent performances for Barcelona B, shows that he is not ready to start for the first team, with the youngster being out of form and not at his best. We can expect Ilaix to appear for Barcelona B this season, whenever he is available or Pimienta needs him in his team. The young midfielder has the talent, however, only time can tell, if he will be able to develop into a player that Barcelona needs, playing a key role in the midfield position.
Potential: 9/10 – Has potential to become a key player at the top clubs.