Barcelona's turmoil hasn't stopped. After Sétien's sack, one thing was to be remembered: Riqui Puig was worth the starter spot. Everything else had to be scratched. The 21 year old was expected to play more, perhaps to start with his teammate Frenkie De Jong, as Koeman already knew Frenkie from the Dutch National team he left in order to pursue his next challenge: Get Barcelona out of the crisis with limited funds.
Unfortunately, Riqui Puig isn't a starter. Moreover, he isn't even a regular sub. Regularly called-up with the first team, the Catalan gem has merely played a stunning seventy minutes in total in three months. A figure that does not match his performances, where the La masia product has regularly shown why he should start when given the chance. An element that is missing in Koeman's puzzle. As missing as that piece of puzzle may be, Koeman does not seem to care, or hold his very own personal reasons to not start Riqui Puig on a regular basis.
Koeman himself summed up the ice cold relationship: "Riqui Puig played a good game against Juventus after coming on. We'll see what happens tomorrow" said the Dutchman in today's press conference. Reticence or stubbornness? Recent events and the season all together point towards the latter. It's not only with Riqui Puig, it's also With Carles Alena. The difference? Alena has already started one game, whereas Riqui hasn't. Zero. Nada. But what does Riqui exactly bring, one might ask. 
Riqui Puig offers something else
Coutinho, Pedri, Griezmann, Frenkie, Busquets : They all are great players. Their common points? They all have gotten loads of playtime under Koeman. The other common point? None of them have Riqui's profile. Coutinho is stuck turning like a spinning top before passing backwards, Frenkie can't progress, Busquets is tired, and Griezmann is a totally different player. Pedri is the closest one can get to Riqui, yet the impact is different. Too different to not give more minutes to the latter. Performances under Sétien against fierce opponents had shown the world who Riqui is, notably against Atlético Madrid. And under Koeman, Riqui was the changing factor against Juve, while only playing twenty five minutes. 
Riqui changes the game because he is the prototype of Barcelona's ideal midfielder. Progressive, short enough to have a low centre of gravity, and the mental understanding to play between the lines and create space around him. Players like him facilitate fluidity, but also Leo's performances. If Barcelona want to keep Leo, players like Riqui could prove to be influential to his decision. Earlier on, Messi had started building up a relationship with 18 year old Ansu Fati, now injured until February. Riqui Puig isn't only a progressive midfielder, but he's someone who's likely to facilitate Messi's yoke of carrying the team he loves so much. Not 19 anymore, Messi cannot create, play between the lines and score at the same time anymore. Other players have to ease his role, and Riqui is very much one of those.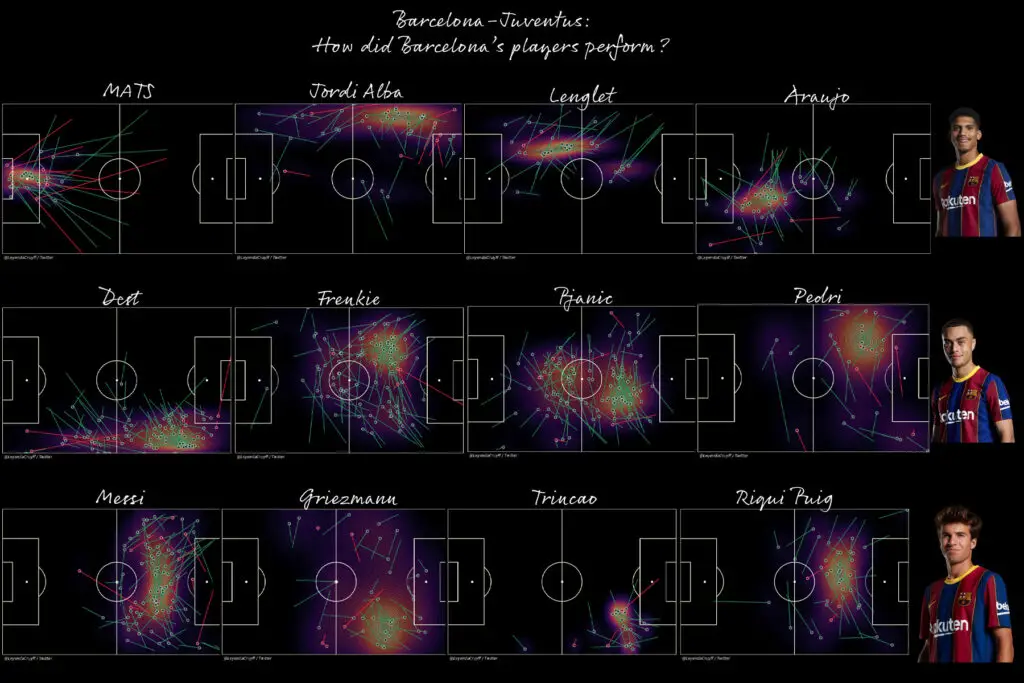 As shown above, Riqui plays minesweeper football. A ticking bomb in the opponent's lines, capable of exploding and creating space anytime. Consistent in his manners, playing Riqui is no question. Koeman is slowly running out of excuses why Riqui does not play on a regular basis. If Koeman cannot get Wijnaldum, he should be very well aware that there's a midfielder a home waiting to get more time, and won't cost one penny; his name is Riqui Puig.