Awesome week in La Masia. The Juvenil teams and Barcelona B won their matches and that's great. Arsen walks us through the matches of the last weekend. Let's see what happened and who did better.
---
Barcelona B vs Lleida
Line-up: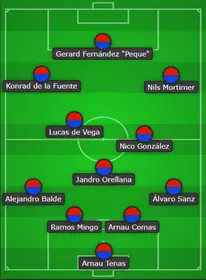 The Match:
After Barcelona B lost 3 games in a row Garcia Pimienta decided to rely on La Masia players this week with 10 out 11 starting line up being from La Masia except for Ramos Mingo, who performs at the CB position. Barca B started strongly with a close chance from Orellana with his long-shot effort just over the bar. It didn't take long for Barcelona B to open the scoring with a nice counterattack created by Peque, who did well to avoid 2 players before passing the ball to Nils, who opened the scoring with a low shot in the 12th minute of the game.
Lleida didn't give up, as they came back stronger, dominating the rest of the first half, with multiple chances with one of them hitting the side netting. Before the first half ended Konrad made an incredible run from his half dribbling past Lleida players, with his effort eventually being saved.

Second Half
Into the second-half, Barcelona B came looking for a winning goal, which they managed in the 64th minute. With Lucas and Konrad combining nicely with letting Konrad into open space for him to shoot, with Lleida goalkeeper wasn't able to save Konrad shot this time. With Barcelona B leading 2-0 it looked like they will finally end their losing streak. However, Lleida tried their best to come back from a losing position.
Arnau Tenas made an incredible save from Lleida's inside the box free-kick. However, Barcelona B wasn't able to keep a clean sheet, with Arnau Comas heading an own goal in an unfortunate way. In the 91st minute, Collado and Konrad combined nicely with Konrad crossing into Lleida's box to reach Ilias who wasn't able to score his first goal for Barcelona B with his effort just wide of the goal post. After a hard-fought game, Barca B earn themselves very needed 3 points.
Barcelona B player of the match: Konrad de la Fuente
Juvenil A – Damm:
Line-up: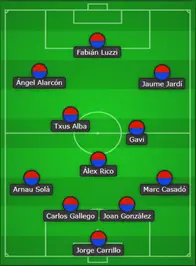 The Match:
A close game for both teams, in a game with multiple opportunities to score a winning goal. A first great chance came for Juvenil A with Jaume Jardi and Luzzi combining nicely.
A dew moments later Damm looked dangerous in the build-up with CF Damm's Vega making a great run past Gallego and crossed the ball to reach Aaron, which looked like an easy goal for the opposition. Fortunately, enough for Juvenil A their number 7 shot it over the bar, keeping the score 0-0. Before the first half finished Damm looked to score the opener, with a great cross from the right ending in with a header from Victor who hit the post with his attempt. Minutes later CF Damm's Ashot got a chance with a header from another cross by their number "8", however, his header was magnificently saved by Carrillo.
Second Half
Second half wasn't much different with 2 teams looking for a winner. After a few opportunities for Damm, Juvenile A responded with a great effort by Jardi, whose shot was just inches wide of the goal post. It took 85 minutes for Juvenil A to finally score the winner. With Gavi making an incredible long pass to recently subbed in Jordi Coca, who had an assist in Juvenil B game the same weekend. Jordi Coca controlled the ball nicely and took the ball forward, eventually leaving it for Brian Pena, who scores the winning goal just coming in from the bench.
A beautiful goal, which was created by Gavi and finished by the substitutes gave Juvenil A very needed 3 points to climb the table to the 3rd spot in the group. After 5 games Barcelona's U19s are sitting with 9 points out of possible 15 with 2 wins in a row. Juvenil A now will face San Francisco on Sunday.
Juv A player of the match: Brian Peña
Juvenil B – Praet:
Line-up: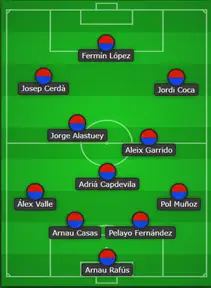 The Match:
Juvenil B came out victorious yet again with another clean sheet for the youngsters. The team was dominating most of the game by creating clear cut chances for the attackers. The first chance for Juvenil B came in 16th minute. A great long ball from a young centre-back Pelayo who found Fermin in the far post. Unfortunately, Lopez wasn't able to reach it with his head and the ball went out for a corner kick after goalkeeper pushed away from the ball out of danger.
A few moments later a great opportunity for Alastuey to score the opening goal just to see his effort parried away by the goalkeeper. The rebound reached Jordi Coca, however, he wasn't able to tap it in and his shot went over the bar. In the 42nd minute, a great moment from Aleix Garrido avoiding pressure from an uncomfortable position and was able to pass the ball to Josep Cerda.
Second Half
In the second half, Praet had great chances to score but weren't able to do it. And in 67th minute a great run from the left-back Alex Valle costed Praet, as Valle was fouled in the box with the ref giving Juvenil B a penalty, which was nicely finished by Jorge Alastuey sending the goalkeeper the wrong way. Youngsters were dominating throughout the game with a few chances to score, but not able to do it. In the 83rd minute Fermin Lopez showcasing some of his dribbling ability to avoid 2 players.
And in the last minutes of the game a great ball from Aleix Garrido to Jordi Coca, who was able to provide a simple tap in goal for the new Juvenil B summer signing Victor Barbera, who now has 2 goals this season. Juvenil B is in an outstanding form right now as they keep winning their games. Juv B this season: 4 wins in 4 games with 10 goals scored and only 2 goals conceded.
Juvenil B player of the match: Aleix Garrido