This Friday Barça will face Bayern Munich in the Champions League Quarterfinals at the Estádio da Luz in Lisbon, Portugal. After a sluggish performance in the 3-1 win against Napoli – as discussed in the post-match review. Culers knew that Messi and co. will have to play at their absolute best against Bayern if they want to go further in this competition. Before discussing tactics, let's take a look at our opponents – breaking down the key points and players of The Bavarians.
Key Points & Facts
The only remaining team in the competition, along with Barça, with Champions League pedigree/history.
The favourites to win the trophy.
Have a young, quick, and strong squad with incredible depth.
The only team in the competition to have won every single match thus far – 8 out of 8 played.
Known for not only winning games by playing well but for also crushing their opponents. For example, their games versus Chelsea and Spurs.
Look-Out Players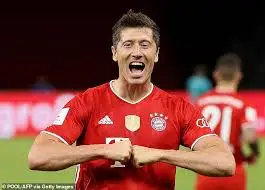 Unlike Barcelona, whose results rely on a single player like Messi or Ter Stegen – depending on the situation. Bayern Munich are a team who have multiple stars which serve as threats, making them a force to be reckoned with. Despite that, Bayern's main man coming into this game will be Robert Lewandowski. The Polish international has been absolutely unstoppable
this season. He has scored 53 goals in all competitions with 13 of them coming in the Champions League alone.
However, Lewandowski offers much more to the team besides goals. His positioning and awareness allow him to keep the opposition backline occupied. That eventually allows others to make runs in behind the defence and go on goal. Moreover, his physicality helps him shrug off defenders and hold possession in tight spaces to provide link-up play for his teammates.
Besides Lewandowski, Serge Gnabry has also been vital for Bayern's attack. The German's pace, playmaking ability, and flexibility in playing various positions have benefitted the 4-2-3-1 formation adopted by Hansi Flick. The winger's qualities will definitely hurt the Catalan giants if they give him too much time and space.
Another player who will definitely create havoc for Barcelona's right-hand side will be Alphonso Davies. Despite playing as a left-back, the Canadian 19-year-old loves to go forward and create menace for the opposition defence. Besides his attacking abilities, his ridiculous pace and strength facilitate his defensive competence too. He constantly runs up and down the left flank, making it difficult for players to get past him.
Last but not least, the player who Culers will be on a special look-out for will be a man who we all know too well – Thiago Alcântara. The Ex-Barcelona midfielder is an integral part of Flick's team. He's often deployed in the centre-defensive role in midfield, along with either Leon Goretzka or Joshua Kimmich. Thiago's excellent ball control, positioning, and passing range are crucial for Bayern to sustain possession, create chances, and breakdown opponents.
My Thoughts
Regardless of the fact that Barça are underdogs in this Champions League clash, which is incredibly rare, in football anything is possible. Despite the fact that Bayern has a young, world-class squad with a functioning system, which many Culers are envious of, there's still a chance. Their admirable player-personnel doesn't mean that Barcelona should be written-off;
because we still have Messi and other phenomenal players too. This is not a two-legged tie, this is a knockout match – just one game. Although Bayern are favourites, Barça's chances shouldn't be dismissed and Culers should still be optimistic.