Against all the odds and expectations, Sétien lined up a 4-4-2 formation for the first time in his 6 months tenure as Barcelona manager. A novelty, a shock, and perhaps a disappointment for the fans.
The 4-3-3 is historically the most used formation in Barcelona's recent history. In fact, Sétien's preferred formation is a 4-3-3 at Barcelona, until now. Nonetheless, Sétien went against all the odds in a decisive game against Cholo's Atletico with the 4-4-2.
Sétien isn't the first Barcelona manager to use the 4-4-2 formation. His predecessor Ernesto Valverde had begun his stint with a 4-4-2 as well, earning him critics of being 'conservative' and 'pragmatic'. However, Sétien's team was different to Ernesto's. There were a few novelties, as well. If we had to name two major changes, the names Ivan Rakitic and Riqui Puig are the ones to mention.
Rakitic, who responded his critics by improving post corona, had a more defensive role. We know that Quique has always wanted a three back formation, notably at Real Betis & Las Palmas. While the classical variation is to alternate the fullbacks (one pushing up while the other forms the third CB), Sétien opted for a different option. Rakitic had joined Lenglet & Piqué as the third CB. And it turned out to be a success. If Busquets is usually the one to drop between the two CB's to form a 3v2 majority, Sétien had preferred to keep Busquets involved in the build-up play. It was up to Rakitic to do so. As Correa & Costa pressed Piqué & Lenglet to attempt to stop Barcelona's build-up, Rakitic was the third man to create the 3v2 majority.
Riqui Puig to the rescue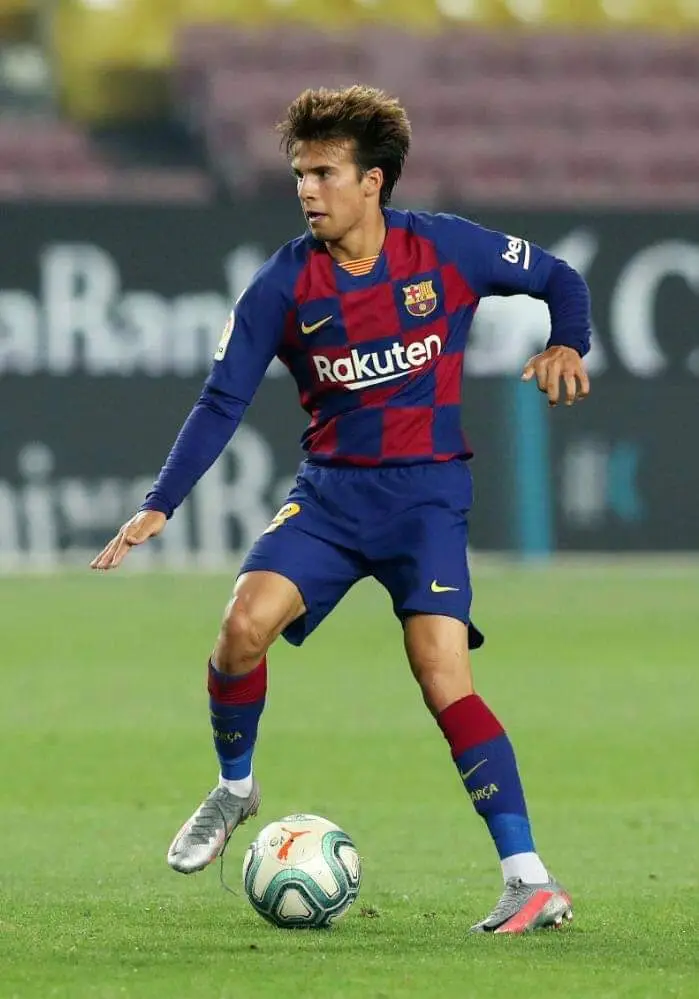 The other revelation was Puig. Recently, critics said Barcelona's midfield to be dull and lack creativity. Understandably so, as Vidal has never been a creator. But he featured in all games since the restart. Meanwhile we all know the lavel of Rakitic 'Backpasser' . However, this is where Puig comes in. Having started the game, he operated in the left half space as well as at times in the right half space throughout the game. Essentially, Puig's profile is the ultimate mix between Xavi's chameleon eyes and Iniesta's line breaking abilities, without comparing him to the legends. Riqui created important opportunities(Suarez,5') as he infiltrated Atletico's compact lines, eventually forcing gaps of space to be exploited at will. Eventually, he countered those saying he needed to grow physically, winning the battle against Partey.
Unfortunately for Sétien, this wasn't enough. A two striker formation with a declining Suarez translated in a lack of goals. It's a mystery why Sétien didn't sub Griezmann on , who only came on in the 90', earning Sétien the critics of the night. Another problem of Sétien's was his fullbacks. Without any natural wingers, the fullbacks in Semedo & Alba was responsible to create play in the wide areas, who the Atletico left empty many times, seemingly content to overcrowd the central areas. As a consequence, Alba was high up the pitch & so was Semedo. Problems arose as Carrasco easily exploit the abandoned wide defensive areas. Alba rarely tracked back, and to the general surprise, nor did Semedo. 
Sétien's 4-4-2 was a 3-5-2, but without the right profiles nor personnel, Sétien saw his system crumble despite a 71% possession. And now, as the title is a lost battle, his job is at stake.