After convincing displays against Betis & A.Bilbao, we continue our La Liga mission: get back to the first place. This is another difficult test, for Getafe is a tough nut to crack. They finished 5th last season, 2 points were missing for the Champions League spot. This year, they are already third, showing how tough they can be. Meanwhile, R.Madrid will play against C.Vigo one day later.
Checking current form
Last 5 matches: LWWWW
Badalona-Getafe: 2-0(A)•CdR
Leganés-Getafe: 0-3(A)•League
Getafe-R.Betis: 1-0(H)•League
A.Bilbao-Getafe: 0-2(A)•League
Getafe-Valencia: 3-0(H)•League
Position in the league: 3rd
Pts: 42
GD: +15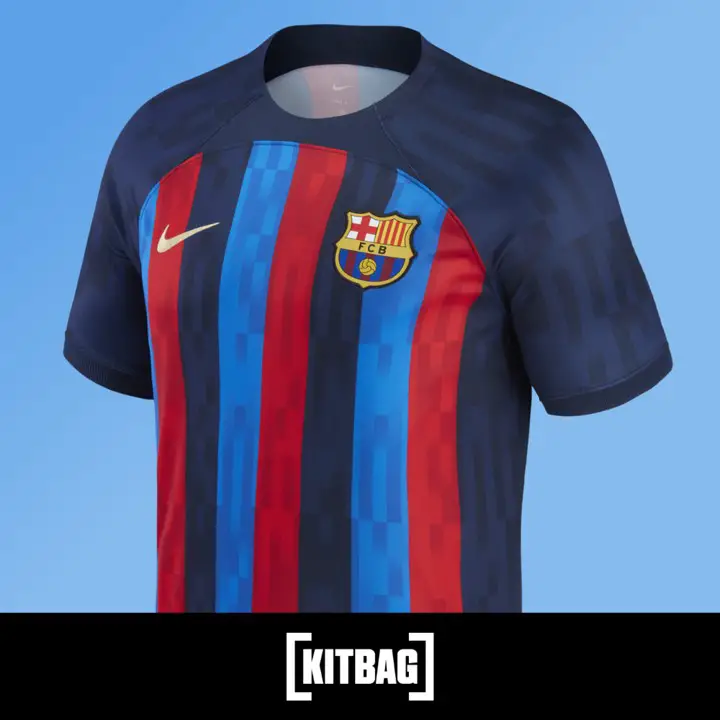 Scary. Really scary. They have won 4 out of their last 5 fixtures-the only one against Badalona in the Copa Del Rey. Besides that, they have kept clean sheets in all of their wins. We surely don't want them to score at the Camp Nou.
Last 5 Barça matches: LWWLW
Valencia-Barça: 2-0(A)•League
Barça-Leganes: 5-0(H)•CdR
Barça-Levante: 2-1(H)•League
A.Bilbao-Barça: 1-0(A)•CdR
R.Betis-Barça: 2-3(A)•League
Position in the league: 2nd
Pts: 49
GD: +27
Barça are finally founding themselves under Setien's tenure, but have a limited squad due to injuries & loans. While we have convinced in most of the fixtures, the results have to improve to ensure to give a hard time to R.Madrid-and eventually win the league.
Last 5 meetings: WWWDW
Getafe-Barça: 1-2(A) 16.09.17
Barça-Getafe: 0-0(H) 11.02.18
Getafe-Barça: 1-2(A) 06.01.19
Barça-Getafe: 2-0(H) 12.05.19
Getafe-Barça: 0-2(A) 28.09.19
We've almost won every fixture against them. However, they always tend to give a tough time, and we can't take them lightly. Luckily, it's in our fortress -The Camp Nou.
S Q U A D L I S T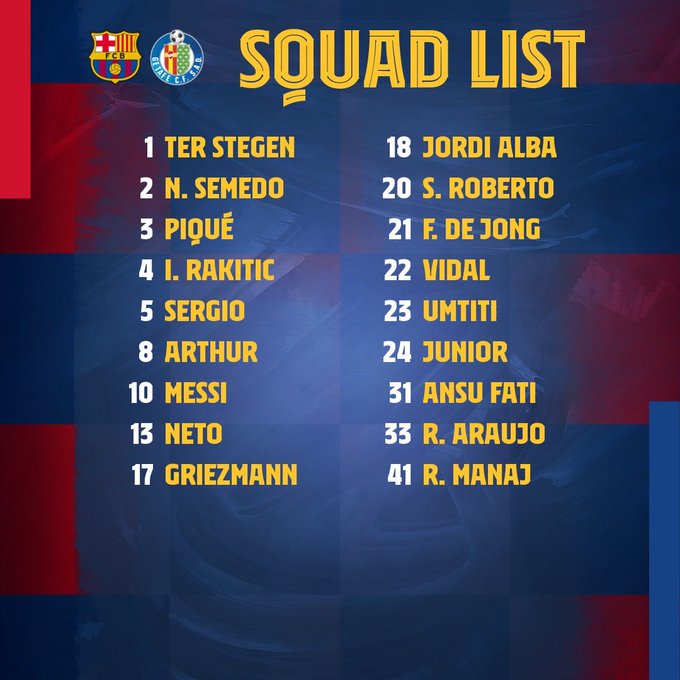 Setien, why? Exactly what I pointed out a while ago, his team selection must improve. For if I understand Puig's absence because we have enough midfielders, I don't understand why Collado is being dropped for technical reasons. Why instead new Barça B striker Manaj has been signed. I can't say too much about him as he hasn't played too much yet-he already got a red card. I don't believe Manaj will get to play against Getafe. As I believe it's better to rotate against Eibar than the strong Getafe.
Araujo has been called up too as Lenglet isn't available because of his suspension. I'm quite disappointed to not see Collado bit I hope I'm wrong. I really hope he'll soon he called up, just like teammate Puig-however I am fine if we see Busi-Arthur-FDJ starting.
T A C T I C S
As I've said earlier in the match preview, Getafe shouldn't be taken lightly. In fact, oddly enough,they play pretty well outside of their home-Away, they got 18 points, which is exactly out away score too.
Moreover, they have a wonderful defense: They tend to defend in a 4-4-2, however, they can close spaces very well. This has proven to work as they only concede 0.9 goals/ match in average, which makes it better than ourselves-and that's where their other magic component comes in: their clinicality. You give them a chance to score,and they will-they score 1.5 goals/match in average, key to their success.
They also stand out for their collectivity. See, they don't rely on individual brilliance,but on collective brilliance. Together, they do great. Everyone knows their task. They are super coordinated and that's what makes them a great team.
Moreover, they are harshly criticized for their style: they are agressive physically, having earned 75 yellow cards & 2 red cards-which is a lot of course. And they only average 40.7% possession, one of the lowest.
P L A Y E R T O W A T C H / Marc Cucurella
I just had to. While he used be an LB at La Masia, he has gradually been converted to a LM in Eibar and Getafe. And since then, he's been good as hell with Getafe. The Spaniard has already registered 4 assists and 1 goal for himself-Thanks to his incredibly accurate crosses, vital for Getafe's game. 
Moreover, he's as good defensively, as he has a 69% success rate in tackles, also vital for Getafe's defending.
We'll have to lock him up-and don't forget everyone of their individuals is dangerous.
The game will be very entertaining tactically. Bring it on @getafecf