As FC Barcelona fans we have always wanted to relive those golden eras or at least get close to it. Barcelona would always be a step closer to achieving that by ending Valverde's contract. Now the club has made it official and signed a new manager. With Quique Setien, we might be only a few steps away from getting what the club really stands for.
His connection with the club's traditional style of play and dedication towards Johan's philosophy are some of the few things we have been missing from Ernesto Valverde. His managerial experience is especially with Las Palmas and Real Betis. It suggests that we can at least hope to play in a well-planned system with attacking fluidity. However, Barcelona along with Quique Setien have got on pitch and off pitch issues that remains to be solved. It can be arguably said that FC Barcelona is entering a state of transition. Therefore, the club needs to progress with a far-sighted vision.
Quique Setien should understand that Barcelona have more defensive problems than attacking problems. Letting Todibo go out on loan with injury issues in the backline may be regretful in the future. Spanish media also say that Setien is looking for a new number 9. Even though Suarez is out it will be an opportunity for Griezmann to play centrally – the way he usually prefers. If Setien strongly feels that he needs a new number 9…He should probably run through some of our youth profiles instead of searching in the transfer market.   
Beginning with good vibes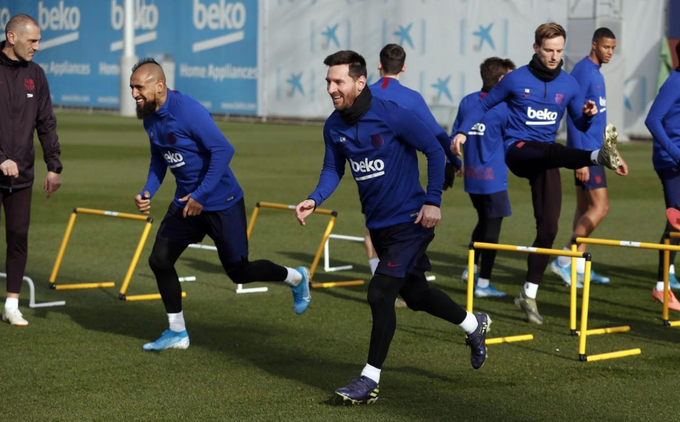 Quique Setien's first few days at the office has excited many Barcelona fans including myself. He has been pushing players, adding extra training sessions and speaking good words about the club. What it means for him to be a part of it. Furthermore, he has brought up few players like Xavier Mbuyamba, Jaume Jardi from the youth academy to train with the first team. Moreover, he seems to be impressed by Riqui Puig. But whether they will be able to get minutes for the first team is yet to be known.
We cannot judge him without the ball getting kicked under his charge at the club. Above all challenges he will be facing at the club, his primary focus should be to rebuilding the players' mentality. When players do interviews they say they have desire to win trophies and it may be 100% true because even when you play tic tac toe you always have that desire to win.
What Quique Setien should be bringing to the club is a greater hunger and desire to win than the opponents we face. This can be simply done by creating competitions between players of the same position. With the addition of youths in the first team the competition will be inevitable and every single player in the club will start to push their abilities. No one shall be a guaranteed starter for the next game.    
Bottom line
Whether Setien will be a long term manager or not will always remain as a  question. Regardless of how successful he will be at the club. His contract lasts until June 2022 but contains a clause to terminate during the 2021 election year. There were speculations about Victor Font, a presidential candidate and Xavi Hernandez planning to take over the reins of the club from 2021.
If Setien brings immense amount of success to the club then we might see Xavi Hernandez assisting him in the sidelines in the future. On the other hand, if things turn out against Quique Setien Barcelona fans would love to see him replaced by Xavi himself.
To conclude, the club has allowed its future to be more flexible. FC Barcelona can move in different directions in the future and most of them seem like a viable option.
However, the club and the fans must take into account that several problems in the club right now. Including injury problems, mentality issues, transfer dilemmas and financial instability cannot be solved by a new manager alone but requires individual efforts from staffs of the club including players and board members as well.     
---
What are the Must-Do steps you would suggest for Quique Setien? Write your opinion in the comment section