New year, new manager, new Barça, after the winter break, we finally take on La Liga again against Granada. As it is the first match with Quique Setien as our manager, all culés all highly excited, after 2.5 years of Ernesto's soulless football. The revenge is on, as we lost against them 2-0 earlier in the season.
Last 5 Granada matches: LWLWW
Tamaraceite – Granada: 0-1(A)•CdR
Granada – Mallorca: 1-0(H)•League
Eibar – Granada: 3-0(A)•League
Hospitalet – Granada: 2-3(A)•CdR
Granada – Levante: 1-2(H)•League
Position in the league: 10th
GD:+0
Pts: 27
While they had impressed in the beginning of the season, they have been shaky in December. As they were promoted this season, we can safely they are doing pretty okay. Most of us still remember the humiliation on the ground back then, in the beginning of the season. It's pretty interesting to see their stats: 25 goals scored & 25 goals conceided. 8 win, 3 draws, 8 losses.
How are we doing right now?
Last 5 Barça matches : DDWDL
R.Sociedad – Barcelona: 2-2(A)•League
Barça – R.Madrid: 0-0(H)•League
Barça – D.Alavés: 4-1(H)•League
Espanyol – Barcelona: 2-2(A)•League
Barcelona – Atleti: 2-3•Spanish Super Cup
Position in the league: 1st
GD: +26
Pts: 40
Barcelona is in a whole different situation. After the shocking loss against Atleti in SF of the Spanish Super Cup, Valverde was sacked,despite being first in la Liga. The Catalans haven't convinced for a while, and Setien came to the rescue. He has shown promising signs as more La Masia players have trained with the first team.
T A C T I C S
Hard to determine on our side. Granada will definitely not change their usual set up, as they will very likely go with a 4-2-3-1, with Soldado upfront. Their compactness in their setup is what kept them alive, until now at least.
They are very compact when defending, and it's very hard to break through their block. Aleña would have been useful for this game. Alas! He has been loaned at Betis. Setien would definitely have loved to use him, what a joy it would have been to see a trio of Busi-Riqui Puig-Aleña.
We'll still have Puig tho. Frenkie De Jong will miss the game as he is suspended, consequence of a tactical foul to save us against Espanyol. Arthur is very unlikely to start as he's probably not a 100% fit. I'm counting on Puig.
We'll have to press them hard too. It's what kept them alive in the beginning of the season. It's what allowed Betis to win against us: A hard pressing.
Hopefully we'll see how our pressing goes, as this is a problem Setien gotta solve: How to press without Messi?
Player to watch – Puertas
He's their left midfielder in the 4-2-3-1 and is consistent for Granada. He drops good performance on his day, and is rarely terrible. He has already scored one goal this season and will look forward to agress us at the Camp Nou.
Usually winning against Granada, except in the last match
Last 5 encounters: WWWWL
FCB – Granada: 4-0 (H)09.01.16
Granada – FCB: 0-3(A)14.05.16
FCB – Granada: 1-0(H)29.10.16
Granada – FCB: 1-4(A)02.04.17
Granada – FCB: 2-0(A)21.09.19
We've beaten them every single time, except the last one, with the humiliating 2-0 away loss. We have to win to ensure we can hold the first place, as we'll face Granada at home Sunday night.. Our Archrivals Tea Madrid will play against Sevilla one day earlier.
Prediction: 2-0 W
Despite we have a new manager, I'm going for a win. It is in the camp Nou and we'll be motivated.
Time to shine for Riqui Puig?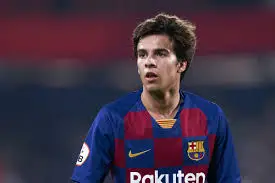 From the very moment Setien took over, drastical changes were to be made. It was clear. And this is what happened. For today, the squad had initially a day off. After the double training session in Setien's first day at the off, time off wouldn't be a thing. Despite the planned free day, Setien ordered training at 11 am.
Rigidity, control & Authority. All of them ought to be restored at Barcelona-Quique understood and corrected it.
Secondly, Setien made sure that promises wouldn't be only made for the beauty of the words, but for action. Which action? As Frenkie is suspended as a consequence of his red card, a Barça B midfielder has been called up. The special one. The one that has always been loved by the fans. Yep, you guessed it. This guy isn't any other than Riqui Puig. He wasn't selected for Barça B's game against Badalona, which means that he is very likely to be part of the squad that will face Granada on the 19th of January. And it's not only Riqui Puig. Juvenil A froward Jaume Jardi, along Juvenil A Defender Mbuyamba have both been training with the first team today. Iñaki Peña had also trained.
Optimistic start under Quique Setien
Setien also announced changes about Griezmann. Suarez being injured, it is likely that Antoine will now be a striker, instead of being a LW under Valverde. "We want to makes the most out of him." said Quique. Setien also announced that he'll also he working with Ter Stegen. "We'll have to work on his ball distribution, I want him to take more risks." Setien has always seeker for GK's that will initiate the very pass, even if it may be dangerous.
These very first days have been already very promising. La Masia is back, we see active trainings as sign of authority: Great to see.
---
This is our thoughts on the match, by TikitakaxBarca. Have anything to add? Write them in the comment section below.