2020. New Year, New Luck. After a deceiving 2019 year, we want to kick off the new decade with some positive vibes. What's better than a good derby for that? We are playing away, 13 km from home, at Espanyol's ground.
The current form of both clubs
While we are unhappy with our manager Valverde,Espanyol have changed managers recently: in 18/19,Rubi. In 19/20, David Gallego. However, after being on the last place, Gallego has been replaced by manager Abelardo Fernandez.
Espanyol's last 5 matches: LLDWL
R.Madrid – Espanyol: 2-0(A) •League
Espanyol – CSKA Moscow: 0-1(H) •UEL
Espanyol – R.Betis: 2-2(H) •League
L.Esportiu – Espanyol: 0-2(A) •CdR
Léganes – Espanyol: 2-0(A)
Position in the league: 20th. GD: -21 with 10pts.
As stated before, they started the season really badly. After 18 games, they still only won two games. They need 5 points to get out of the relegation zone. Don't forget,it's an away match. Away matches against Espanyol have often been tough,but we gotta take the three points.
---
Now, FCB
Last 5 Barça matches: WWDDW
FCB – RCD Mallorca: 5-2(H) •League
I.Milan – FCB: 1-2(A) •UCL
R.Sociedad – FCB: 2-2(A) •League
FCB – R.Madrid: 0-0(H) •League
FCB – D.Alavés: 4-1(H) •League
Position in the league: 1st GD:+25 with 39 Points.
Two points ahead of our archrivals R.Madrid. If we may seem in an okay form, the displays against Sociedad & Madrid were highly uninspiring. We surely want to leave it behind and win against our derby rivals Espanyol,as MSG seems to have built a strong connection. We have a tough schedule ahead,and we will need to win every single one.
Last 5 meetings: WDDWW
FCB – Espanyol: 2-0(H)25.01.18 •CdR
Espanyol – FCB: 1-1(A)04.02.18 •League
FCB – Espanyol: 0-0(H)07.03.18 •Supercopa Cataluña
Espanyol – FCB: 0-4(A)08.12.18 •League
FCB – Espanyol: 2-0(H)30.03.19 •League
Previous beatings have been harsh. But we can do better.
S Q U A D L I S T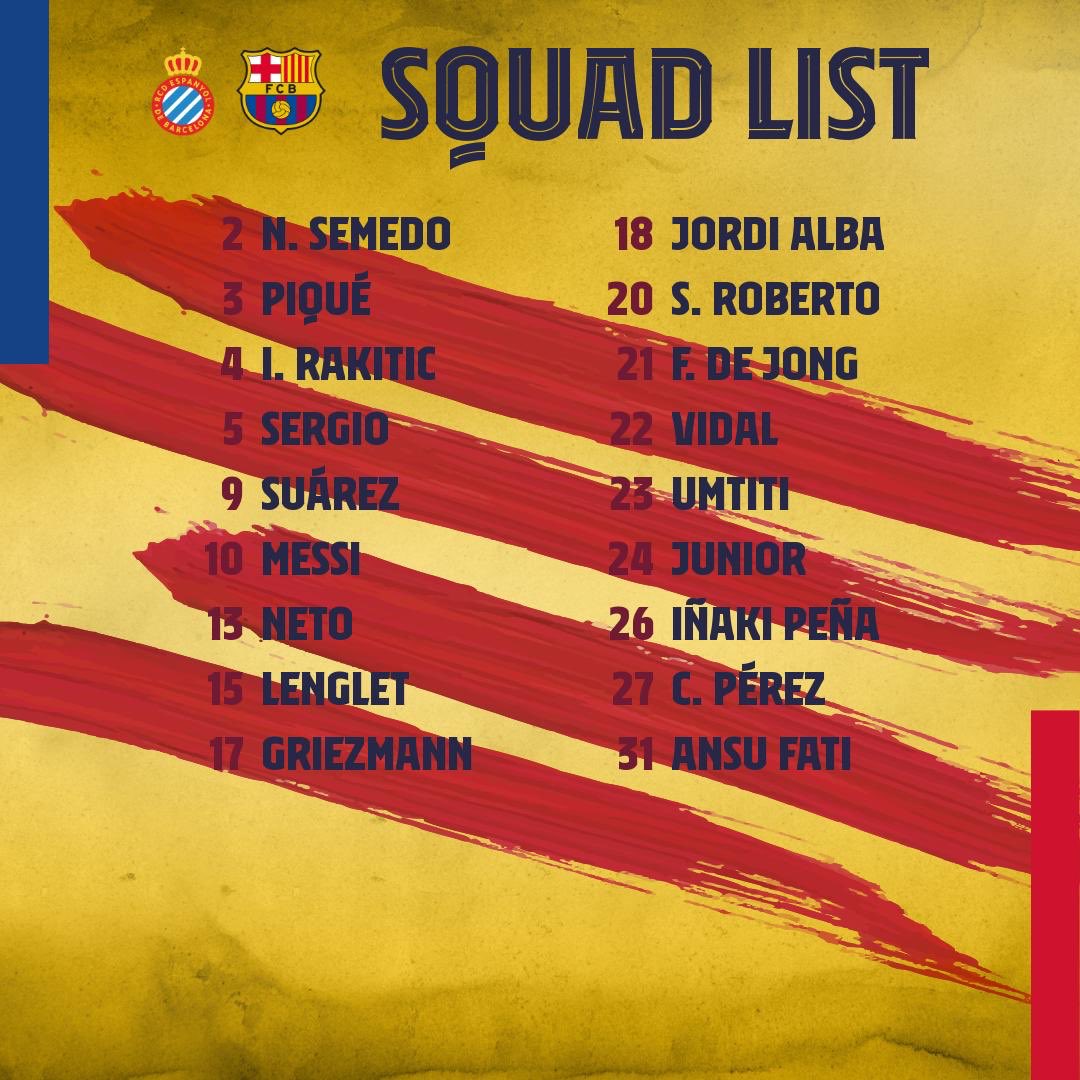 No surprises. Still gotta get used to not see Aleña in the list.
Ter Stegen injured means Neto will take over the goal, we don't know when he'll be back. Good for Neto as he'll finally get playtime. Wagué is absent as Semedo & Roberto are RB's. No Todibo, which isn't negative as I dislike lists with 4CB's.
In the midfield, no Puig as expected, sadly. Busi and De Jong will probably play along Rakitić or Vidal, I don't believe we'll see Roberto in the midfield. Arthur is set to come back in two weeks as he still hasn't recovered from his groin injury,sadly. I'm fearing an uninspiring midfield,I'm hoping to be proven wrong.
In the attack, Dembele misses out as he is set to come back in February. Ansu Fati & Carles Perez make the squad list, fortunately. I'd like at least one of both to start, as one natural winger is needed.
Otherwise, no surprises. Ernesto plays the safe card against his former club.
Gotta win it.
---
These are the thoughts of Tikitakaxbarca before the Espanyol vs Barcelona derby. What are your thoughts? Write them in the Comment section below