Not the best match of Barcelona against Celta, but a win is a win. 3 goals by Messi + one goal by Busquets are enough to win the match for Barça. Here's the post-match thoughts of Tikitakaxbarca.
---
First half – Grateful for Messi
Not the most beautiful way to be ahead of a Celta, but nonetheless important: A Penalty from Messi in the 22′ along a classical FK goal in the last minutes. No point at praising him for the FK goal, it's just normal routine for the GOAT.
Oscar Garcia Got us for a long time. On a 5-3-2, he tested Valverde's reactions after he went for a fluid play. Valverde responded by subbing Semedo for Busi at the 22′, as Roberto moved to RB, while Busquets came in a CDM.
You could see the difference as we improve after Sergio's substitution-And eventho we still lose too many balls, positive signs.
However, Roberto is involved in the attack, and has some great moments of partnership with none other than Leo.
Umtiti, solid at the back with Piqué, got already a yellow, along Messi, that got a yellow too for a mild challenge . Wouldn't say it is a yellow card, but it's the ref decision, not mine.
Furthermore, Arthur has been one of our main weapons, along Frenkie, making sure the ball isn't lost.
Second half : Securing the win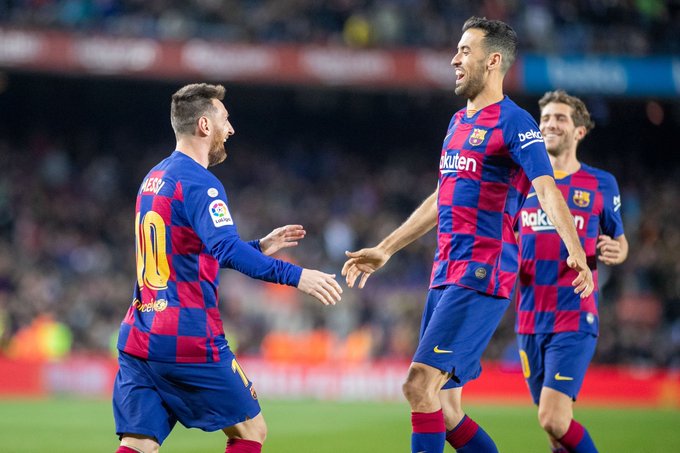 Leo Messi doesn't care. As if a penalty and a FK weren't enough, Leo completed his hattrick with – Yes you guessed it – Another FK in the 48′. Valverde's subs made more sense today. At Halftime, Dembele replaces an average Ansu-with a direct impact. Almost scored directly. And despite he lost many balls, I was happy with him.
He provided Messi with a gigantic cross, that was only missed by the lack of luck. Otherwise, it would have been an assist for 'El Mosquito' to 'La Pulga'. Later, control. Barça lost many balls in the front three,but gradually would get mote chances. We slowly showed ourselves,when Valverde decided to sub in Suarez – To my surprise.
Yes, Griezzmann didn't play all to great – His main highlights being a blocked shot. But I wasn't ready to see Suarez play. 'El Luisito' had little impact on the game but almost scored.
Celta wouldn't be too dangerous in the attack, but would make better use of this ball possesion. With only 60% of possesion for Barça, Celta cannot complain to 'only' have a 40%. Its a lot when you are facing a possesion based team like Barcelona.
Finally, in the last 10 minutes, Busquets scores from the outside of the box, silencing all his haters. He had been criticized, and answered by dictating our tempo – And scoring.
A Great result as we continue to defend our first place!
---
Barça Stats 2019/20 (By @BarcaStat)
16 official games
10W 3D 3L
Goals: 37-17
CS: 5
Goals
Messi 9
Suarez 8
Griezmann 4
Vidal 3
Arthur
Ansu 2
Dembele Perez Alba Pique De Jong Junior Lenglet Busq OG 1
Assists
Messi 5
Arthur 4
Griezmann 3
Sergi Perez Busq Semedo 2 DeJong Ansu MAtS Vidal Lenglet Raki 1