Still didn't make his debut for this season, Leo Messi gave an interview to Sport. In Messi 's interview, he speaks about his current situation, his future, new signings, Neymar and more.
The feelings after last season
Messi: "Last season? Actually, it wasn't a great one for how it ended, but we had a great season until the last two games. Liverpool and Valencia marked our season as bad, when until that moment we were doing fine.
On a personal level I felt very good although I always say that what interests me are collective titles. And last year we did not meet the objectives.
Favourite to win the Ballon d'Or? I don't know. Lately, winning it or not depends more at the team's results, which is not bad. The Champions League is given a lot of importance. I already said that individual awards come secondary for me."
What's your current injury situation?
Messi: "My injury? It's getting better. It happened in the first training session of the season, it was something simple. However, in one of the training sessions before the game against Real Betis it relapsed a little. I am calm and I will play again when I feel 100%. However, I'm really looking forward to playing again.
Return date? I am still training separately. I have no definite date. I'm getting tested. I will surely not be there against Valencia and we will see if I return against Borussia Dortmund or against Granada. I have no definite date.
How you see Barça in the start of the season?

Messi: "The start of the season is rough but I don't worry. We have got bad luck as many players are injured. Against Athletic Bilbao we played a great game, it's not easy to play there. We could not define in the last meters but we had control of the game in the second half.
A great team was seen against Real Betis. The second half was very good.
At the beginning of the season, we always say the same, but it is a reality: 'We want to win everything'.
Obviously I would love to win the Champions League because it has been a long time since we won it and I think we should win the Champions League again as a club; and on a personal level I would love to win another one."
Who have made the best signings; Real Madrid, Atlético Madrid?
Messi: " I think they both reinforced and made their signings. I think Atlético Madrid have a great team, they looked disarmed the most at the beginning but they ended up having a great squad.
Real Madrid also signed very well. Beyond what is said, they are the same, brought important players like Hazard. Juventus signed very well, City too… Overall, I think everything is more even and that all the big teams are getting stronger."
What did the club do wrong in the UCL last season?
Messi: "In the Champions League, scoring away from home is very important. When we last won the Champions League, we did that in all our games if I remember correctly. It's fundamental.
As I said at the time, the game at Anfield was the player's fault. The coaching staff had nothing to do with the game we played."
Do you feel we have a better team this season?
Messi: "Better squad than last year? I don't know if it's better or not. Last year we also had a great team. Very important players came. Today we have many variants, we are very good. Whether or not we have have a better squad than last year will depend on results.
I would have loved if Neymar returned. I understand the people who were against it. And it's normal for everything that had happened, how he left and how he left us.
Thinking about it on a sporting level, for me Neymar is one of the best in the world and obviously our team would have increased the chances of achieving the results we all want."
Think Barcelona did their best to sign him?
I don't know, I honestly don't know if they did their best. I didn't have much information on how the negotiations were going.
As far as I know, Ney really wanted to come. I also understand that it is very difficult to negotiate with PSG.
The club would have taken a leap too with Neymar if we talk about sponsor, image, growth level… But hey, it didn't happen.
Spoke to Neymar? I didn't speak with him anymore after the whole soap opera was finished. I got injured, he started playing. What I did know until then, is that he was very excited to leave and come to Barcelona.
We never asked for the signing of Neymar. We simply gave our opinions whether it was good or not for him to come.
Disappointed now Neymar has not returned?
No, not disappointed. I would have liked him to come, but as I said before, we have a spectacular squad that can win everything without him, too.
People say I'm the boss of the club? It's not the first time I've heard this. I am used to these things. I know what reality is, my function… However, I don't have a say in board related stuff.
I am one more player. All I want is to win and keep winning titles. And win another Champions League.
Chance to meet Griezmann? Very little. The truth is that I train on the sidelines because of my injury. We will later have the opportunity to share many things."
What do you think about the current state of Dembele?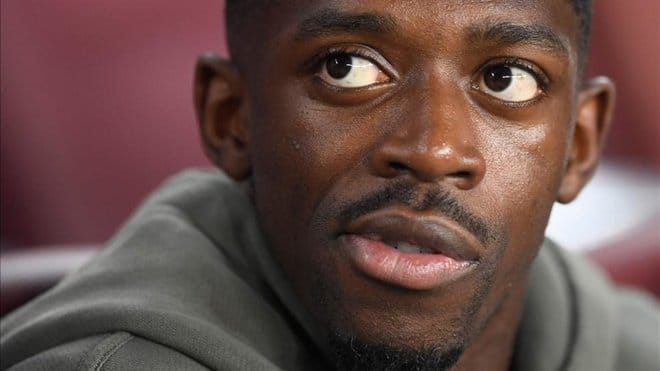 Messi: "Dembélé? Look, I can see he has tremendous qualities. He can do anything he wants. But he must make a change to become more professional.
As a player Dembélé is impressive. I hope he doesn't have the bad luck he had these years with injuries because last year, when we needed him most, he was injured."
Why so many players fail to make it in Barcelona?
Because it is very difficult to play at Barcelona. It's the biggest club in the world and everything around the club is difficult, the fans, the environment, journalism..
It would be good for the club and for all that there is stability and that there are not so many changes within the board.
Puyol would be ideal for the position as technical secretary. However, I don't know if he likes it. I haven't talked to him."
Special clause in messi's contract?
Actually, I cannot confirm anything because in the contracts there is a confidentiality clause. Nothing can be said.
However, I can say that I want to be at Barcelona for as long as I can. I would love to stay here for my entire career because this is my home. However, I need to be well at a physical level as well. The most important thing to me is a winning project.
My contract is not something that worries me because my dad handles it.
want to win. And I want to win at this club. This is my home. I have no intention of moving to anywhere but I want to continue competing and winning.
Talks with Barcelona to renew my contract? My dad handles it, but we don't talk to Barça right now. He would have told me."
How is it to attend matches with your kids?
Messi: "Attending games with my sons is beautiful. Although I prefer to be on the pitch.
My sons suffer when we play a bad game. Especially Thiago, because he is been here the longest. They are learning what it means to lose. No, Mateo didn't celebrate for Real Betis' goal, he thought Pérez had scored but it was in the side netting.
My sons are very competitive. They don't like to lose anything."
Are you tired of being 'Leo Messi'?
No, I am grateful to god for experiencing many great things. It's true that I would like to go a bit more unnoticed. Especially when I'm bringing my children to school or if I am on the street. But hey, I don't complain about anything!
Tried to go unnoticed? No. Whenever I leave home I get mentally aware of what may happen."
How about Antonela?
Antonela is everything to me. Having her next to me simplifies a lot of things. We have known each other for a long time, she knows me perfectly. She is a person who has virtually no bad days, who is always in a good mood. She is spectacular.
I knew Antonela since I was seven years of age. The relationship began later.
Antonela was was my best friend's cousin. We met there."
How did you take the death of Luis Enrique's daughter?
Messi: "Luis Enrique's daughter? It was a terrible thing to happen, something nobody expected, although we knew a little bit about how the treatment was going. It's the news you never want to hear and especially because she was so young."
How about a dinner with Cristiano Ronaldo?
Messi: "Dinner with Cristiano Ronaldo? I have no problem with it. I always said we are not friends because we haven't shared the same dressing room. However, I don't know if a dinner will get realised because we both have things on our heads."
---
The end of the interview with Leo Messi.