As the 2018/19 ended and the transfer window is about to start, it's a good time to look at the squad of Barca. This time, we will look at the left back status of Barca, as this is one position that will require some changes.
Although Jordi Alba's status as a starter will continue, one of the conclusions of the board is that he has to have backup. Alba played 4510 minutes with Barca last season, and that is a lot. Even though he had a great season – assisting 17 goals and scoring 3- having only one LB is a problem. In addition, his bad performances in the last matches of the season made it even more obvious that he has to rest sometimes.
It's still unknown whether Barca will look for experience, or for a long term replacement for Alba. However, it seems pretty clear that as Valverde remains our coach, a player from La Masia won't get a chance in that position.
In a different reality, under a different coach, board and approach, the logical solution was to believe in a homegrown player. Furthermore, it would be a cheap solution, and either one of those players has Barca DNA in their veins. However, this is not the case unfortunately, and the chances of both of them to stay are tiny.
Last season it looked like that club does have confidence over Cucu and Miranda, and they saw one of them as the LB backup. However, after the preseason ended, Cucu moved on loan to Eibar, and Miranda stayed at Barca B. Miranda was the "chosen one", and Valverde wanted him to play for the reserves, and occasionaly for the first team.
Marc Cucurella
Marc Cucurella had a fine season on loan in Eibar, playing 33 matches, scoring 2 goals and assisting 2 more. Eibar bought the 20 years old defender, and Barca has a buy-back option for him. It's pretty clear that Barca will use the buy-back option in order to buy him, and then sell him again. In addition, the board will look to make a profit for Cucu.
Although Cucu played mostly as a midfielder last season, and he still lacks experience as a defender, it's sad that Barca currently looks only at the "numbers". This is all part of the approach of our board, that is very far from the Cruyff legacy. Unfortunately, we are far from the "mes que un clube" way.
Juan Miranda
Juan Miranda's situation is similar, but different. Only one year ago people within the club considered Miranda as the best under 19 left back in the world. In addition, Barca signed him with a new contract, and a place in the team as the backup for Jordi Alba.
In the start of the season Miranda played few matches, such as against Tottenham in the UCL. However, one bad half of a copa match, and Valverde replaced him. Furthermore, not only did he return to the B team permanently, he almost never trained with the first team again. Valverde did the worst thing that a coach can do to a 18 years old player, and killed his confidence.
Everything indicades that both Miranda and Cucurella will be out of the team. However, good preseason and we could have surprises in that area. However, the chances that either of them will stay are very little. Therefore, we can expect Barca to look for an option in the transfer market.
The short term solution of Filipe Luis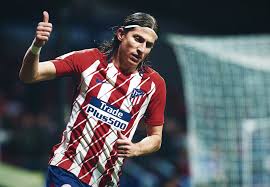 First, we need to ask ourselves how much money Barca has to spend, and what should they look for? One short-term option, that will come in a free transfer is Filipe Luis. The Brazilian 34 years old defender finishes his contract with Atletico Madrid, and according to the reports he's "crazy" to come. Moreover, Filipe accepts to be a backup player, and he currently waits to see if Barca will want him.
However, it will be a weird move from Barca, because the already aging squad don't need another "old" player. Therefore, it seems like Filipe Luis is an option, but not the first option.
The options in the market: Firpo, Guerreiro, Grimaldo
According to recent reports, the Left Back that the staff currently prefers is Junio Firpo. The spanish defender from Betis will turn 23 this summer, and he's one of the best revelations from the last season. Therefore, many teams want him, and Barca is one of them. However, with a price tag of 30 Million Euros, for a backup player, the doubts are reasonable. Furthermore, it's not known whether Firpo will accept a role of a backup player.
Other names that the media mention are Raphael Guerreiro from Dortmund, and Grimaldo from Benfica. Guerreiro wil finish his contract next year, so he shouldn't cost much, but with a history of many injuries the board has doubts regarding him.
Alejandro Grimaldo is a La Masia made player that left the club because of bad relationship with Luis Enrique. However, many fans look at him as the best left back that grew in La Masia in a very long time. Since then, Grimaldo became a vital part of Benfica, and many big teams want him. But, with a price tag of 60 Million Euros, Barca probably won't go for him.