Time flies so fast. It's now 10 years since Sir. Bobby Robson left our world, and he will forever remain one of the brightest minds of this game. However, for me Bobby Robson is a memory of the 1996/7 season, which made me officially a Barca fan. Although he coached our team for only one season, it was also the only season of Ronaldo in Barca. Therefore, it's an unforgettable season for all the fans that can remember this season
Sir. Bobby Robson was already a legend before he came to Barca. Born at 1933, and a coach since the 60's, Robson had quite a resume. After winning UEFA cup with Ipswich, Robson became the national coach of England. However, after 8 years as England's manager, he travelled across Europe. After coach spells at PSV, Sporting and Porto, he took the job of Barca manager.
The Barça of Bobby Robson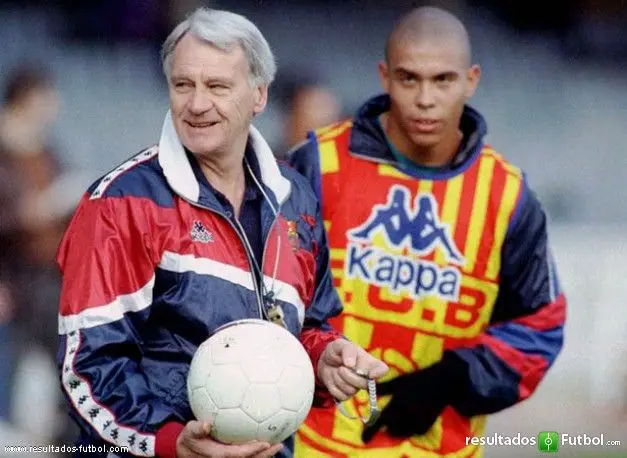 In May 1996, Barca appointed Bobby Robson for the impossible job of filling Johan Cruyff's shoes. Although it was quite a suicidal mission, the veteran coach took the opportunity to manage a great team like Barca. Needless to say that Robson was a brave man who liked challenges. And boy, it was a challenge.
The squad needed a total revolution, and many new faces came to Barca. Players like Vitor Baia, Couto, Geovanni, Luis Figo and of course Ronaldo – all came to replace the stars of the Cruyff era. Moreover, players from inside the club like Sergi, Albert Ferrer, De-La Pena and Pep Guardiola stayed.
The assistant of Robson was Jose Mourinho, who came with him to Spain from Portugal. Sir Bobby didn't speak English, and having an assistant like Mourinho was helpful to him.
Barca had a good season, with marvelous Ronaldo being the best player in the world. Moreover, Barca won the European winners' cup, and the Spanish Supercopa. However, Barca was unable to win the league, losing in the final stages to Capello's Real Madrid.
After the season finished, Van Gaal became Barca's manager, and Bobby Robson moved to the general Manager position. However, his spell in this position lasted for only one season.
Bobby Robson died at the age of 76 after a long battle with lung cancer. May he rest in peace.