According to a report of Gabriel Sans from 'MD' today, Pep Segura and Abidal consider ways of remodeling the Barca defence next season. The first and most important step considered is buying De Ligy as a long term CB. Secondly, the board members consider promoting the Senegalese right back Mousa Wague. The third step would be the full promotion of Miranda as a backup for Jordi Alba. Those step should follow the departure of Vermaelen and the return of Sergi Roberto to the midfield.
Remodeling Barca CB: De Ligt Price
It's fair to say that at the moment, the number one target of the club is De Ligt. The young center back is one of the most wanted players in Europe, and the club think his price would rise up to 70-80 million Euros. In that case, the board think about giving opportunities for the two young full backs, instead of buying new players.
Remodeling Barca RB: Mousa Wague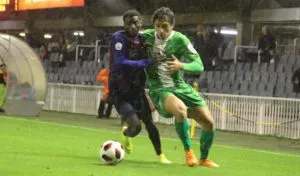 In the right back position, Valverde counts on Semedo and Sergi Roberto. The first is destined to be the starting right back in the long term. However, Valverde prefers the second. It's fair to say that considering the defensive aspects, Semedo is more disciplined. In the coaching staff there were people who wanted Sergi Roberto to become an alternative for Busquets, and therefore moved for 20 years old Mousa Wague. The Senegalese NT Right back started playing for Barca B, and last Saturday played well against Cornella.
The club considers promoting Mousa Wague for next season. The young player, who played and scored in last summer's World Cup, would be an alternative for Semedo. In that case, Sergi Roberto would finally move bacvk to the midfield. He can be an alternative for Sergio Busquets, and if De Jong would come, he can offer Rakitic a well-deserved rest.
Remodeling Barca LB: Juan Miranda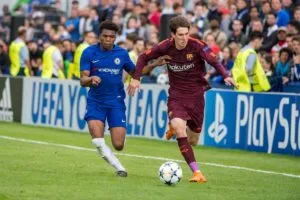 In the Left back position, Barca only have Jordi Alba as a starting left back. After Digne's departure, the club's debate was between buying a defender, and the two Barca B defenders Miranda and Cucurella. In the end, the club decided to count on Juan Miranda, and Marc Cucurella moved to Eibar on loan.
Juan Miranda is one of the most talented young defenders in the world today. However, he is still young and not so long ago he was still a youth player. That is why the club decided to let him continue his development for a full season in Barca B. In the short term, our squad currently has 3 left footed center backs. In emergencies, we'll might see one of them can play as left back. However, the club wants Miranda to move for the first team, and he may do that next season.
Marc Cucurella is having a good season so far in Eibar, but right now it seems the club rates Miranda better than him. Things might change until the summer, but right now it's more likely that Miranda would be Alba's alternative, and not Cucu or other left back.
It's fair to say that remodeling Barca defence is something that needs to be done. However, considering the big money that will be spending on De Ligt/De Jong, it's good to have good options "at home". The board believe that after the big money spent on The Netherlands' starlets, there won't be big money left for strengthening other positions.
Mathias Laborda?
Various Medias in South America reported that Barca has an agreement with 19 years old Uruguayan right back from Nacional – Mathias Laborda. In response to that, board members denied such an agreement, but admitted the team scouted Laborda on various occasions.