Life is full of denials, and first choices often become impossible. A plan 'B' is required, a feasible option to sustain progression. In Xavi's case, he was denied the dream signing of Bayern midfielder Joshua Kimmich. Joan Laporta's board later targeted Croatian midfielder Brozović. But he was Saudi Arabia-bound, refusing to wait more time for Barcelona's confirmation. All that in light of registration worries. After the confirmation of the signing of Manchester City legend Ilkay Gündogan, it's Oriol Romeu who's the chosen one by Xavi and Joan Laporta's board as the deep midfielder signing. His story suggests more than what most culés know about him…
Oriol Romeu isn't anyone's favorite, but he's suddenly back on top, where he never seemingly was. He is indeed a La Masia graduate. But in the shadow of the more successful Sergio Busquets, he left Barcelona and Spain. Chelsea was his chosen option, where he's played a few games when he stayed in the British capital. Unfortunately for him, yet another brilliant midfielder set him back to the bench. Michael Essien, instrumental to Chelsea's success in the early 2010's.
Still desperate for playing time, Oriol seeked success elsewhere, but never really settled in any loans he was involved, as the Blues sent him over in Valencia and in Stuttgart. It's finally Southampton that finds a more mature version of Oriol Romeu, and yet, he'll be shipped back to Spain a little later, to Michel's Girona. For the first time of his life, it's a blatant success. And as successful as he might be there, when Barcelona's first-team calls you, you will leave. His deal comes also as a package involving Pablo Torre, who's also looking for more playing time.
Not the perfect Busi replacement
Oriol Romeu isn't the magical "Sergio Busquets replacement" that many Barcelona fans have seen in him through various clips in the past days. He isn't anywhere close to that brilliance. Yet he remains a successful player, in many different ways. Both at Southampton and Girona, he ended up being his team's last resort. But most importantly, a cold-blooded player on whom the manager put a lot of responsibility. Michel explained how he used Oriol Romeu to communicate with the team during the match in an interview with Relevo: "With a [hand] gesture I signal Romeu that the opponent's pressure unexpectedly has changed, I transmit him the message that he needs to forward to his teammates, so that they can all readapt. But the mentally remains the same."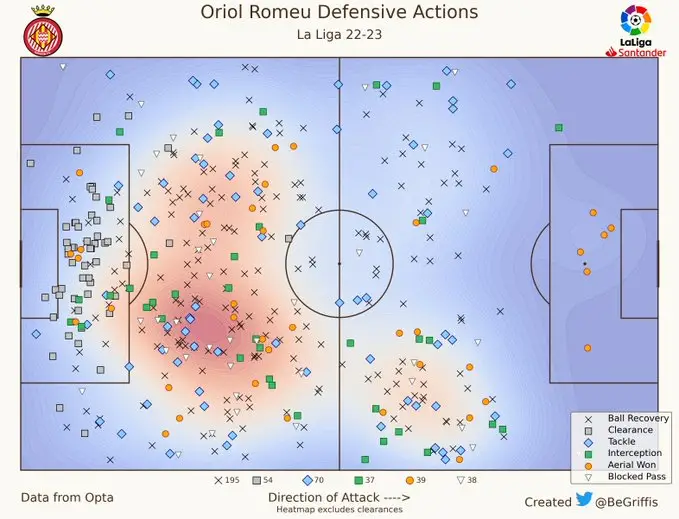 Oriol Romeu, on the pitch, behaves as a midfielder that knows exactly his function. He stays in his zone, is risk-averse, and think like a defender. His behavior isn't to carry the ball throughout the pitch, like Frenkie de Jong. He's less courageous than Sergio Busquets, the player he's supposed to replace. He's calmer, and he enjoys longer passes, without necessarily finding the diagonals the famous Octopus did. Oriol Romeu is not exactly the most athletic and fastest.
Too aggressive?
He reads the game well, but he frequently will find himself obliged to tackle his opponents multiple times to stop the game at all costs. He might be limited, but he will do the job. Barcelona don't have too many options. It's also doubtful he would even be considered a starter, given the likes of Frenkie de Jong, Gavi, Gündogan and Pedri will look for more playtime. Nonetheless, he would be a useful adjustment, finding calm among the excited younger midfielders (except Gündogan), at the of thirty one.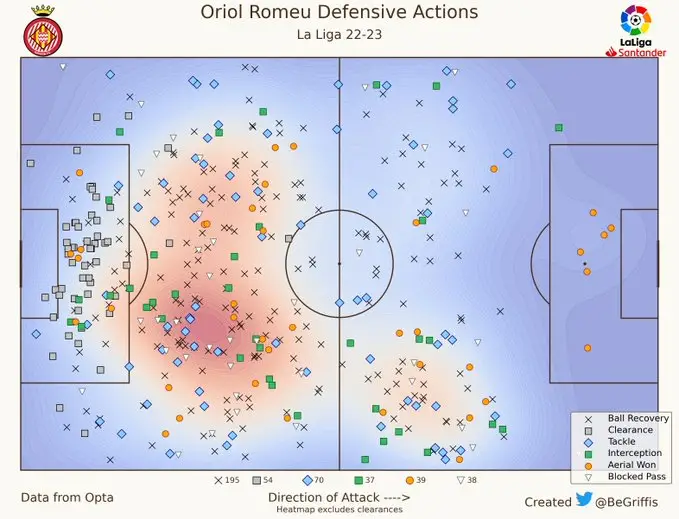 Bottom line
Oriol Romeu is the Ugly Duckling. He's not wanted by many. A majority don't even know him, and some might even scream La Masia privilege. But as far as Barcelona are concerned, Oriol Romeu consistutes a great stop-gap signing in light of the necessity following Sergio Busquets' exit. He's not an option many talked of, yet has been one of La Liga's greats in the past season, finding a shadow of hope of organization in Michel's chaos, carrying an immense defensive duty in a side that has seen many, many goals, at both ends of the pitch.
It's also a love story, a story of rejection, as destiny calls Oriol Romeu back home, after ten years of wandering away from it, and never finding true happiness. It isn't the best context to fall in love again, but Oriol Romeu is none other than a lost child that should be welcomed with open arms in light of a difficult context.