Xavi Hernandez only has Sergi Roberto available to play at right-back this weekend in Mallorca.  The squad lost Ronald Araujo, Jules Kounde and Hector Bellerin for a while due to injury.
Araujo and Kounde are both central defenders but Xavi played them right-back this season. Hector Bellerin joined from Arsenal to add depth to the position following Sergiño Dest's departure.
Roberto missed some games recently through injury, too. But he should be available for Mallorca, although it remains to be seen what role Xavi has for him.
Due to his recent injury history, Xavi may not want to put too much pressure on Roberto. Therefore, Xavi moght have to come up with some imaginative solutions to solve a defensive injury crisis.
If Roberto does not start, and Xavi sticks with a back four, he has two options: Either convert another centre-back into a right-back or to position a left-back there.
Eric or Christensen
Of the centre-backs, both Eric Garcia and Andreas Christensen played at right-back before. It is more difficult to imagine Marcos Alonso, Jordi Alba or Alejandro Balde there. Alonso is the most versatile. He has played as a full-back, a wing-back and even in a back three, but never on the right side.
Another option is a back three (Christensen, Pique and Garcia) with Alonso or Balde as a wing-back. In this scenario, Xavi could opt for a hybrid: with the ball, the team shuts up with three centre-backs and without the ball Alonso or Balde slot in to make a back four.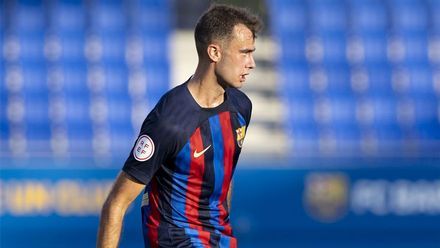 The academy
There is a remote chance Xavi turns to the academy. The clearest option, in that case, would be Alvaro Nuñez, the 22-year-old who joined Barça Atletic on a free transfer from Athletic Club.
Rafa Marquez has been picking Nuñez ahead of Alpha Diounkou and the Bilbao player has delivered. Another option, known by Xavi, is Marc Casado, a midfielder who played for the first team in preseason at right-back.