[ad_1]
Over the past few months there has been endless discussion about Raphinha's potential transfer to Barca and if Dembele renewal saga. One of the most common debates within the Barca community is who is the better player. After watching both Raphinha and Dembele regularly and look at the stats of both wingers, there's a conclusion.
It's important to consider that both players play for vastly different teams and that plays a role in the numbers both players put up. However it's not necessarily the case that a player will automatically become better if they play for a better team. In our recent history Malcom and Deulofeu enjoyed very promising seasons at Bordeaux and AC Milan respectively but couldn't take the step up to be great players for us. One reason for this could be that on relatively smaller teams, some players thrive in being the main player who can be afforded certain tactical luxuries. We also saw quite clearly that Neymar's progression and other metrics related to buildup noticeably increase after moving to PSG which was likely due to being the main player on his team.
Goal scoring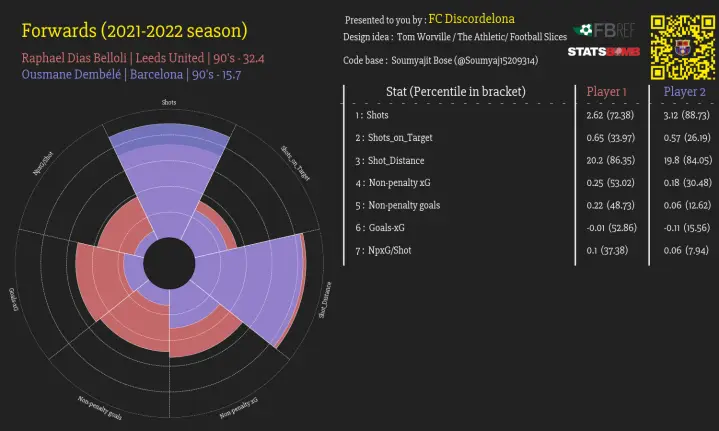 Dembele is a high volume shooter but this season was a poor finisher for the first season of his Barcelona career.
Naturally, a winger will find themselves opportunities to score goals themselves. It's not the only important a winger must have but it is part of the game nonetheless.
Dembele over the last 5 seasons (his entire Barca career) has accumulated 15.6 non-penalty xG and scored 19 goals, an overperformance of +3.4 non-penalty goals. 21/22 is the only season of Dembele's Barca career where he underperfomed his xG. However this season was Dembele's lowest tally for NPxG/90 due to the tactical setup in which Xavi has Dembele playing much wider than in previous years.
Dembele's goal scoring can quite simply be analysed as someone who overall is an above average finisher but his volume has never been very high, his non-penalty xG/90 in La Liga is 0.23 NPxG/90.
Raphinha has been playing in the top 5 leagues since the 19/20 season. In league play he has accumulated 20.4 non-penalty xG and scored 18 non-penalty goals, an underperformance of -2.4 non-penalty goals. Raphinha in 3 seasons has never overperformed his xG, a sign that if we do sign him, it wouldn't be a complete surprise that there would be some below-average finishing. Raphinha's non-penalty xG/90 in Ligue 1 and the EPL is 0.25 NPxG/90.
I think overall, both are not great scorers and it would be quite difficult to pick between the two. Raphinha accumulates very slightly more xG but is a much worse finisher overall than Dembele. It can be safely said Aubameyang (maybe Lewandowski) would be taking on a lot of responsibility for goal scoring.
Passing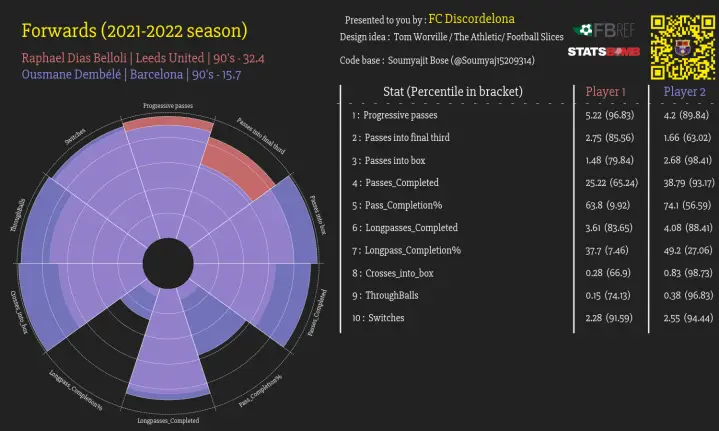 Dembele looks quite clearly to be the better passer, beating Raphinha in most passing metrics
I am covering buildup passing here but will do chance creation and other creativity related stats under the next subheading.
Dembele has always been someone who is very good when it comes to passing. Sometimes he can have lapses in concentration, but he is overall a net positive when he gets a lot of the ball. This season with Messi leaving and a change in coaches, Dembele thrived with more responsibility in buildup. When Xavi came in, we often saw our RB tuck in alongside the CBs or into midfield which gave Dembele much more space on the RW to drop deep and get involved in buildup, a role in which he excelled in.
Raphinha played in a very disjointed team this season but managed to rack up some very interesting numbers. He was in the top 4% among top 5 league attackers for progressive passes. Raphinha also likes to cut in from the right flank to switch the play to the opposite flank, he is in the 91st percentile for completed switches.
Overall, Dembele does look to be better in buildup. Raphinha could very well improve his numbers on a better team but it's not certain. Dembele is already putting up very good passing numbers in a top team and has been doing so for quite a while. I have to give Dembele the win here.
Chance creation / creativity in the final third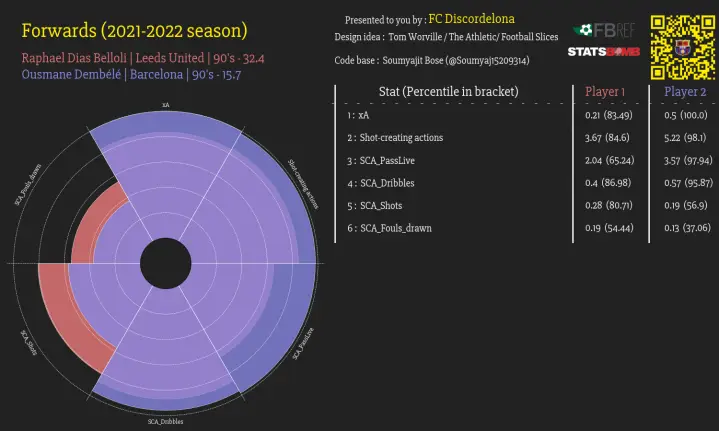 Dembele's 0.5 expected assists/90 was the highest in the top 5 leagues and Raphinha managed to put up relatively good numbers for the team he was in
Chance creation in probably the most important aspect of a winger's game. Dembele had a mesmerising 2022, his creation stats were the best in the top 5 leagues. His 0.5 expected assists/90 was higher than everyone. This includes truly elite creators like De Bruyne, Messi, Trent Alexander-Arnold and many more top players. His involvement in his teams attacks was exceptional. He was within the top 2% in the top 5 leagues for direct involvement in shots.
Raphinha is also a quite good creator. He ranks within the top 20% for many metrics related to creativity but his 20/21 season was excellent, racking up 0.31 xA/90 in the EPL. Raphinha is his team's chief creator and in a season where his team was riddled with injuries, he stepped up and was instrumental in Leeds staying in the EPL.
Finishing up this section, it will be quite similar to the previous one. It's extremely difficult to go up against Dembele's crazy creativity. He also stood up when his team lacked a top creator and he did his job flawlessly and was essential in Barca fighting their way into the top 4. I'm uncertain whether Raphinha can maintain or improve his creation numbers at Barca as creativity is much more spread across the team.
Dribbling and carrying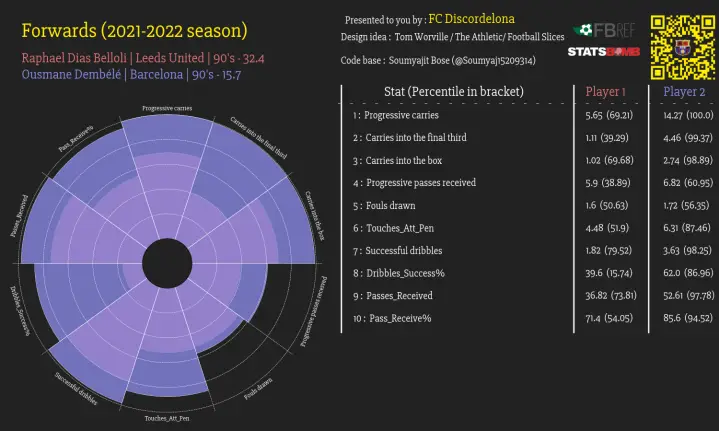 Dembele's carrying and dribbling is one of the best in the world, whereas Raphinha looks far behind him
In a team that has had exceptional wingers like Neymar, Ronaldinho, Sanchez and of course, Lionel Messi, it's no question that Barca have always relied on wingers who can dribble past players and carry the ball upfield.
Dembele has looked like a man possessed this season. His carrying stats are the best in the Europe, beating the kings Neymar and Messi. He is the #1 player for progressive carries and is within the top 2% for carries into the box. Dembele also possess lightning quick pace and an ability to cut inside or dribble outside, his dribbling numbers are within the top 2% of attackers.
Raphinha seems to lag behind when it comes to carrying and dribbling. His carrying numbers are very average and his dribbling numbers don't cross into the top 20% of attackers in the top 5 leagues. His dribble success rate is at an incredibly low 15th percentile. He also very much a left footed player, usually looking to cut infield.
Dembele has always been an exceptional dribbler but it would be interesting to see how Raphinha adapts to La Liga which is known as the the league with the least goal scored and where most team like to defend deep and compact.
Workrate and defending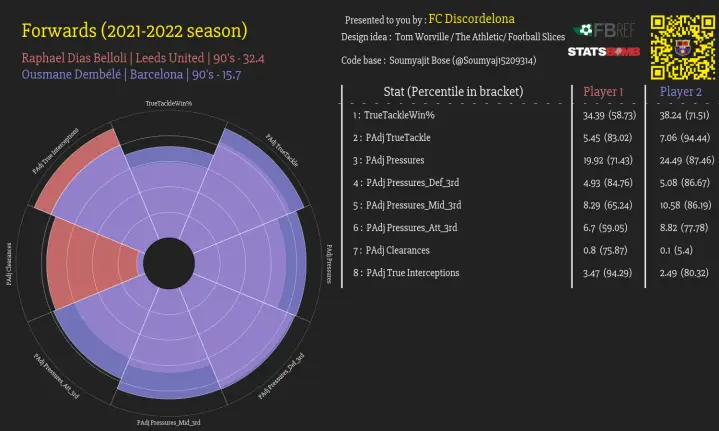 Dembele's numbers out of possession may surprise many football fans
Out of possession, our players must show good effort in trying to press and win the ball back. Dembele's numbers may come as a bit of a shock but the reality is that he gets involved quite a lot off the ball. His pressing numbers are quite good, being in the 87th percentile among attackers.
True tackle and true tackle win rate are stats that the Athletic came up with as an alternative to the basic stats fouls, tackles and dribbled past. it combines these stats in a way so that we can truly see how many times a player gets involved in a challenge and actually makes a tackle. More can be watched here, "10 stats people use incorrectly" https://www.youtube.com/watch?v=8kfArTnHHiQ and read here https://theathletic.com/1692489/2020/03/23/the-10-commandments-of-football-analytics/
Dembele is in the 94th percentile for true tackles, this means that he gets very involved in challenges to try win back the ball. He wins 38% of these which is at a decent 71st percentile. Raphinha does have good work rate but he plays in a Leeds system that play a very peculiar system off the ball. Nonetheless, the Brazilian ranks okay for pressing but he is excellent when it comes to interceptions.
Miscellaneous stats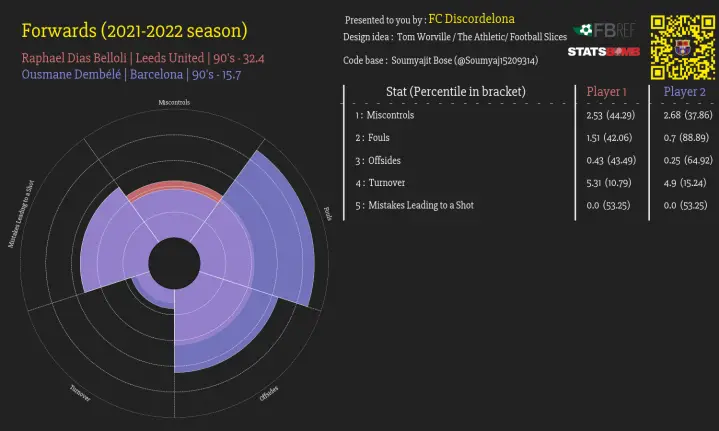 Lastly to top off the body of this analysis, I will look at some aspects of the game that may not fall into the categories above.
Offside isn't a huge problem. But it's nice to look into so as to get an idea of the player's profile. Dembele is slightly above average when it comes to getting offside. However, Raphinha gets called offside more more than Dembele does.
Turnovers (failed dribbles + miscontrols) -> Both players lose the ball a lot for their position. Interestingly, Raphinha loses the ball noticeably more than Dembele does, being in the worst 11%.
Conclusion
After watching both players and looking at the stats, when both players are fit, Dembele might win the contest. Raphinha and Dembele are pretty much the same when it comes to scoring. But the Frenchman clears the Brazilian for passing, carrying, chance creation and dribbling. Also, I feel Dembele is more versatile, and able to play in different positions and roles.
I said earlier that I won't talk about money. But I will make a note on their fitness. We all know Dembele has his injury struggles. I think it would be great if we had both players as the seasons are very long now. Therefore we should have large squads and substitution windows.
[ad_2]