The topic of the left back position at Barcelona has been up for debate for quite a few seasons now. Jordi Alba has been an undisputed starter since his arrival in 2012, and deservedly so. None of his back up options have been convincing enough or been able to compete with him. Many came and went, be it Lucas Digne or Junior Firpo. 
The current options we have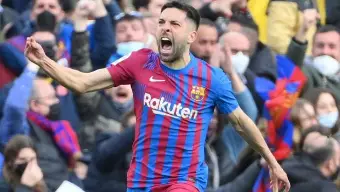 With Alba turning 33 recently, he remains key to the team, but he cannot be playing each and every game of the season. He can miss matches due to injuries and suspensions throughout the course. Moreover, there is no other natural left-back in the squad. Healthy competition is needed to bring the best out of Alba which in turn leads to the betterment of the team. 
Sergiño Dest has played on the left occasionally but that is definitely not his natural position. Very rarely a right footed player can play at the same level on the left. João Cancelo is an exception – he has a very very strong weak foot. 
Alejandro Baldé is only just 18 years old. He is considered a left-back back for the future by the coaching staff led by Xavi. He is too raw right now and not yet ready to play for the first team. Him suffering from constant injuries in the youth teams does not help either. 
Solutions in the market
So, considering everything, it makes sense to look for a left-back in the market. As very reliable Toni Juan Martí reported recently, Barça are looking for a new left-back in the market but surprisingly it is not considered as a priority. Moreover, the club is looking for a player who won't cost much. The club is not ready to spend heavily on a position which they don't consider a priority. 
Some of the left-back options which are apparently on Barcelona's radar are: 
1. José Gayà (Valencia):
Remains Barcelona's top target and as of now he is out of contract with Valencia in 2023. Mateu Alemany is a big supporter of him and knows him well from his days at Valencia. But as per many reliable reports, he is closer to renewing his contract and staying at Valencia than leaving. Here lies the issue. A renewal would make it practically impossible for Barça to sign him. But if he doesn't renew, he would be a real option for the club. Another thing is that he is not quite convinced with the prospect of competing with Alba. Gayà would presumably have to accept a secondary role for the next season at least with Alba still being on top of his game and the starter. The Valencia captain is not open to this. 
2. Alejandro Grimaldo (Benfica):
Former La Masia player Álex Grimaldo is also an option for Barcelona. His contract ends in 2023 as well and he would not cost much. Grimaldo would be delighted to return to Barça where he grew up. Very reliable Matteo Moretto reported few weeks ago that Benfica are already looking for a replacement for him and are open to selling him. The price which Benfica would ask for is unknown yet. Barça also targeted him in January but at the time Benfica blocked his possible departure.
3. Javi Galán (Celta Vigo):
The name of Javi Galán has been discussed heavily in the past few days/weeks. Xavi and his coaching staff admire him a lot and Galán is apparently their favourite option for the left-back position. The problem is that Galán has a contract at Celta until 2026. But Barça and Celta Vigo have a pretty good relationship. There is also a rumour about including players like Riqui Puig, who is liked by Celta, in the possible deal. Probably Barça should have signed him when he left Huesca for Celta last summer for a mere €4m. Definitely the club missed a big opportunity there.
4. Borna Sosa (Stuttgart):
 The name of Croatian left-back Borna Sosa has appeared in the media recently. Sky Germany were the first to report it and Barcelona's interest has been confirmed in the local media. What makes a possible deal complicated is him having a €25m release clause. Barça are not willing to pay that much for a player who is not a priority. However, with 4 games left Stuttgart are very close to being relegated. If they indeed drop down to the 2nd division then the price tag can definitely come down. The situation remains open. 
5. Marcos Alonso (Chelsea):
Definitely not a fan favourite but Alonso's name is also on Barcelona's radar. He is not among the priority options for left-back though. The former Real Madrid youth player is out of contract at Chelsea in 2023 and he would be affordable. Barça also tried to sign him last summer but Chelsea did not facilitate his exit. His situation will only be clear once the London club gets a new owner. This situation also remains open. 
6. Nicolás Tagliafico (Ajax):
Nicolás Tagliafico was on top of Barcelona's list of left-back targets in January. He was close to joining but the deal finally did not happen. Ajax refused to let him leave as they needed him in the squad. Tagliafico publicly confirmed this as well. Moreover, Barca were not willing to pay what Ajax were asking for. It is one of his dreams to play for Barça. The Argentine is also out of contract in 2023 and will definitely leave the Dutch club in the summer. Whether Barça will still target him in the upcoming transfer window is unknown as of now.
7. Álex Moreno (Real Betis):
 The name of Álex Moreno has also been mentioned in the media but not concretely. No reliable reports have come up on him as of yet. Moreno spent few months at Barça around 2011 and his agent is Pini Zahavi who has a very good relationship with Joan Laporta. He recently renewed his contract until 2025.
8. Alfonso Pedraza (Villarreal):
Another player whose name has been occasionally mentioned but there is nothing concrete yet. No reliable reports. He has a contract until 2025.
9. Angeliño (RB Leipzig):
The name of Angeliño has also been mentioned occasionally. But he has a contract with RB Leipzig until 2025. The Germans are not a selling club and would demand a hefty transfer fee. This makes any possible deal very difficult.
10. Sergio Reguilón (Tottenham Hotspur):
His name came up in the media last month but with time the links have faded away. Spurs could demand a transfer fee of around €40m but there is a possibility of including players like Lenglet or Memphis in the deal. He is a former Real Madrid player and they have a buyback option as well. At this moment, any deal looks very unrealistic.
Bottom line
By the summer transfer window opens there could be many changes. New names could definitely come up and the plans might take a drastic turn. Only time will tell what will actually happen. But as of now, these are the left back options Barcelona are handling.