Our final match before the International break, is a huge one. On Sunday 20th March at 9pm CET time. FC Barcelona will be playing in, none other than, El Clasico. For the third time this season, and the second in the league. Xavi's Barca will come up against Ancelotti's Real Madrid. What makes this particular match so intriguing is how both teams are looking, coming into it. And the huge differences from our last league matchup. Xavi has taken over a team in transition. Where the youth are taking centre stage. Whereas, with Real, things couldn't be more different. What they lack in terms of youth, they make up for in an abundance of experience. Which is of course something some of our young diamonds lack  right now. Madrid are by far and away the leaders of La Liga. 
For once in a while this time won't be deciding who wins the league. As that already looks confirmed. What this game will do, is pit together the two most inform teams in Europe right now. Especially Barça. This game will be a good summary of where both teams are at. For Barça specifically, to see how far we have come so far under Xavi. Of course there are many things to be Improved on. But El Clasico will be a great way of seeing how far we have come already. Like every occasion, it's going to be a tricky game. Especially away from home. But our current form. And the fact that Xavi is our coach. Can give us a lot of hope and optimism going into tonight's game.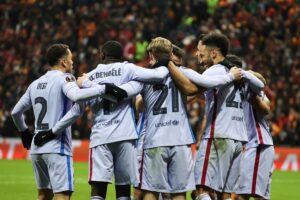 Lessons to take from our previous meetings
We've come up against Real Madrid twice already this season. And in terms of the performance, both varied massively. The first El Clasico of the season came at the Camp Nou in October, under Ronald Koeman. We ended up losing that game 2-1. Alaba and Vasquez scored for Real. Whilst Kun Aguero scored his one and only goal for us in the last minutes. On the day, we really didn't perform well at all. It was at a time where Koeman's job was under fire. Performances in general were mediocre. And morale at the club wasn't the best. The defeat pretty much summed up where we were at as a team. We were unable to compete with Real Madrid. And that in itself is painful enough.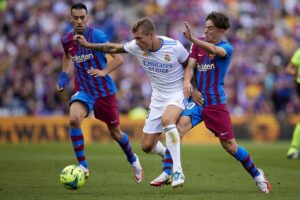 Flash forward to January however. And although the result ended up the same. The performance couldn't of been more different. It was our first El Clasico performance under Xavi. You'll remember that we most recently faced Madrid in January. As part of the Spanish super cup. The result on the day ended in a 3-2 win to Real. That was after extra time. We went 1-0 down. Luuk De Jong pulled back the equaliser. We then went 2-1 down. And then in the final minutes. Our little king, Ansu Fati, headed home the equaliser. Although we ended up losing the game. All of us fans left with very good feelings. The most important one was that of pride. We were proud of our young team for finally being able to compete with Real Madrid. People after the game were mocking us for being happy in defeat.
 But in reality. That performance proved to us that we are building something special with Xavi. We might've lost the game. But we gained so much more as a team. Almost 3 months later, we're now going to face them again. At the Santiago Bernabeu. It is genuinely fascinating to see how we will perform. Especially with our new signings. That have all worked out to be incredible additions to the squad. We go into this game unbeaten in our last 11 games. Real Madrid come into the match with an unbeaten streak of 5 games. One of those streaks will most likely end tonight. And we're hoping that ours can carry on! 
Injury concerns and absentees
For the side of Real Madrid, they have a couple of very big absentees tonight. Due to respective injuries. They will not only be without Ferland Mendy. But they will also be without the services of their talisman. The man who does absolutely everything for them on the pitch. Karin Benzema. He's been ruled out of tonight's game due to a calf injury. We're going to have to capitalise on the absence of Benzema. They're most likely going to be a lot less creative. So we need to ensure that we are clinical with any chances we get.
As for Barça, there's only one noticeable absence for El Clasico. It is a big one to be fair. Especially considering how great he has been playing recently. Unfortunately, due to an injury he picked up against Galatasaray. A match winning tackle. We will be without Sergiño Dest after suffering a hamstring tear. It's a huge blow for us. He has the pace we need to be able to keep up with the runs of Vinicius Jr. Now that difficult task is going to be left with the veteran, Dani Alves. Who has been remarkable since signing for us. But this will definitely be a huge test. Apart from that, we have a fully fit squad. 
Potential lineup: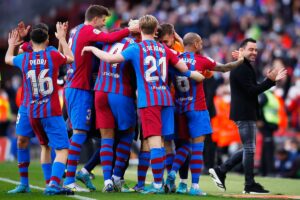 The defence is going to remain pretty much the same as it was against Galatasaray, in my opinion. Apart from the right back position. Where we will of course be without Dest. So Dani Alves will come into replace him. Pique has been suffering with discomfort for a while. But he will most likely force himself to play. He's been exceptional ever since Xavi took over. And is extremely important for our defence. Much like it is with Ronald Araujo. Who will most likely come back in to replace Garcia. The only real question for me. Is will it be Frenkie or Gavi in midfield.
Busquets has been remarkable under Xavi. Pedri has just been magical so they will definitely keep their place. Gavi was rested against Galatasaray. And performed exceptionally in our last league game. Frenkie has also Improved a lot recently and looked a lot more confident. He also assisted the winning goal in the europa league the other night. Both players have good cases to start tonight. But I personally feel that Gavi has to be in the team somehow. Maybe he will be played as an inverted winger. Meaning that Frenkie can play too. His energy, physicality and relentlessness would be vital in this game. It's a tough decision to make, so I'm happy that it's not me making it.
In terms of our attack. I think it's pretty self explanatory. Our absolute best possible front three consists of Ferran, Auba and Dembele. There's not much to be said about that. Those players compliment each other perfectly. Each and every player will give the Madrid defence something to think about.
Visca BARÇA!
My prediction:
Ter Stegen 
Dani Alves- Araujo- Pique- Alba
Pedri- Busquets- Gavi
Dembele- Aubameyang- Ferran