Hired in November 2021 following Koeman's dismissal, the emblematic return of Xavi as a coach has kept fans busy surrounding club matters. Coming from Al-Sadd, fans had feared his adaptation in Barcelona's toxic environment fueled by media controversy and dodgy politics. Barcelona's performances under the Catalan haven't always impressed nor disappointed: Inconsistency still defines a team full of inconsistent profiles. Xavi has however stay true to the nature he's famed for, as he hasn't shied away from controversy in pressers. Between the sacred cows, Ousmane Dembélé and whatever has kept the club buzzing, Xavi doesn't seem to have faltered just yet.

When Xavi arrived, the team's morale was down; the defeat against Rayo Vallecano did not help: A team without structure nor head and tail was heading towards misery, missing out on top European places.
The dressing room needed a change. There wasn't the atmosphere we needed. Some weren't happy & when you're not well and things are wrong, you need a change of air. I'm sure it's going to be great for us w/ Xavi, he's come in well"

-Oscar Mingueza, November 18th
Xavi's mission was that of bringing fresh air and optimism under a shattered and heart-broken Camp Nou. Pedri and Ansu Fati's injuries did not help: Barcelona rarely found its preferred roster.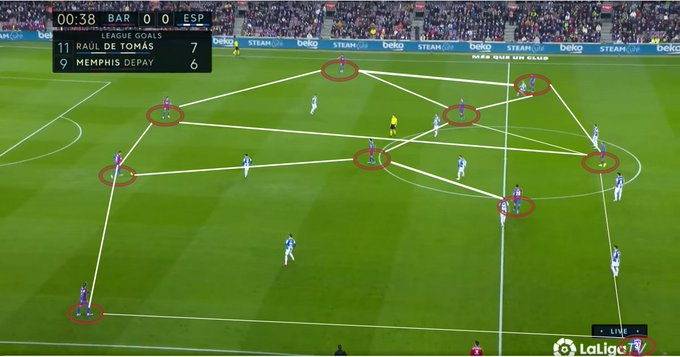 Back to the roots
Barcelona's base structure under Xavi is a new but familiar hybrid between Guardiola and Enrique's core principles. Whenever possible, the team has behaved in a single pivot accompanied by two interiors, extended by two wide wingers and a focal point in the center. A big difference in comparison to Koeman's ideas has been the average positioning of the full-backs, notably lower on average, as shown in the graph below.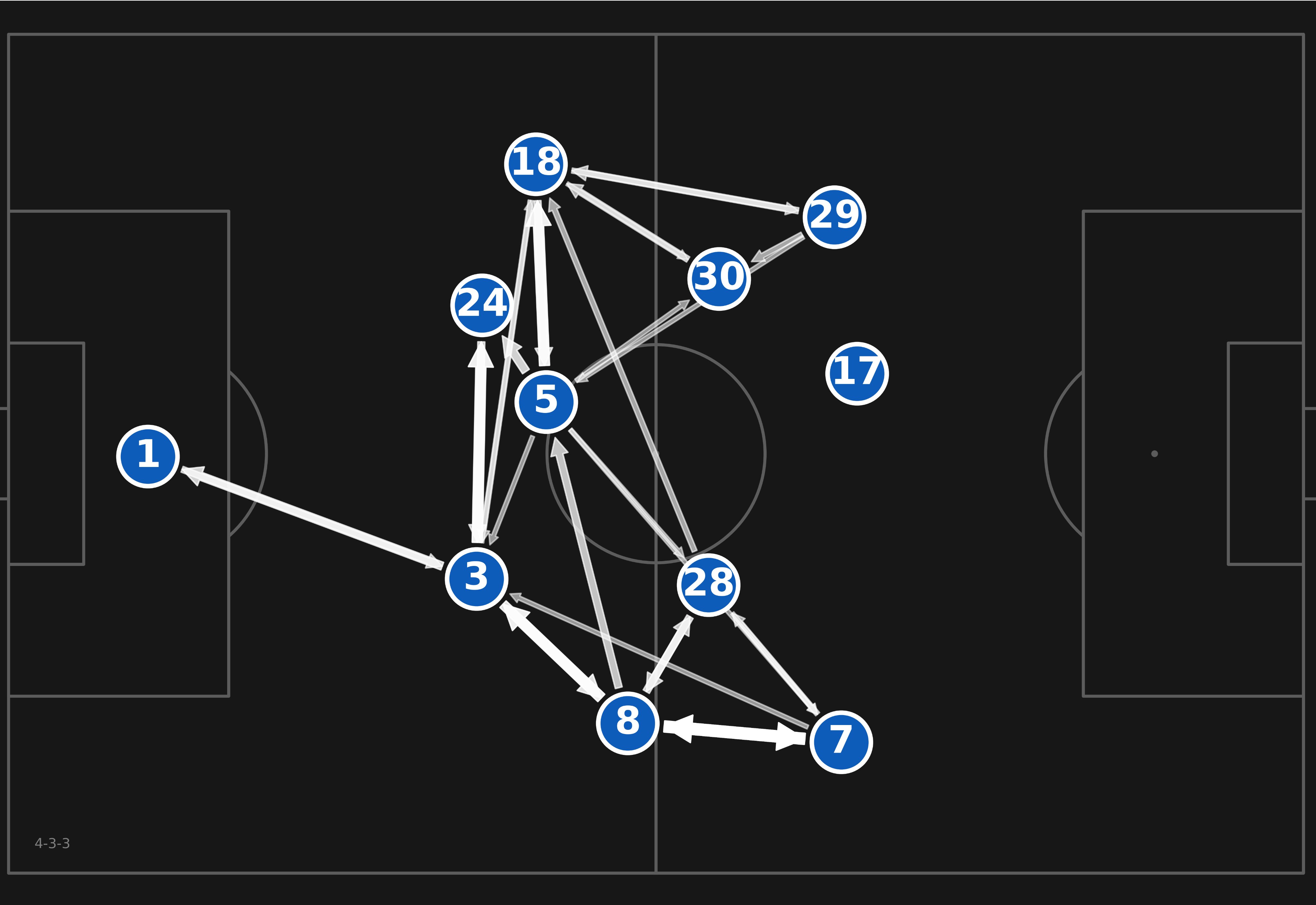 Barcelona's build-up in the first phase has not changed much from the last years, as centre-backs have pushed high (independent of the specific players) and Busquets receiving through the back-line, from wide or central areas depending on the opposition's pressing scheme. It however is in the second phase, from the deep midfield that Xavi's ideas have deferred from his predecessor. Koeman had insisted on wide areas as priority: Xavi has so far preferred the center while using interaction with wide players to disorientate opposition blocks. This can be explained by the players he likes to use in 'Gavi', Jutglá, and previously Dembélé.
Still a way to go
Where possession remains a tool that for Barcelona, its usage remains to be refined in different game states. The Blaugranas have failed to control games that should have been secured: Due to various weaknesses in the front line, the team hasn't been able to finish off games, leaving games in a dominant state fro the first sixty minutes to a shy one goal leads. Repercussions have included late equalizers from the opponent as Barcelona's core cannot remain still in the last quarter of the game.
A sigh that is certainly unfamiliar for Xavi Hernández, known for controlling games in his emblematic '6' shirt as a player. Young or old, Jordi Alba or 'Gavi', individuals have lacked cold-blooded temper to remain focused and composed in the last quarter. Expulsions or sloppy tackles have stormed the Camp Nou, often hampering the team's potential throughout the games. A problem that will need time and patience to be resolved.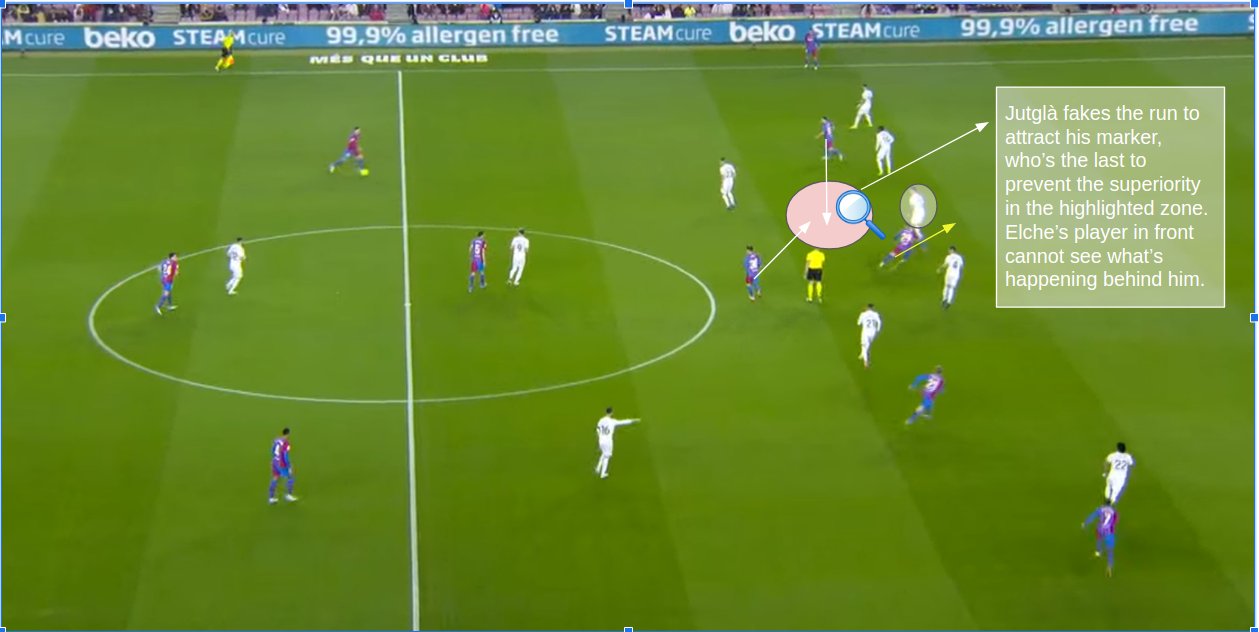 Good signs
On the bright side of things, Barcelona's movement in the final third has improved, notably through new profiles, in Jutglá and Ferran Torres lately. A familiar idea from Enrique's La Roja that Xavi has used is overloading certain areas while distracting eventual defenders in order to advance collectively, as one single unit.

"We want to press high, we want to recover the ball in our opponent's half, we want to be an intense team, we want to create chances. I am not discovering anything, that's Barca's DNA. An intense team, trying to give our all on the field and we are Barca and we have to try to win every single game."


-Xavi Hernández, press conference, November 2021
Enrique's F.C Barcelona made itself a name for using counter-pressing as a mechanism to scare the opponent away. Lucho's influence on Xavi is noticeable. Instead of vain attempts to focus on the ball holder after losing the ball, the Catalan has preferred a man-marking scheme, though problematic in disadvantageous situations.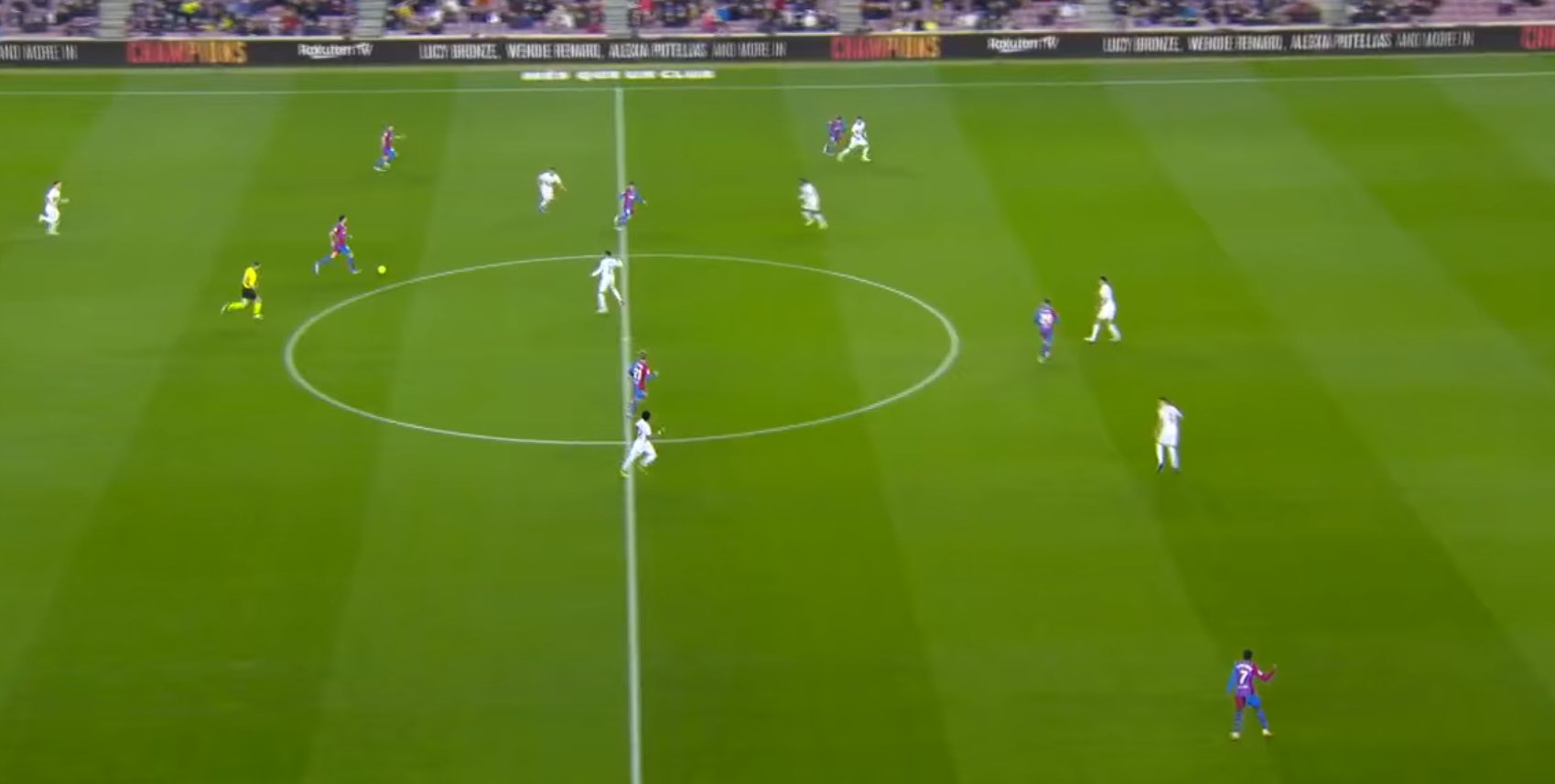 A significant part of Barcelona's pressing is to be seen in possession, with Eric Garcia's importance emerging as the ball-carrier. Often has he and Piqué been responsible for intercepting the opposition's long-balls attempts to recycle possession at the half-way line. Both have improved in their general performances: their value on and off the ball most certainly have been key.
Barcelona's base structure, mentioned earlier, works best when the opponent doesn't press high: For obvious reasons. But life doesn't always give the best scenario. In the last Copa Del Rey exit against Athletic Club, Barcelona struggled to bypass the Basque pressing.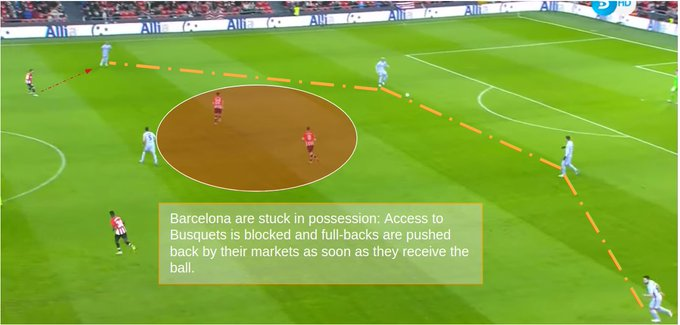 Dealing with high press
Barcelona's usually 2+1/3+2 scheme did not work due to Marcelino's instructions. They found it easy to nullify Barcelona's progression from all sides. Piqué and Araujo had not pushed up for mysterious reasons and access to Busquets was therefore blocked. On the other hand, progression through the wide areas was rendered impossible as well. Athletic Club has a man on either full-back ready to close all angles. Thy psychic consequence of discouragement was easily noticeable. It could be argued whether it was a one-off, but Barcelona often suffers this pattern since years against high-pressing schemes.
A viable solution that coach Xavi would have to study is to teach his interior to willingly drop deeper or to avoid his centre-backs' timidity through instructions. Xavi had mentioned being caught off by "the intensity" of Athletic Club.
Despite ranking fifth in La Liga as of January 28th, Barcelona's Xavi is far from a ready product, as shown in the dull, forgettable games against Deportivo Alavés in the graph below.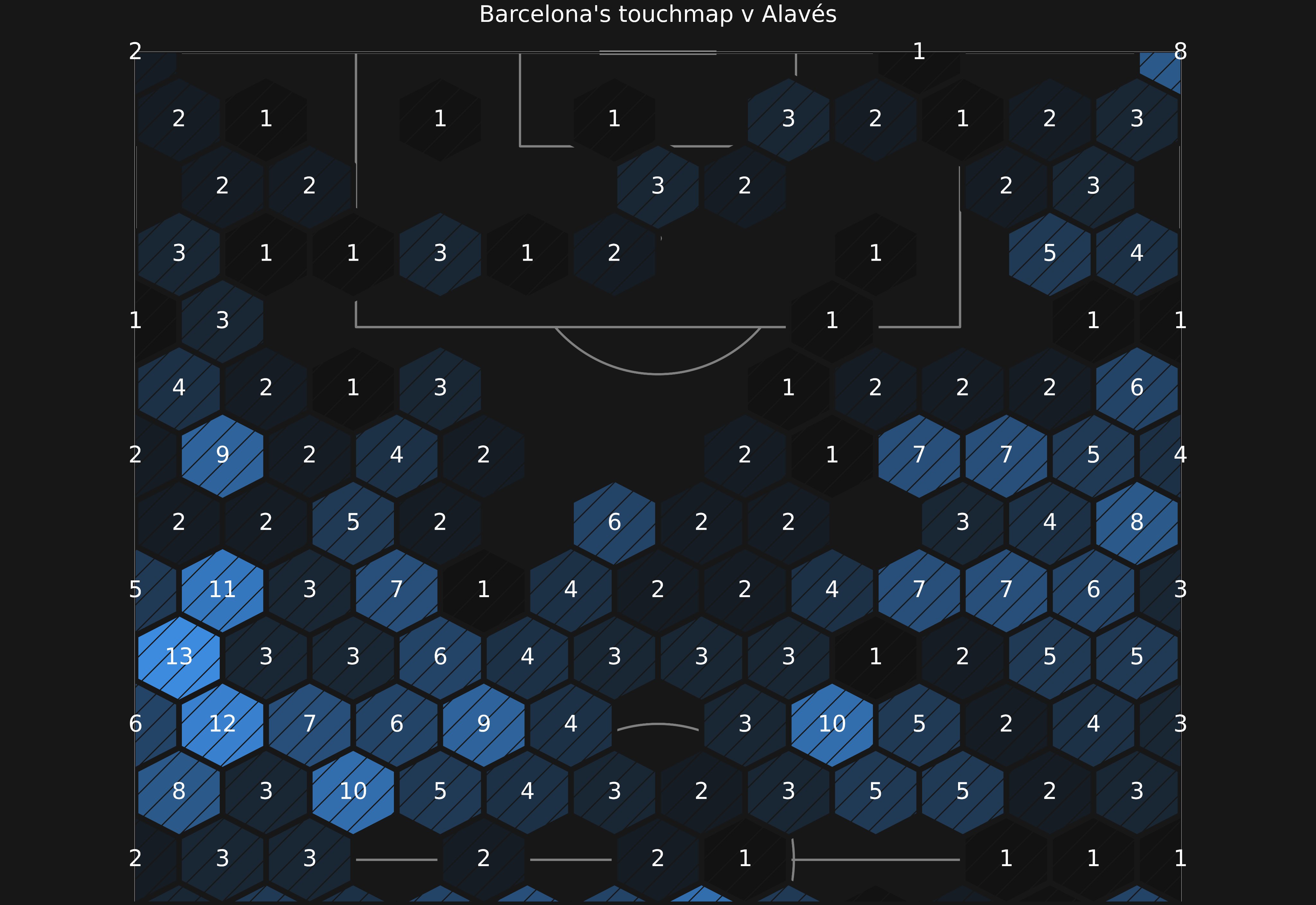 This was one of the rare games where central progression remained minor with little creativity proposed, from both sides. With an unbalanced squad, it remains to see what the true ceiling of the roster currently is for this season. With the useful addition of Ferran Torres, Barcelona have earned themselves a more reliable goalscorer though likely to also replace Dembélé, snubbed for his camp's difficulty when it comes to contract renewal.
It most likely is the case that coach Xavi expect to be able to use Ousmane on a weekly basis. Unfortunately for the Catalan, the Frenchman will not play despite being an important part of Xavi's project as Barcelona's most dangerous outlet out wide as Ansu Fati's injuries extend his time off the pitch.
Frenkie de Jong
Another core part of Xavi's original plan isn't exactly working as intended. His name? Frenkie de Jong. The dutch midfielder is yet to understand his purpose on the pitch, serving as an aid across the pitch without finding his Ajax-self yet. Being Barcelona's biggest hope for the near present, fans will hope coach Xavi will find a way to find the best version of Frenkie once again.
"When I look at Frenkie today, he gives me the impression of being very shy on the field. He doesn't show the energy he used to have. He seems a bit lost. Sometimes you have slumps and he's going through that period. You can see notice he's not happy."

-Ronald De Boer, January 2022 via El Pais
Youngsters to the rescue
Other players like Gavi have enjoyed gametime under coach Xavi, notably as the teenager has been key in forming triangles with decent 1v1 abiliy as a midfielder. With the likes of Nico, Gavi, possibly Memphis and Pedri, Barcelona's ability to break the lines should improve. More players will need to arrive. In almost all departments. Offloading players was also a difficult task. A surprising joker has been Luuk de Jong, too. Despite his clear flaws, it seems like coach Xavi uses him well. Ironically, he has been better off with the Catalan than Koeman who wanted him.
Player development is a big topic with Xavi, too. Though Dest seemingly isn't convincing despite low play-time, we can agree other players are improving under coach Xavi. This includes the likes of Gavi, but also Eric Garcia and Araujo. The usage of Abde and Jutglá have also been interesting. Though fueled by injuries, their presence has been a positive in their contribution. They're B-player that have helped when necessary, without becoming guaranteed starters.
Abde for example said that "Xavi told me to dribble" and he'll need to improve. While his 1v1 dribbling is unique i the squad, he needs to improve his ball reception and awareness. There are many excellent players, and deciding who to (not) keep will be a headache for Xavi & co.