It's been a whole week since we last saw Barça in action in La Liga. But finally Xavi's Barça is  back. The next league game of Barcelona will be against Real Betis at the Camp Nou. Another vitally important game for us, and another big test for Xavi's team. He'll be hoping for a big  improvement from last week, where we laboured to a 3-1 win at Villarreal. And although we won  the game, Xavi was quick to point out after the match that we were very lucky to win the game.  Despite how tricky we found that game, we're still going into this match with confidence. Xavi has  been given the luxury of training with the team for an entire week in between our last game.  Something that he hasn't been able to do with the full squad since he arrived. Morale is high in  the dressing room and hopefully we can continue with the good vibes through the weekend.
Still early days 
We've all got to remember that Xavi is a very young coach, so he is still learning. Finding out  things that work and most importantly, things that don't. Against Villarreal, we didn't perform as  best as we could, but we still ended up winning the game by 3 goals to 1. Winning whilst playing  badly is an important thing to have in the team. And although there were many disappointing  parts in that game.
There were still a number of things that were impressive. The way we  controlled the game after we scored late on was very good. Keeping the ball in Villarreal's half.  Creating chance after chance and still pressing high. In fact, those last 10-15 minutes and the first  20 minutes of the match were our best moments in the whole game. What is clear from our first 3  games under Xavi, is that there is something to build on. In every single game you can see the  foundations being built. What's more, is that in each of our matches we're doing different things  really well and bringing to light a lot more changes to the way we play. All it takes is for us to put  all of this together in one game and we'll start firing again. The game against Betis will be another good benchmark to see where Barcelona are as a team so far. The fact that we're only 3 games in and  we're already seeing a lot of changes in our performances is the most exciting thing. Patience is  key. 
A quick look at our opponents 
Coming into the game, the opponents Betis find themselves two positions above Barcelona in 5th place.  And have won 3 of their last 5 games, losing twice. So far this season, they've been pretty  impressive under Pellegrini. Competing well against Valencia early in the season where they went  on to beat them 4-1. Performances like this have put themselves well into contention for a place  in Europe next season. One thing that can be guaranteed on Saturday are goals. Whenever these  two teams face off, we're always in for a goal fest. In our last 5 meetings with Betis, Barcelona have  scored a total of 20 goals whilst conceding 9. In fact, the results of our last 4 games have all  ended in the same result. Starting off with a 5-2 win at the camp Nou in the 19/20 season and a  3-2 win away at the Estadio Benito Villamarin. This was then followed up last season with the  exact same result home and away. If anything is assured, then it's the goals!  
We are currently 4 points behind them, however they've played a game more than us. So with a  win tomorrow would be massive. Not only in terms of chasing down Betis, but also closing the  gap between FC Barcelona and the top 4. One thing that goes into our favour is that a few teams who are  ahead of have played a game more than us, so even though on paper we still seem far away from  the rest. If we are able to make the most of our game in hand over, then we'll be much closer to  where we need to be. 
Possible Lineup of FC Barcelona vs Betis : 
Despite our difficulties at times against Villarreal, the team overall was still very good. The thing  that let us down was the few tactical choices thriughiut the game. But in terms of personnel, I  think things will remain relatively the same. In defence, I can see us going back to a back 4. Dest  hasn't featured much recently due to injury, but he should be fully fit and raring to go by now. Xavi  will give everyone a chance to prove themselves so I can see saturday being the day where Dest  gets his chance. Ronald Araujo has been absolutely incredible in recent games. Simply just rock  solid. So he will definitely keep his place. Alba and Pique will most likely remain in the starting 11,  meaning that Eric Garcia will be dropped to the bench.
Having said that though, it would be nice  to see Araujo and Eric start together. Pique has played a lot for us in recent games and should be  rested. Especially ahead of our game against Bayern in midweek. In midfield, I'm more than  certain that things will remain the same. The threesome of Nico, Busquets and Frenkie have been  phenomenal so far under Xavi. So there's no need to change it. Gavi has also performed  incredibly well coming in from the left hand side. The inverted winger role really suits him. As it  allows him to find space in wide areas but also drop deep and cut inside when need be. In order  to create chances for himself and the team Infront of goal. Once again, if it isn't broke, then why  fix it?
New Faces in the Attack?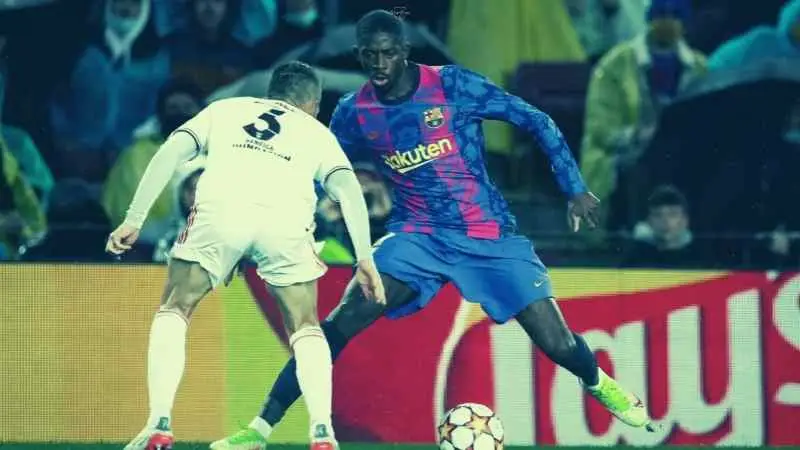 Memphis will start down the middle. That's a guarantee. The only real question would be who  starts on the right hand side. We are blessed with options there right now, which is a luxury given  how many injuries we've had this season. Demir, Abde, Ilias and Dembele all have options to start.  And honestly, I wouldn't mind whoever starts out of those 4. Every single one of them gives us  something different. After a brilliant performance against Villarreal, Abde is full of confidence and  is very much a favourite of Xavi. Ilias got his first start for Barça in our game against Espanyol and  performed really well, whilst Demir had a very impressive performance in his last game against  Benfica. However, my gut is telling me that Ousmanne Dembele will get the nod for Saturday. Xavi  is absolutely in love with him as a player. And given all the uncertainty around his future at Barça,  Xavi will want to give him all the confidence. 
Predicted Lineup: 
Ter Stegen 
Dest- Araujo- Pique- Alba  
Nico- Busquets- Frenkie 
Dembele- Memphis- Gavi