After a hard fought derby win on Saturday, we now turn our attention to the biggest game of our season so far. The Champions League return fixture Barça against Benfica. We arrived on the weekend  with a lot of excitement and energy. The Camp Nou was packed and rocking from the first minute  to the last. Fortunately, the good vibes have carried through to the start of this week. Where we  can face this vital game with a lot of excitement and optimism.  
We're definitely going to need the fans to turn up in numbers again on Tuesday p, because this is  a big one. We currently sit 2nd in our group, 2 points ahead of the opponents of Barça tomorrow, Benfica.  6 points behind the dominant leaders Bayern Munich. Our return fixture against the Portuguese  side is absolutely vital for our progress in the competition. Dropping points tomorrow would mean  we would have to go to Munich and pick up points. Of course, it's not an impossible task. But  considering how light our squad is right now, it's something we definitely want to avoid. A win  tomorrow would put us in a good position in the table. Barça will be 5 points clear of Benfica. Meaning that we would go to Germany with nothing to lose. It's a must win game. Fortunately we are going to be  playing with the home support behind us. We just need to trust that the players arrive to the game  with the same mentality as they did against Espanyol. And the fans show up in their numbers too!
Lessons to take from our previous meeting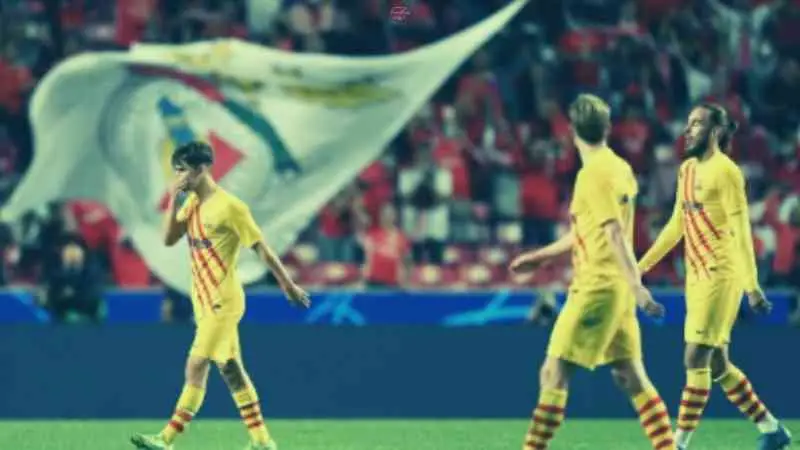 Quite clearly, the glaringly obvious difference from the last time we met is our coach. Xavi  Hernandez is now our head coach. Still feels surreal saying it. Whereas of course in the last game,  Ronald Koeman was in charge. Back then, we were in the middle of some really bad form. Injuries  were popping up here there and everywhere and the tram morale was low. Players were beginning  to lose faith in Koeman and that lack of belief was showing.  
Different Vibes
Flash forward a few months or so and we go into this game with much better feelings. The mood  around the whole club is so positive. The fans are excited. Not to mention the players, who are  also in a much better state of mind. Xavi has returned to the club he loves , and has given this  team life again! We all know that this project is going to take time. We've been doing a lot of  things wrong for a long time now. So Xavi has got a big job on his hands to turn things around.  But on the weekend, we saw flashes of what this team is capable of under Xavi.
We just need to  slowly keep building on that in every game. And there's no bigger test than a champions league  game as vital as this. One of the main things we saw against Espanyol was the constant desire to  win the ball back quickly high up the pitch. There were countless points during the game where  the team kept piling the pressure on, winning the ball back and creating clear chances to score.  However, a glaringly obvious thing was that a few of the players haven't been used to this  amount of intensity for a long time. Evidently why near the end if the game, we saw a lot of  fatigue. Fitness will improve over time, but we need to be doing the exact same thing tomorrow as  we did in parts on Saturday.  
Need to Defend a lot better
The Barça defending in the first game against Benfica was absolutely shocking. No will or desire to track  runners back. Barça made it so easy for Benfica to win the game. Not to forget that we had players  like Pedri and Frenkie who were not 100% fit and who were rushed back for that game. As a  team, there was absolutely no bite in attack. Every time we got into good positions, or forward  players couldn't convert the chances.
Bottom line is, we were embarrassing to watch that game.  So coming int the return fixture, we just need to drastically improve on that. Which, to be honest,  shouldn't be that difficult . Considering how poor we were in Portugal. Benfica are a good team.  But they are a team that we can beat. Especially at home. We need to start building the camp nou  back into a fortress. Like it used to be. A place which made any team nervous. If we can do that,  and perform better than we did last time out then we will give ourselves a chance. A big chance to  get the job done. But we have to be on it from the first minute!
Possible Lineup
Much like the last few weeks and months, we are still suffering heavily from important  injuries in the team. Players like Pedri, Ansu, Dembele and Sergino Dest are still recovering from short term injuries and tomorrow's game comes a little too early for them.  Sergi Roberto is also out after not being able to recover fully from pain in his quadriceps.  Nico Gonzalez and Sergio Busquets are also doubtful for the game after picking up  knocks against Espanyol.
We could go on and on about the list of absentees from the  team, but we're just going to have to make the best with what we've got. And despite a  large number of injuries, we are still blessed with talent in multiple areas. Gavi, Eric Garcia  are among the young talents who are likely to feature. Oscar Mingueza too, although he  will be looking to improve from a shaky performance on the weekend. 
I think in defence and midfield, things will stay relatively the same as our last game. Gavi  will most likely move into a central position to replace Nico Gonzalez, with Frenkie de  Jong keeping his place after a stunning performance on Saturday. The question is, who is  going to replace Busquets, if of course he can't make it. With that considered, I feel that  the most worrying part of the team is who is going to be in our attack.
The Attack
Memphis Depay is 100% going to start, not only after performing well on the weekend. But also the fact that  he's basically our only attacker available. Luuk de jong is the only other natural attacker  we could use, but that doesn't feel me with confidence. And I don't feel like Xavi would go  with him either. Unfortunately we aren't going to be able to rely on the services of Ilias or  Abde either as Abde isn't registered and Ilias is serving a suspension. It would be great to  see Yusuf demir start the game and get some confidence back. He did feature on the  weekend so that might be an indication of what's to come tomorrow. Given the fact that  we can't use Ansu or Dembele, it looks likely that Coutinho will start from the left. As a  front three, a trident of Coutinho, Memphis and Demir isn't bad at all. But one thing we  might struggle with is width, as both wingers like to cut in.  
It's going to be a tricky decision for Xavi, but whatever he decides to go for, we all hope  that the players go out and fit right it their all. This is a huge game. A massive, vitally  important game. So let's go there and fight! 
Predicted lineup  
Ter stegen  
Mingueza- Pique- Garcia- Alba  
Gavi- Busquets- Frenkie  
Demir- Memphis- Coutinho  
VISCA BARÇA!