One of the most hotly anticipated games of our season so far comes on Saturday. An evening that  doesn't just bring to us the first Catalan derby if the campaign. But most importantly it is Xavi's  first game in charge as the coach of Barcelona. A sentence that still feels surreal now. Xavi Hernandez is the Barça coach! Coming off the back of what has been quite an incredible  international break. Where we saw not only the return of Xavi, but also a surprise reunion with  another Barça legend, Dani Alves. It really does feel like these last two weeks, we've seen an  amazing boost to the club. And also to the fan's emotions too. So we want to keep the good vibes  going as long as possible. We currently find ourselves 9th in La Liga. Level on points with our  Catalan neighbours. 11 points behind 1st place and 6 points behind the top 4. So to say a win  would be massive for us tomorrow is a massive understatement.  
Exciting Times
However, with all things considered, there are a lot of things to be excited about for this very important game. Things like the lineup, the atmosphere at the camp nou, attendance and the  overall playing style of the team. We all know that we're going to have to be patient. Xavi is going  to need a lot of time to turn things around and really stamp his mark on this team. But Saturday  will give us an opportunity to see how our club and squad are beginning to change. You would  expect some sort of mentality shift. Hopefully we'll see a lot of players performing with more  freedom and excitement. And most importantly, with a lot more intensity. All of this and more we  can look forward to on Saturday. Combine that with our recent struggles in the league and our  overall position. And the game on Saturday looks very, very intriguing.
For this particular Match Preview, we're going to do it a little different than usual. Instead of  looking at the recent form and results of our opponent. I want to keep the focus fully on all things  Barça. So briefly looking at Espanyol, they find themselves in a similar position to us. In a way,  this is one of the most level played derbies on paper, that it has been for quite a while. Like  mentioned above, they are currently level on points with us (17) in 11th place. So whoever wins  this game will leapfrog the other tin the table, which is why this derby is so intriguing and  important. 
Got to stay focused
It's a very strange feeling I think we all have coming into this game. On one hand we're all  obviously very concerned about the position we are at in the table. A win is crucial for us on  Saturday if we want to get back into some sort of title race. Or at least get into the top 4.  However, on the other hand, we're all just very excited about the game. And the fact that we're  9th in the league, 11 points off top spot, kind of seems secondary at the moment. The  international break has built up so much excitement in the fan base, that we're all just looking  forward to hopefully watching an entertaining game of football. We all know this is going to take a  lot of time, but starting off on the good foot is always important.  
For me personally, the thing I'm looking forward most to seeing is the Lineup and Xavi's overall  gameplan/ tactics. Below is a brief assumption as to what the setup against Espanyol will be.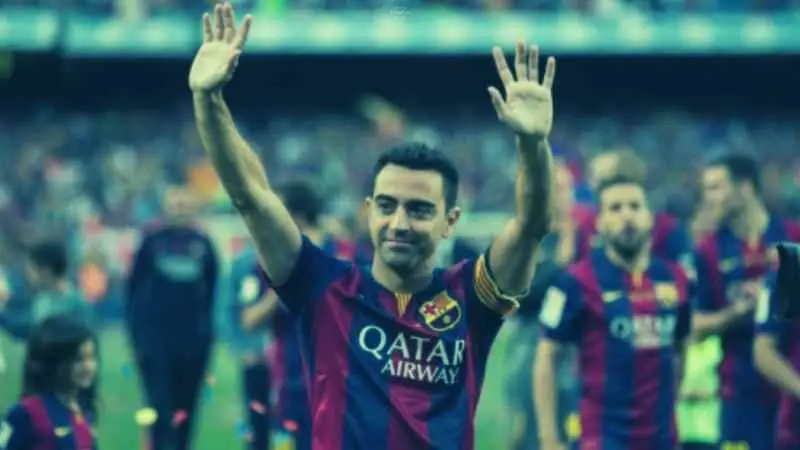 Tactical Plan
What we know already about Xavi is that his most favoured formation is the 4-3-3, otherwise  known as the classic Barça formation. But he is also known to switch between a back 3  sometimes too if need be. His system relies so much on natural wingers. Players who can hug the  touch line and keep the pitch nice and wide. Which is why I feel that he will start his first Barça  match with a 4-3-3 formation. Honestly, at this point I just simply can't predict what our coach is  going to pick in terms of personnel. The only thing we can be a bit confident on is his choice of  formation. But that's about it. Clearly, we haven't got a lot of options due to the number of injuries  we still have. But that doesn't mean we won't be in for a few surprises. Xavi had said today in his  debut press conference that we could expect to see a few different faces, where need be. And  didn't rule out using more players from the B team to help plug the gaps. 
I genuinely can't remember if there was ever a time where, going into such a big, important game,  we had no idea what the lineup was going to be. The fact that it seems very unpredictable at the  moment is so exciting. Under Xavi, every player will start from scratch. Meaning that everyone,  even players who have fallen out of favour over the last few months. They'll all have a chance to  prove to xavi that they can be counted on. For me, that is what's so intriguing about tomorrow's  game. 
Bottom Line
No matter how we set up. Regardless of the formation and all the excitement we have going into  the game. We need to get all 3 points tomorrow at the camp Nou to leapfrog up the table. It's  going to be a tricky game, against a team that is in decent form so far this season. But having  said all that, I just can't wait for kick off! 
Visca BARÇA!